WASHINGTON — California, home to more than a quarter of all young people covered by the DACA program, became the latest state on Monday to challenge President Donald Trump over his plan to shut it down.
"California has the most to lose," said Xavier Becerra, the state's attorney general. "Our businesses and local governments would bear the expense of ending it, and it would harm local law enforcement that depends on cooperation from immigrant families.
"In California, we don't turn our backs on those who helped the state succeed."
Maine, Maryland and Minnesota joined in the lawsuit, filed in federal court in San Francisco. Sixteen other states filed a separate lawsuit last week seeking to prevent the government from terminating the DACA program.
Known as Deferred Action for Childhood Arrivals, the program allows young people who came to the U.S. illegally as children to remain. Of the nearly 790,000 now covered, about 223,000 live in California.
"I've never seen a time when we tell children that we'll punish them for acts they weren't responsible for," Becerra said.
The lawsuit contends that the president's decision to end the program is illegal, violating a federal law requiring public notice and comment before taking significant actions. And Becerra said it violates a legal principle that prevents the government from offering a benefit that people come to rely on, then taking it away.
The other lawsuit filed by 16 states, a coalition led by New York Attorney General A.G. Schneiderman, noted that more than 78 percent of young people covered by DACA came from Mexico. They claim that ending DACA "is a culmination of President Trump's oft-stated commitments to punish and disparage people with Mexican roots."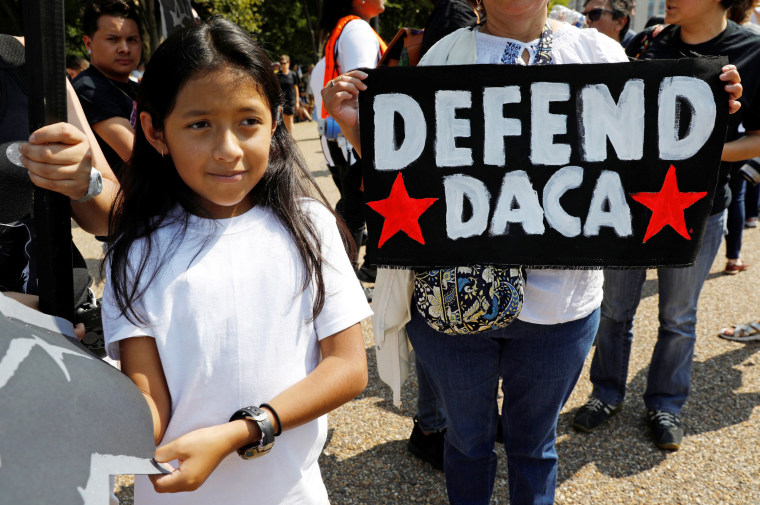 The University of California and its president, Janet Napolitano, also filed suit last week over the plan to end the program, which Napolitano helped design as Homeland Security secretary during the Obama administration. She called Trump's decision "nothing more than unreasoned executive whim."
All of the challenges urge federal courts to put a hold on the president's order until the cases can be heard and decided.
Trump gave Congress six months to act on whether to save the program. But he later tweeted, "If they can't, I will revisit this issue!"