If California were a country, its thriving economy would qualify it for a seat at the G8 summit of industrialized nations, says the co-author of "A Portrait of California," a new study measuring the well-being of the Golden State's residents by ranking their health, education and earnings. But many Californians are getting left behind, and Latinos have some of the worst disparities.
"Yes, California in general is rebounding well, and things are starting to kick uppost-recession. But what we found is that the rebound is very uneven," Sarah Burd-Sharps said to NBC News Latino.
Among all racial and ethnic groups, Latinos got the lowest "well-being" score in the state, Burd-Sharps and co-author Kristen Lewis found in their research, which also shows that nearly half of the state's overall population is struggling.
The report by Measure of America, where Lewis and Burd-Sharps are co-directors, uses a composite measure of health, education and earnings indicators from census,federal and state data. It ranks among major metro areas and by gender, race and ethnicity, and native and foreign-born.
"A Portrait of California" paints a state living in two worlds, with some enjoying levels of well-being and access to opportunity the nation as a whole will not reach until the 2060s. Others, however, are experiencing health, education and earning levels that characterized an America not seen since the 1960s.
The worst off among racial and ethnic groups, Latinos had a well-being score of 4.09 on a 10-point scale. Asian Americans and non-Hispanic whites had the highest scores at 7.39 and 6.32, respectively.

The figures for Latinos are troubling, the authors said. According to state projections, Latinos were poised this year to become the state's largest racial or ethnic group, and more than half of California's children are Latino.
"This means the state's future sits on their shoulders. It's in everyone's interests to make sure that they have the things they need to succeed in this increasingly knowledge-based economy and globalized workforce," Burd-Sharps said.
The figures for Latinos are troubling, since more than half of California's children are Hispanic. "The state's future sits on their shoulders," said one of the report's authors.
There is some good news for the state's Latino residents, who have a higher life expectancy – nearly 84 years – than whites. Asians had the highest life expectancy at about 87 years.
And Latinos have made great strides since 2000. While they have the lowest well-being score today, they're moving up more quickly than anyone else, the authors said. The Latino well-being score increased by more than 16 percent since 2000, more than three times that for the non-Hispanic white population.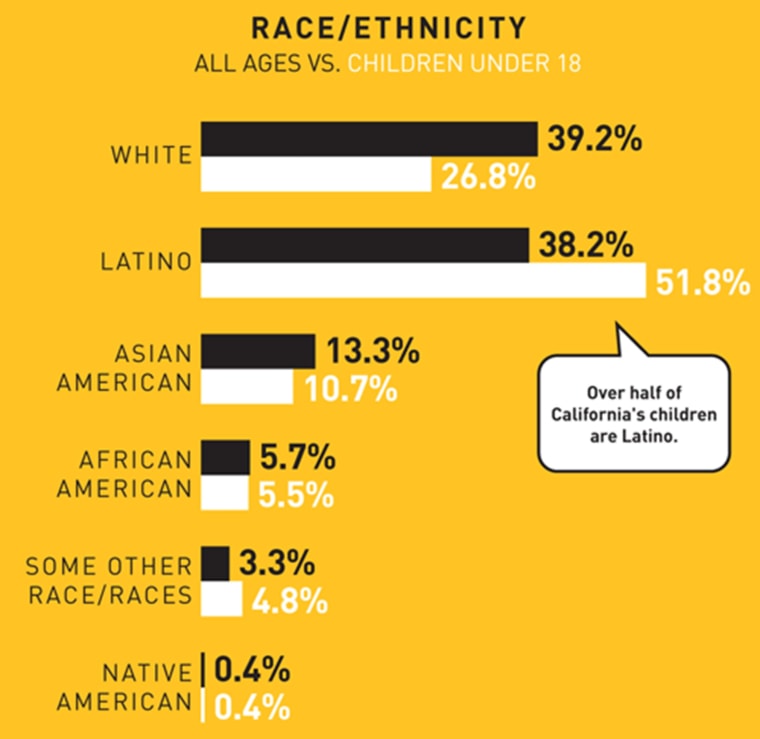 But lower education attainment and lower earnings pulled Latinos to the bottom of the well-being scale. The study found:
Latinos had the lowest educational attainment score. Four in 10 Latino adults 25 and older did not complete high school. That's more than double the California rate and nearly triple the national rate.
Latinos also lagged in school enrollment for those ages 3 to 24 as well as in the proportion of adults who completed bachelor's and graduate degrees.
Median income for Latinos was about $21,000, compared to non-Hispanic whites who earned about $41,000 and Asian Americans at about $39,000.
California's agriculture industry is renowned for feeding the nation, and the state has a net ag profit of $16 billion. But the industry's mostly Latino crop workers struggle to put food on their own tables, with annual earnings ranging from $15,000 to $17,500.
Thirty percent of children in Kern County, one of the state's top agricultural producers, live in "food insecure" households, meaning they often lack access to nutritious food.
Native-born Latinos fared better overall than foreign-born, scoring a full point lower on the "well-being" index, the study found. But foreign-born Latinos live longer than their native counterparts, by about 3 years.
The more the foreign-born live in this country, however, the more likely they are to lose that health advantage, said Burd-Sharps, attributing that to negative aspects of acculturation over time to American habits, such as eating less nutritious food and exercising less. Lower rates of health insurance also play a role, she said.
Though Latinos overall had the lowest educational attainment well-being score, foreign-born Latinos fared even worse. Native-born Latinos are as likely as other Californians to have completed high school, Lewis said.
The authors said California can implement changes to reduce disparities, such as universal pre-k and a boost in low-income wages.
"This is, of course, what we see with all immigrant groups in the U.S. It's kind of the immigrant story," Lewis told NBC Latino. "It's that the next level tend to have higher education or more education than their parents and grandparents."
The authors said California can implement changes in neighborhoods, schools, workplaces and governments to reduce disparities. In education, Lewis said, "the research is now overwhelming that universal pre-K is the best investment that California can make in its future."
Lewis said a quality pre-K education prepares children to succeed in school, and leads to learning persistence and a greater likelihood of graduating from high school and attending college. "That's a tremendous investment California can make," she said.
Boosting wages for those at the bottom of the income scale is the best way to help children and their parents, Lewis said.