PHOENIX — Raquel Terán is running for state legislator in Arizona's 30th District, which spans from central Phoenix to the west side of Glendale. Her district has over 50 percent Latino voters and since August, her outreach efforts have helped Democrats outpace Republicans by 160 percent in newly registered voters. In other words, that's 400 precious new voters who did not vote in 2016.
The Latino vote remains an elusive target for the Democratic Party. The largest minority group in the United States, Hispanics are now 13 percent of the electorate and make up an important part of the Democrats' coalition that could tip the balance in battleground districts across the country.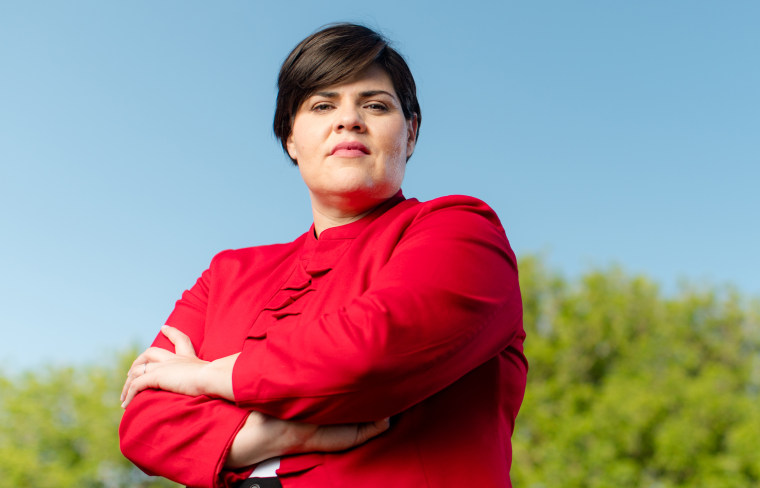 Data compiled by Pew Research Center shows that Latino voter turnout in presidential elections has increased; in 2000, it was below 40 percent and rose about 48 percent in 2016. However it's a slow increase compared to African-American turnout rates, which surpassed the white turnout rate during the Obama era, but then dropped sharply in 2016. The rates drop further during midterm elections, falling to a record low in 2014, at 27 percent.
When it comes to the "Trump effect" delivering Latino votes for the Democrats, this is not a given, although a state like Arizona has been a training ground for activists running against President Donald Trump's style of politics — especially on immigration — for over a decade now.
Terán spoke to NBC News at a local diner in her district.
"When I started to organize in 2006, it became intentional organizing around building political power in the Latino community," she said. "But as the anti-immigrant sentiment and the attacks kept coming out of the state legislature, people were starting to become more conscientious about us needing to participate."
Terán points to the successful recall of Russell Pearce, who riled the anger of the Latino community with his sponsorship of the infamous "show me your papers" bill, SB1070. She points out that since the recall, politicians have laid off the anti-immigrant legislation. While polling is sparse in her district, data from the registrar shows Terán's district outperforming other districts in new registrations and with one of the highest populations in Latinos, Terán is favored to win.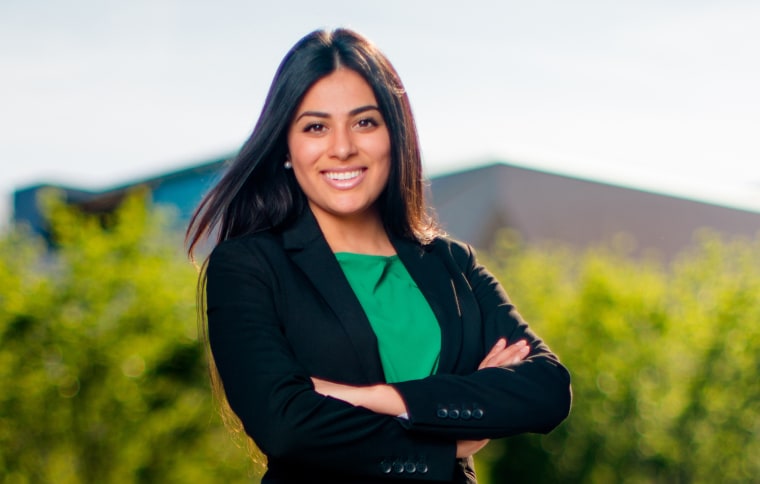 Elora Diaz is a Latina running for school board near Tucson who describes herself as passionate about education. She grew up in a single-parent household amid financial hardship, but proudly earned undergraduate and master's degrees from Arizona State University.
Speaking to NBC News about her campaign, Diaz said she was intentionally going to Latino neighborhoods that had not been traditionally targeted, "going door-to-door, and our goal was to hit 5,000 doors."
Lest anyone challenge Diaz' commitment to her campaign, she conducted her interview while going into labor. "No worries, I'm not in pain yet," she said; she later gave birth to a healthy baby boy named Teddy.
Phoenix as moderate epicenter?
Politicians like Diaz and Terán are a growing phenomenon in Arizona, particularly within the Democratic Party, and nowhere is the influence of this shift more visible than in Phoenix. The second-fastest growing city in the country, and the fifth largest, Phoenix has become the moderate epicenter of the state's politics.
Phoenix will have a special election for mayor in November to replace Greg Stanton, and among the four candidates, three have Latino surnames: Daniel Valenzuela, Kate Gallego and Moses Sanchez. With almost 750,000 registered voters, Phoenix could have a heavy influence in up-ticket elections, such as governor.
Valenzuela is well known for his outreach. He says he grew up in the city without many advantages.
"I attended 13 public schools and lived in more places than schools I attended," he said.
In a meeting with NBC News, the veteran firefighter said he won his seat in the City Council by improving turnout in his district by 500 percent, and he has detailed his next steps if he wins.
"I put out a 22-page jobs plan, the only candidate that's done that," he said, "It's called PhoeNEXT." He also said he's met with many residents who work in different industries to hit the ground running if he's elected.
Gallego, a colleague of Valenzuela on the City Council, emphasized her role as a single mother and is harnessing the energy that women are bringing to electoral politics.
In a phone conversation with NBC News, Gallego said, "Moms are engaged and they want to fight for their kids this election cycle."
Gallego was keen to point out her position on key issues for progressives, such as immigration, and how she has engaged prospective voters. "We've hit 40,000 doors in Latino-majority districts. ... The Latino community is a big part of our path to victory."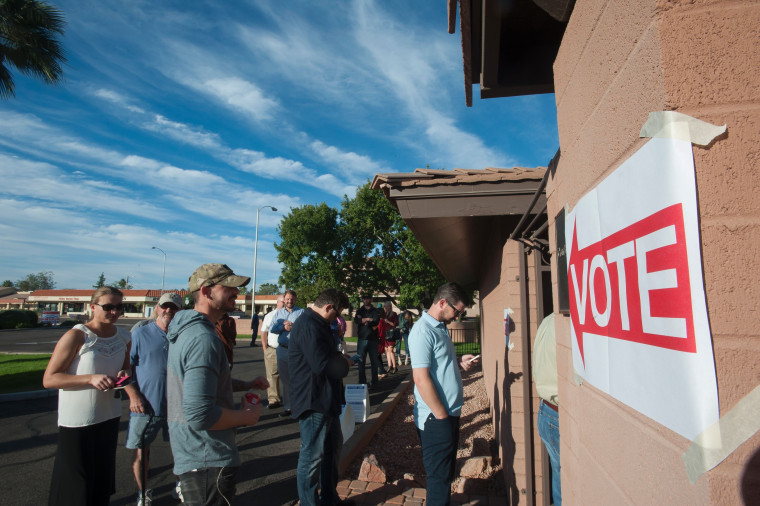 She also said she was the first in Phoenix to hire DACA recipients.
Under the weight of demographic change, Phoenix has become a more progressive city faster than the rest of the state has, and Democratic candidates are responding in kind.
With four mayoral candidates, there is a possibility no one will get a majority of the vote, triggering a run-off between the top two candidates. With the voter registration deadline now over in Arizona, candidates are focusing on voter lists and getting registered constituents out to vote.
The question now is: Will Latino candidates' work in local elections move voters to the polls and boost turnout for those at the top of the ticket? Current polls put David García, Arizona's Democratic candidate for governor, behind Republican Gov. Doug Ducey.
Scholars of Latino politics have questioned whether parties, especially the Democrats, have invested enough in mobilizing Hispanic voters. For instance, the results of a recent tracking poll by Latino Decisions shows that almost 60 percent of Latinos have not been contacted by any of the political parties or any political organization.
Melissa Michelson, a professor of political science at Menlo College, is an expert on Latino mobilization. She said a state like Arizona is primed for Latino turnout that defies the odds, despite low enthusiasm among Hispanics across the country.
"There's solid scholarly evidence that local Latinx candidates increase Latinx turnout," Michelson said. (Latinx is a gender-neutral term to describe Latinos.)
While Michelson acknowledges the skepticism, she believes there's also reason to believe Latinos running for offices from school board to mayor can have a major impact.
"There are likely some robust local efforts out there by those campaigns and Latinx-serving community organizations to make sure their voices are heard at the polls in November," she said.
FOLLOW NBC LATINO ON FACEBOOK, TWITTER AND INSTAGRAM