PANCHIMALCO, El Salvador —Deep in the lush hills of Panchimalco, in a community south of the capital of San Salvador, a "centro escolar" or school stands in a no-man's land between two gang-controlled territories. Because it's a neutral zone, the young men act like regular students, even playing soccer scrimages against members of the opposing gang.
This is one of the schools where educators are trying to use a modest form of sex education to reduce teen pregnancy and improve young people's lives. According to a United Nations report, 1 out of every 3 pregnancies in El Salvador is of a female between the ages of 10 and 19.
The sex education program, with an emphasis on respect and human rights, also seeks to curb violence — including gender violence — that makes El Salvador one of the world's most dangerous places.
The small Central American country, of about 6.5 million people, has a rate of femicide —the killing of a girl or woman because of her gender — that is above what international human rights organizations consider an epidemic: Twelve for every 100,000 people in 2017. More than 60 percent of females over the age of 15 have been victims of male-perpetrated violence.
Those who are victims of sexual violence seldom report their perpetrators for fear of retaliation or mistrust of the authorities; of 4,621 sexual assault cases of minors in 2017, only 997 ended in a court ruling. Suicide has become a way out for young women and girls experiencing abuse.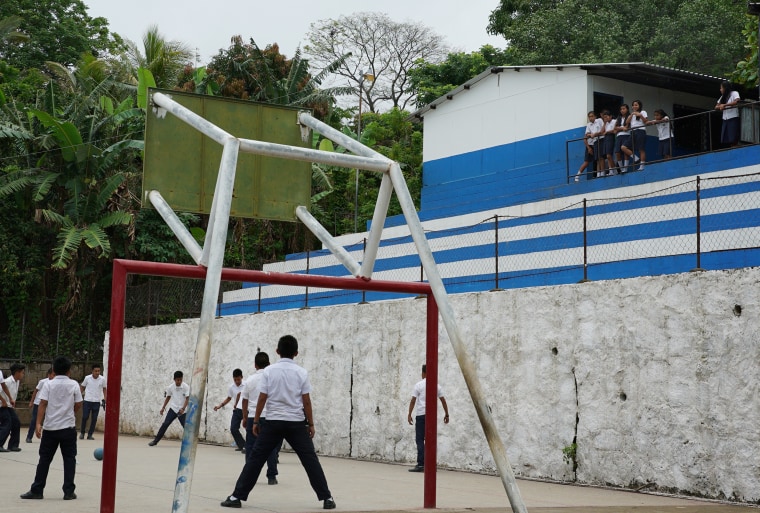 Violence in gang-held territories in El Salvador runs deep. It's woven into the social fabric so seamlessly, that at first it's imperceptible. But it's there, present in that fear that pounds hard against people's chests. It's the elusive, but ubiquitous possibility that something bad can happen if one runs into the wrong person, walks in the wrong street or is born in the wrong neighborhood.
It's also one of the leading causes of migration. Many survivors of sexual and domestic violence continue to flee and request asylum in the United States, even though it has become much harder to gain it on those grounds. People who can't afford to flee are internally displaced; the majority of them are women.
Teen pregnancies and a call to action
Josué, not his real name, has been the principal of the centro escolar for several years. A man with kind eyes, he confronted a gang member and former student — despite the risk of getting shot — when he found out one of his 14-year-old students had become pregnant. He negotiated the girl's return by convincing the young man to let her go in exchange for a bag of groceries every month. Josué paid for this out of his own pocket.
As other young girls also got pregnant, he wanted to do something. Given that sex education is taboo in El Salvador, parents did not react well to teachers imparting this information. So Josué invited members from civic organizations to come in and offer workshops to small groups of students, as parents were more receptive of this approach.
Studies show that the risk of teen pregnancy increases in areas where education is hard to access. In an effort to address this, the Ministry of Education created a national sex-ed curriculum in 2009 and a plan to integrate it in public schools.
"We (government) have a debt to society that is historic," said Yeny Rivas, who spearheads the gender unit at the Ministry of Education. Rivas helped launch the sex-ed curriculum in partnership with civic organizations as a response to high teen pregnancy rates and the surge in gender-based violence.
At the time, Rivas said, this had to be done under complete secrecy so conservative groups wouldn't try to halt it.
Sex education in El Salvador is a far cry from the lesson plans that are found in more liberal and gender-equal countries in Europe or even some school districts in the U.S. It approaches contraception and family planning carefully. Conservatives associate sex-ed with abortion, which is strictly criminalized under any circumstance — even incest, rape or the health of a mother — and is punishable by up to 30 years in prison.
Rather than talking about birth control, consent and the right to pleasure, the national sex-ed curriculum focuses on healthy relationships, self-esteem, gender equity and gender roles, as well as human rights, in particular respect and equality. It also teaches students how to identify and report sexual violence and establish personal and professional goals for the future.
"We have tried to hide reproductive rights because it's taboo," Rivas said.
The program has received pushback — and not just from parents. Rivas recalls teachers who brought their Bibles to sex-ed trainings, which are still optional and at the discretion of school administrators. Words like "penis, vagina, and vulva" were new to some.
Part of the problem, Rivas explained, is that many Salvadorans don't see themselves as having certain kinds of rights. "Sex ed can teach people that they do have rights and must exercise them," she said.
Edwyn Douglas Guzmán is a social sciences teacher who implements sex education in his curriculum. He teaches in Suchitoto, a territory that was a hotbed of unrest during the civil war.
"Sex education works directly with the human soul," Guzmán said. "It's a way of cultivating the soul after it has been dehumanized by the war."
El Salvador's brutal civil war lasted 12 years and killed more than 50,000 people.
"Sex education is a kind of peace building," said Guzmán, since one of the goals is also to prevent gender-based violence.
'We live in fear'
Back at the centro escolar, few teachers risk their lives to advise their students on healthy relationships and family planning when gang members are involved. Getting the Ministry of Education to transfer a teacher, even when their life is at risk, is a difficult task, according to Josué. So most teachers avoid further problems.
But Josué finds it hard not to do anything as more young teens get pregnant.
Bianca (not her real name), the girl that Josué brought back to school, is now a shy 16-year-old. She's at the principal's office on a Friday in mid-May along with her mother. Unlike many teen moms, she hasn't dropped out of school and is determined to go to college if she can find a scholarship to pay for it.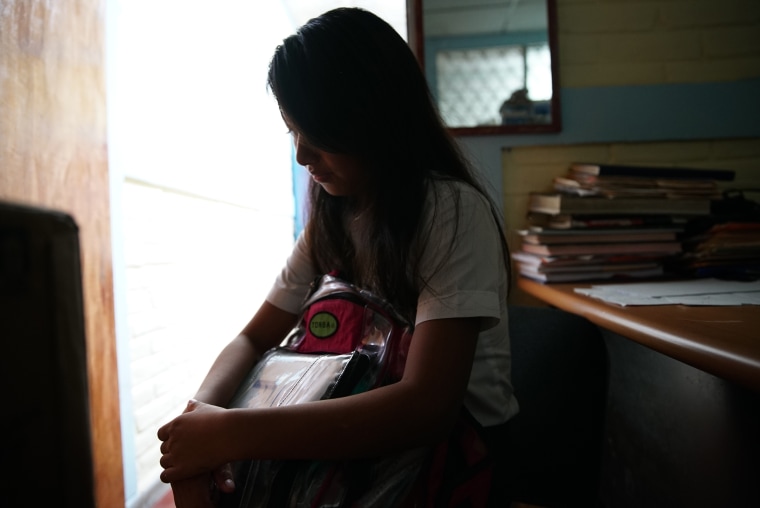 Bianca fell in love with a boy who was two years older; by the time she was 14, she was pregnant. It was at this time that her boyfriend started climbing the ranks of the ruling gang in their community. Four of his siblings had been murdered by gang members, and without the financial means to leave the area, he was forced to take revenge. He was murdered when his son was a little over a month old.
It's hard for Bianca to talk about this, so her mother steps in. "I should take some responsibility for not talking to her clearly about family planning," said her mother, adding, "my mother never taught me anything either."
Bianca is taking care of her child with her parents' support. Her dad is the only breadwinner at the moment; her mom, who's 37, has been diagnosed with depression. They can't talk about hardship without breaking into tears. "We live in a place where there's no peace," the mother said. "We live in fear."
Despite challenges, forging ahead
Sex education faces challenges, not just from conservative and religious groups, but also from policymakers. The national sex-ed curriculum spans from first grade to high school, but it is yet to be implemented in every grade level. The Ministry of Education doesn't have the authority to make it a mandate and standardize it, since sex education is not a law.
Currently, there are more than 45,000 teachers in the public school system in El Salvador and only a couple of thousand have received sex-ed training.
The last two governments have supported sex education and allowed the Ministry of Education to partner with civic groups and international organizations to work on the curriculum and create implementation strategies. But the new government of President Nayib Bukele has not yet taken a stance on sex education.
As for gender-based violence, Josué and Rivas recognize that sex education can't be the only solution.
"Sex ed is really important, but if a gang member tells a girl 'you belong to me', she can't do anything about it," Josué said. "If they do, they either show up buried on the ground months later or wrapped in sheets off the side of the road."
Rivas believes that sex education may not be able to stop a rape, but perhaps it can prevent an unplanned pregnancy or an STD. Though she believes sex education is a human right like any other, it's not one that is prioritized when generalized violence and poverty affect the community more directly.
"Sex education can empower women and provide them with information about how their bodies work," Rivas said. "It can be a fundamental tool to identify when your reproductive and human rights are being violated."
According to a May 2019 government report, there was a slight dip in the country's number of child and teen pregnancies between 2015 and 2017 — about 5,000 fewer pregnancies — and the report credited efforts to educate the community about gender relations. In some areas of the country, however, teen pregnancy numbers had gone up.
The bell rang and it was time for Bianca to go back to class. Before she leaves, she said that had she known how to prevent a pregnancy, she would have. For now, she is trying to overcome the trauma of her boyfriend's death and the prospect of raising her son without his father.
A makeshift police station guards the centro escolar day and night, a reminder of the danger that engulfs everyone in the community, including the teachers. Even though the school is a safe place, there are no guarantees.
About 38 percent of students who dropped out of school in 2017 did because of violence-related incidents.
Educators like Josué hope the situation changes, but for now, he has work to do.
"Maybe we can make a difference," he said. "That's the goal. "
This piece was reported with the support of a grant from The International Women's Media Foundation. Additional reporting by Hiba Dlewati and Julia Gavarrete.