When political cartoonist Julio Salgado saw a photo showing a 12-year-old boy standing in front of a crowd that over the weekend was marching against a proposal to legalize same-sex marriage in Mexico, he had a knee-jerk reaction.
"Being Mexican and queer myself, when I saw that image I felt that I needed to honor that image by recreating it and putting in my own twist," he said. "I wanted to pay homage to that moment."
Salgado drew a black and white political cartoon that mirrored the original photo of the 12-year-old boy. He drew the marching crowd and in front of it a banner that read "homophobia." He also drew the boy holding a flag that read "From Mexico's future, with love!"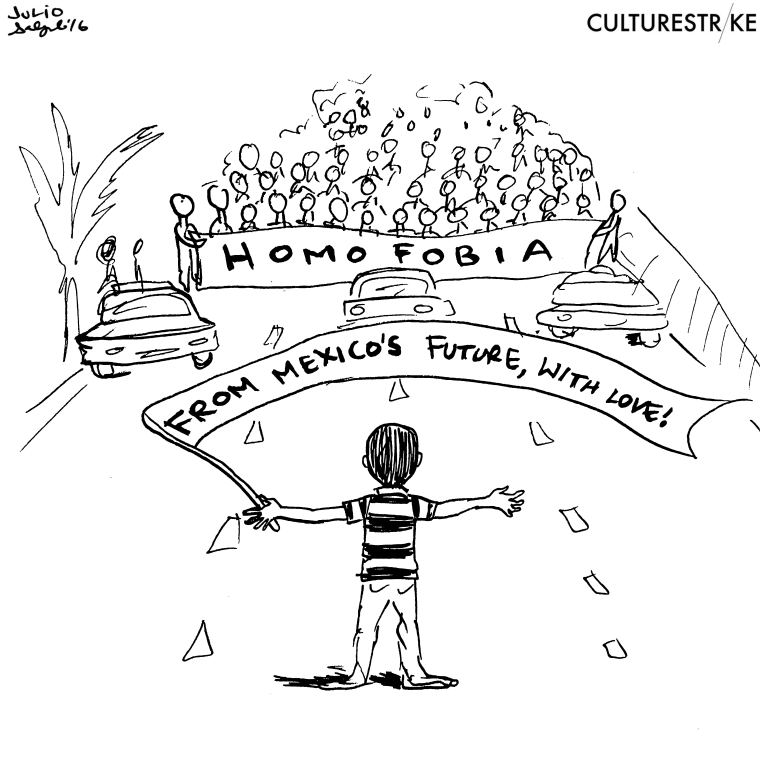 CultureStrike, an Oakland-based arts organization that Salgado works for, posted the cartoon on its Facebook page on Tuesday, and it started to get a lot of attention. As of Wednesday, it was shared about 500 times. Salgado says reaction has mostly been positive.
RELATED: Mexico President Proposes Legalizing Same-Sex Marriage
The original photo of the boy was taken in Guanajuato by photojournalist Manuel Rodriguez, who told Regeneración that at first he thought the boy was only playing. He later approached him to ask about his motives.
"I have an uncle who is gay, and I don't like that they hate him," Rodriguez said the 12-year-old told him.
When asked what he wants people to take away from his political cartoon, Salgado said: "That there is hope in the future."
"I really wanted to focus on the fact that this kid right here is almost representing a symbol of what youth are doing in Mexico," he added. "There are a lot of youth who are doing stuff over there to stop homophobia, and I'm just really proud."