/ Source: Associated Press
Acclaimed Latino artists will come together at the Latin Grammys to sing the greatest hits of one of their own.
Prince Royce, Colombian reggaeton group Gente de Zona, salsa greats Victor Manuelle and Gilberto Santa Rosa and singers Laura Pausini and Carlos Vives are among the celebrities that will pay tribute to Marc Anthony, who will be honored as Person of the Year at the 17th Annual Latin Grammy Awards.
Anthony has won 5 Latin Grammys and 2 Grammys during his musical career. A successful crossover artist, his Spanish-language hits include Valió la pena and Vivir mi vida while his successful English pop songs include I Need to Know and You Sang To Me.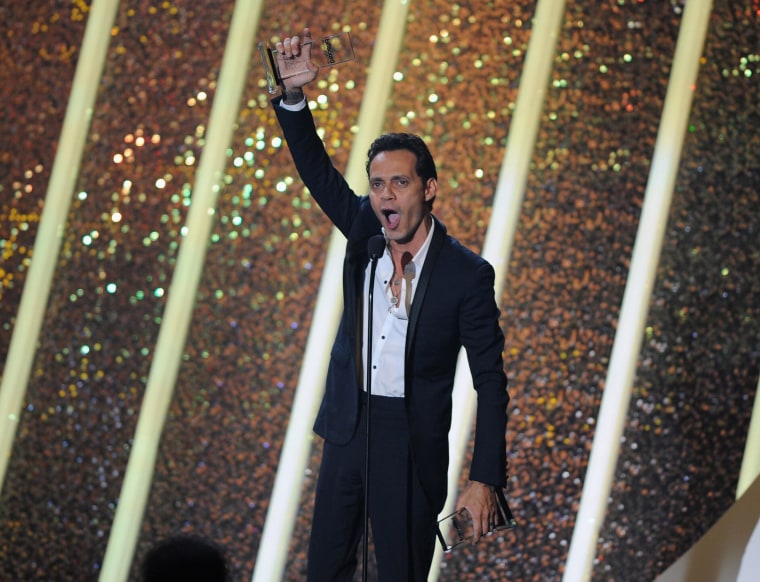 A New Yorker of proud Puerto Rican descent, Marc Anthony is not only known for his music but also his philanthropy and activism.
In 2012, the international pop icon became one of the founders for Maestro Cares, a foundation that works to provide housing, academic and health support to orphaned children. It has opened various orphanage centers in the Dominican Republic, Colombia and México.
Anthony also holds two Guinness World Records for best-selling tropical salsa artist and most number one albums on the Billboard Tropical Albums year-end charts.
RELATED: Marc Anthony Just Beat a Guinness World Record
The Latin Grammys will take place on November 16th at MGM Grand Garden Arena in Las Vegas. A part of the proceeds will be donated to the Foundation of Cultural Latin Grammy, which provides scholarship assistance and education programs to music students throughout the year.
Anthony will now be among the recognized artists that have been named Person of the Year, which include Miguel Bosé, Roberto Carlos, Plácido Domingo, Gloria Estefan, Carlos Santana, Joan Manuel Serrat, Ricky Martin and Shakira.
The Associated Press contributed to this report.