CHICAGO, ILLINOIS - Antonio Gray, 20, became homeless when he was 17 years old. After jumping back and forth between friends' homes and emergency shelters, he was finally able to find stability at El Rescate, an independent living center which aims to provide identity-affirming housing to homeless LGBTQ and HIV positive youth. The center is located in the heart of Humboldt Park, Chicago's Puerto Rican neighborhood,
Gray, who came out when he was 14 year old, said he left home because he didn't get along with his mother, and often had conflicts with his mother's boyfriend, a violent man who shot the family dog in the head in a fit of anger. Some of the tension, he says, stemmed from his sexual orientation.
"I just couldn't take it. It was all just too much," he said. Gray feels that El Rescate offers him a sense of safety and belonging he couldn't find anywhere else. Before moving to the center, it had been a long time since he had a good night's sleep.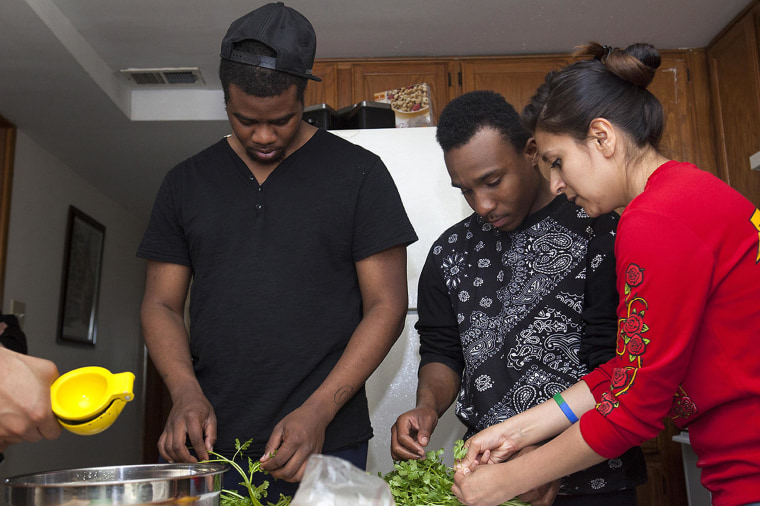 While El Rescate is a transitional home, each floor looks like an average apartment. The communal areas are neat and the walls brightly painted. The smell of freshly baked muffins wafted through the air during my visit. The center currently houses 23 residents.
The biggest obstacle LGBTQ youth face is the lack of acceptance from their families and communities, according to Jackie Gonzalez, program director of El Rescate. Those who identity as transgender have a particularly difficult time. As a result, many young people run away from home or are kicked out by their families.
According to Project Fierce Chicago, there are about 15,000 youth who experience homelessness during the year in Chicago and out of these, as many as 3,000 are LGBTQ, according to a 2007 Gay and Lesbian Task Force. Nationally, LGBTQ young people experience homelessness at disproportionate rates. While approximately 5 percent of youth in the United States identify as LGBTQ, 32 to 40 percent of homeless youth identify as LGBTQ.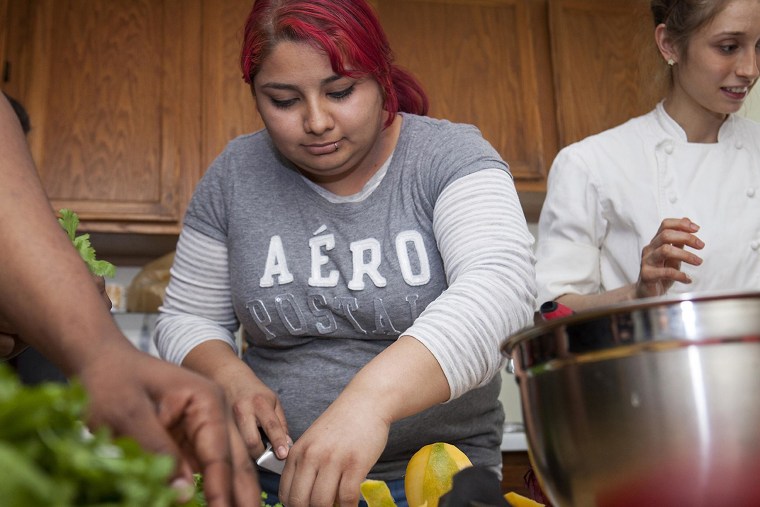 "Any group that faces double discrimination and double stigma find being on the streets even more challenging," said Jerry Jones, executive director of National Coalition for the Homeless. Jones added he has heard horror stories of kids on the streets who are sent to mainstream shelters where they encounter violence because of their sexuality.
Social services are often not equipped to deal with this population, Jones said. In fact, according to Project Fierce Chicago, many facilities do not recognize transgender identity, and youth are required to identify with their biological sex to obtain housing. This makes it a challenge to seek shelter.
In addition, Latino and other immigrant youth face other obstacles; many shelter facilities are unable to handle language barriers and lack the cultural competency to serve a broad range of clients.
Many of these obstacles take a severe toll. The Center for American Progress has found that among homeless youth, 73 percent of those who identify as gay and lesbian report thinking about suicide, compared to 53 percent of their heterosexual peers. Fifty seven percent of gay and lesbian homeless youth have attempted suicide compared to 33 percent of non-lesbian or gay homeless youth.
The Latino community often lacks safe spaces for LGBTQ youth because of religious beliefs, cultural attitudes, socioeconomic barriers, and lack of education, said one
Victor Diaz-Herman, executive director of the South Florida-based Pridelines Youth Services, said the Latino community often lacks safe spaces because of religious beliefs, cultural attitudes, socioeconomic barriers, and lack of education. Diaz believes it is necessary to create a system of care that includes engaging families as well as providing physicians and mental health specialists who are equipped to treat this population.
"All LGBTQ youth require safe spaces and affirming environment for healthy development and safe interaction," said Diaz-Herman.
El Rescate provides the residents with the tough love and support they're lacking, said Gonzalez. Though the program is Latino-focused, they accept people of all races and backgrounds.
"What keeps the youth here is that we actually treat them as family. I treat them like they're my kids," Gonzalez explained.
Gonzalez gives the example of a transgender man from Tennessee who was living at the center and decided to move back home. Not even a week later, he returned to El Rescate because he realized they were his true family.
Though the center is very welcoming, there are strict rules to ensure safety and stability. Youth who live at El Rescate have to meet curfew, do chores and are prohibited from sexual intercourse. They cannot have guests and cannot use drugs and alcohol. A resident advisor stays overnight to make sure everything runs smoothly.
"It's a place where you can learn how to be independent and productive and not be another statistic," said one El Rescate resident.
Beyond providing shelter and support, the program uses living skills facilitators– they are called grandma and auntie– to teach young people cooking, cleaning and proper hygiene. El Rescate also offers case management, job readiness workshops, health referrals and guidance on financial literacy. Because the focus is education and employment, all residents must be either work or attend school. If not, they must be actively pursuing either one.
"I wish that when I had come out, I would have had the guidance El Rescate provides. Maybe I would have avoided sex work, drugs, and my time on the street," said Maritxa Vidal, a transgender woman who is the director of the heath at Vida/SIDA, Rescate's sister organization.
As for Antonio Gray, he is very grateful for the opportunity to get on his feet. "It's very tailored to what you want to accomplish." Gray is currently pursuing his GED and plans to go to college; his interests are cooking, writing and sociology.
"It's a great place to build a foundation for where you want to go; it's a very loving atmosphere," said Gray, adding, "it's a place where you can learn how to be independent and productive and not be another statistic.'