SAN JUAN, Puerto Rico — In the nearly five months since Hurricane Maria tore through Puerto Rico, thousands have left for the mainland, and some are relocating permanently, joining the over half a million over the last decade who have left the island as it's grappled with a prolonged recession.
Those who have left since the storm made landfall in mid-September cite the destruction to homes and towns, the persistent power outages and the island's economic problems.
But a group of professionals, academics, innovators and entrepreneurs who could easily pull up stakes and find high-paying jobs and resettle elsewhere are instead staying put, driven by a vision of rebuilding their island home into a welcoming haven for tech startups and other financially adventurous types.
Mostly upper- and middle-income and educated on the mainland, this group sees the seeds of Puerto Rico's future in redefining how the island does business and how it governs itself — a vision of an economic and political renaissance that offers a sharp contrast to the pictures of despair and resignation that the island has been known for since Maria.
PHOTOS: Displaced Puerto Ricans seek refuge in Florida
"We need to look for opportunity and exploit it," Sofia Stolberg, 34, a Columbia University graduate with a master's from the London School of Economics, told me during a recent visit to see how Puerto Ricans were coping post-Maria.
Stolberg returned to Puerto Rico in 2013 and launched a high-tech startup with her brother, Juan Carlos Stolberg, 37, a Columbia University and Fordham Law graduate who had a practice in New York City and now advises investors in Puerto Rico to take advantage of tax incentives. Sofia's husband, Giancarlo Gonzalez, 37, a tech entrepreneur and former chief information officer of the government of Puerto Rico, works with her and her brother to lure high-tech entrepreneurs to the island through their one-stop-shop services and promote high-tech programs.
RELATED: Anger grows and hope fades as Puerto Rico's ground zero remains without power
The Stolberg siblings are fueling new tech businesses much like their own, Piloto 151, which is Puerto Rico's first co-working space. Here, startups have access to virtual and actual office space, as well as staff and equipment, which helps entrepreneurs who don't have the means to do it on their own. Piloto 151 now has two offices and works with 500 entrepreneurs, freelancers and professionals, ranging in age from their 20s to their 60s.
"What Maria did for us was to make us look at new business models, look for ways to expand our brand," Sofia Stolberg said over coffee at the Choco Bar in Old San Juan. "Those of us who have survived and even thrived throughout the economic depression and now in the aftermath of the hurricane are stronger than ever."
She envisions a Puerto Rico that "offers plenty of great opportunities for companies in specific sectors, like energy, clean tech, disaster recovery and telecommunications — a Caribbean Singapore.''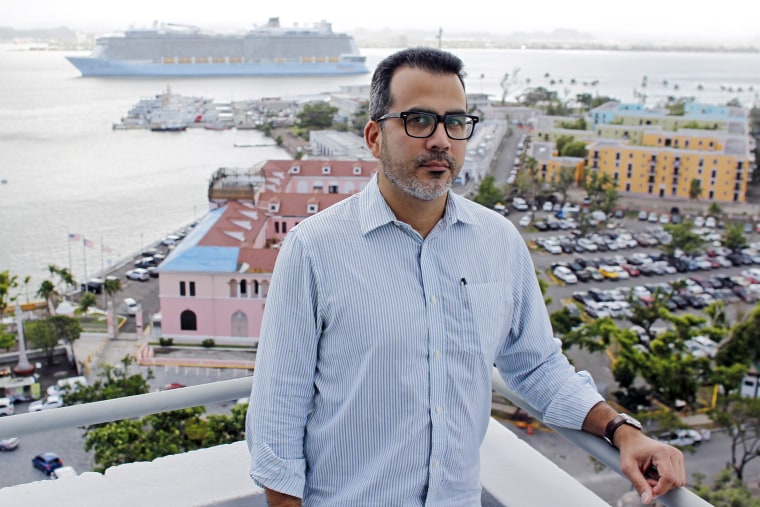 Nonprofits and philanthropies are also pitching in. Deepak Lamba-Nieves, 41, the research director at the San Juan-based Center for a New Economy, who returned to Puerto Rico in 2016 with a Ph.D. from M.I.T., is helping the center design a private initiative called the Resiliency Advisory Commission. He is working in conjunction with and the support of the Ford, Rockefeller and Open Society (George Soros) foundations.
"We want to know what Puerto Ricans at all levels are saying, and ask them how the recovery should advance," he said. "Numerous subjects are on the table. That's physical and natural infrastructure, water systems, energy and health, economic development and housing."
PHOTOS: Dark Days and Long Nights Descend on Puerto Rico
The Open Society and the Ford Foundation are directly funding the work of the commission, which is formally called "Reimagina," which means "reimagine," and the Rockefeller Foundation is funding several consultants to help with the work.
Reimagina is recruiting experts, called commissioners, to lead discussions, visit Puerto Rican communities and hold town meetings. The commissioners, who are unpaid and are primarily from Puerto Rico and its diaspora as well as some U.S. experts, will benefit from the experience of similar exercises carried out in 100 "resilient cities" around the globe and will share their findings with the Puerto Rico government.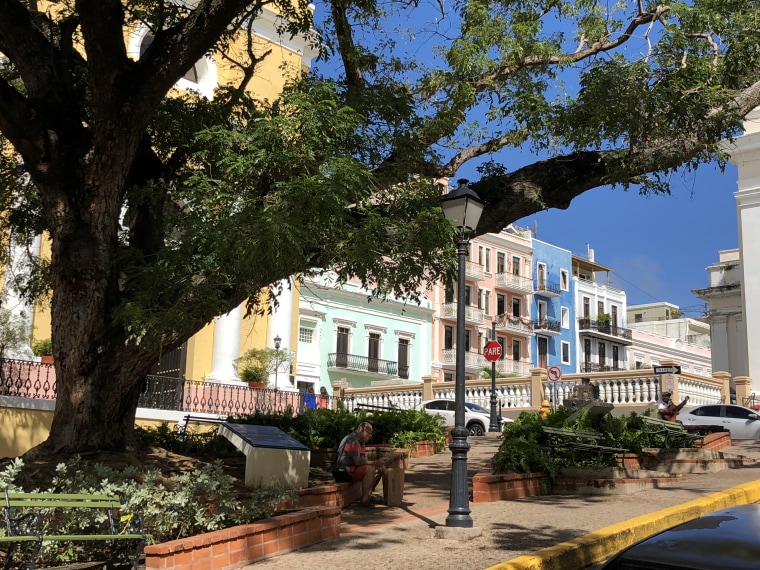 "We need to rebuild the island in a resilient manner, in a way that will withstand whatever shocks may come in the future," Lamba-Nieves said. "But the biggest challenge we're facing is coming together to figure out the best opportunities for Puerto Rico. It's not just a technical issue. It also has to do with how local communities gain power and have a voice in the decision-making process. It's a collective recovery effort. That's the framework for reconstruction."
The recovery involves far more than smart reconstruction and high-tech innovation. The island's nebulous political status — neither a state nor independent — is a core issue for those who think its territorial status is at the root of much of the island's current situation.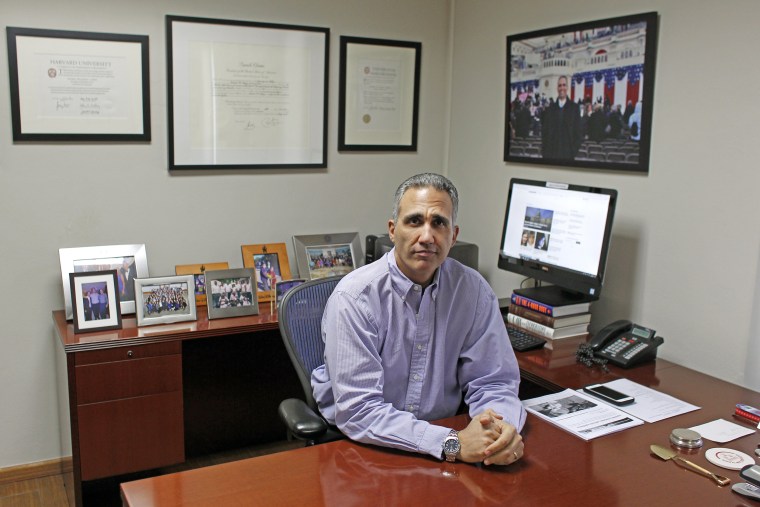 "Hurricane Maria revealed, for everyone to see, the devastating consequences of America's unequal treatment of Puerto Rico,'' Andres W. Lopez, a 46-year-old Harvard Law graduate and member of the Democratic National Committee, said over wine at Il Positano, a bustling new Italian restaurant in San Juan.
Lopez favors statehood, though he acknowledges that it probably faces an uphill battle in Congress.
"For us to prosper, we must achieve equality — and a real seat at the table — as part of our long-term recovery,'' said Lopez. "At the end of the day, it's very simple: Puerto Rico's problem is inequality.''
Currently, those who live on the island cannot vote in U.S. presidential elections and have no voting representatives in Congress.
But unlike many who worry about the flight of Puerto Ricans for the mainland, Lopez sees a chance to turn those numbers into political muscle. "Those Puerto Ricans in Florida, Texas and elsewhere will vote and elect senators, representatives and presidents,'' he said. "That means they could develop the clout to be heard in Washington and benefit Puerto Rico."
On the road south from San Juan, I expected to mainly see a razed landscape of wilted trees, barren mountains and dilapidated roadside towns. But the hills were freshly green, trees had new leaves, and the communities I rode by showed few signs of ruin. Dozens of houses had lost their tin roofs and were topped in the blue tarps of the Federal Emergency Management Administration. Other parts of the island endured much bigger blows and still lacked the basics.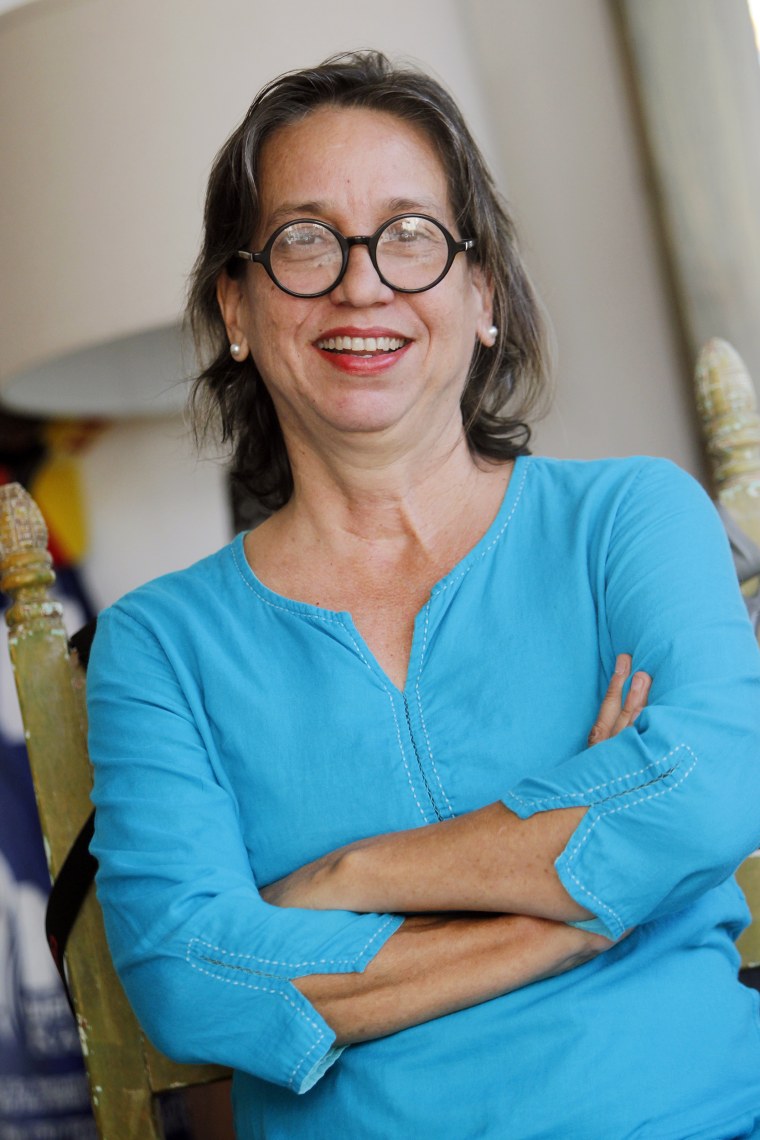 "On the first days after the hurricane, there was no order, no police control," said Mari Mater O'Neill, 57, an artist, designer and educator with a doctorate from England's Northumbria University, as we rode to the southwestern coast. Residents grappled with a spike in crime including the theft of prized items like generators. "There was a sense of having been forgotten, while at the same time, the delusion that the world was paying attention," said Mater O'Neill.
But neighborhoods, families and individuals joined together to take action and not wait for government help. They swept roads, stacked debris, distributed food, stood patiently in queues for gasoline and water and procured generators for the neediest. On vans and trucks, volunteer brigades spread out to the hard-hit mountain areas, carting water, helping the ill, feeding children and operating with disciplined military fashion.
Everyone had a job, a duty — everything was coordinated, O'Neill said. "We showed Puerto Rican resilience."
One of those volunteers is Lissete Fas, a onetime journalist in Boston and publicist in New York who now lives in her hometown, Sabana Grande. Before the hurricane, she had been working on an independent project to bring tourism to the coffee hills near her home.
"I wanted to combine ecology, landscape, history to attract tourists to these parts along the Cordillera Central," she said. But over several years she found little government and private support. Then, Hurricane Maria hit in September, and recovery has taken priority. "I am in state of mourning for the coffee hills, but I'm not leaving. I am here for the long haul to rebuild something solid."
Nelly V. Cruz Rodriguez, a San Juan publicist who posted online accounts after the hurricane, said: "We need to see this as an opportunity to rebuild the island for the better. We need to be less dependent and produce more locally. I personally learned and confirmed that we are capable of anything."
Sophia Stolberg put it this way: "It's our time to prove that we have what it takes to lead Puerto Rico's economic transformation, and I would say we are now more ready than ever to show the world what we're truly made of."