Defeated in his run for Chicago mayor, Jesus "Chuy" García energized Latino voters often written off by campaigns and gave the community an image of their possibilities.
"To all the little boys and girls watching, we didn't lose today. We tried today." García said in his concession speech. "We fought hard for what we believed in. You don't succeed at this or anything unless you try. So, keep trying. Keep standing up for yourself and what you believe in and one day, one of you will be standing here where I am tonight."
Standing, that is, as an immigrant from Durango, Mexico, who came as a little boy to the U.S., who went on to serve in city, county and state elected office, returned to lead a community development group and much later stepped in late to a Chicago's mayor's race to force incumbent Rahm Emanuel into what some termed the political fight of his life.
It was the first time since 1990 that the city had seen a mayoral runoff.
Emanuel himself acknowledged in his victory speech that the challenge had put him "through my paces."
"I'll be a better mayor because of that," he said.
Emanuel won with about 56 percent of the vote to García's 44 percent. But García saw heavy support from Latino wards of the city, holding a lead in 12 of 13 majority-Latino wards, the Chicago Tribune reported.
He was unable to do the same in African American-majority and white majority wards, despite endorsements from key African American leaders and attempts to form a multicultural coalition, the newspaper reported.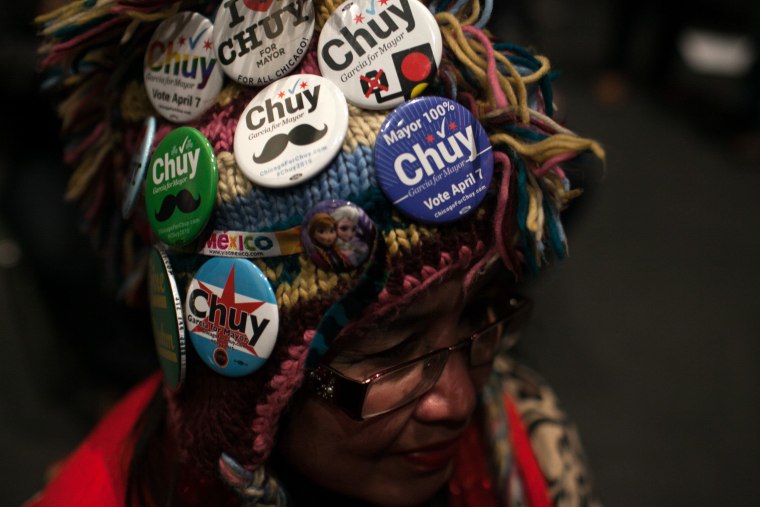 García's unexpected success in the primary ignited interest in Latinos nationally. Fundraisers were held for him by other Latinos in Washington, D.C., New York, Denver and Los Angeles, although the money raised never matched the more than $20 million raised by Emanuel.
He picked up a key endorsement from Latino Victory Fund, which has been working to build the ranks of Latino candidates and get them elected to public office.
"Chuy has energized the Latino community, not only in Chicago, but across the country," Cristobal Alex, Latino Victory Fund president said in a statement. "A champion of the community, he is the kind of authentic candidate that Latino voters are eager to see on the ballot, and I'm hopeful that this enthusiasm will carry over to other important races across the country."
Sylvia Manzano, a principal at Latino Decisions polling firm, said despite Garcia's loss, the turnout by Latinos for García and Emanuel, make it difficult for Emanuel to give short shrift to Latinos in his next election and require he pay more attention to the community. Garcia's showing in the primary and the tough run he gave Emanuel underscore that "Latinos will always be part of the municipal election from this day forward," she said.
Follow NBC News Latino on Facebook and Twitter
"Chicago has been seen for a long time as a black-white community or the Latinos were thought to be a small Puerto Rican community," she said. About 80 percent of its Latino population is of Mexican descent.
Similarly, García has helped signal to the country the growing Latino influence outside the cities of Los Angeles, Miami and San Antonio, she said.
"There has been Latino influence in how Chuy ascended to this candidacy," she said. "He's more a mirror for the rest of the country. He's not really changing it. He's a product of that change."