When one thinks of the most honored Latin American films of the last 20 years, they are mainly narrowed down to three countries -- Mexico, Argentina and Brazil. But things are beginning to change and Colombia is challenging the status quo. Ciro Guerra's "The Embrace of the Serpent" is the first Colombian film to ever be nominated for an Oscar and the only movie representing Latin America in the Best Foreign Film category in this year's Feb. 28th Academy Awards.
The film, shot in mesmerizing black-and-white, centers on Karamakate, an Amazonian shaman and the last survivor of his people who lives in isolation, and the two scientists who, over the course of 40 years, build a friendship with him. The film was inspired by the real-life journals of two explorers who traveled through the Colombian Amazon during the last century in search of the sacred and difficult-to-find psychedelic Yakruna plant, a mysterious hallucinogen capable of teaching man to dream and to heal. The three men embark upon an odyssey that will lead to new knowledge, betrayal and also life-changing transcendental experiences.
We had a chance to speak with director Ciro Guerra to better understand the historic significance of his movie's Oscar nomination. He also told us about his conversation with Colombian President Juan Manuel Santos and whether he would ever one day want to direct a Hollywood film.
How did you find out you were nominated for an Oscar? Where were you? What was your immediate reaction to the news?
Caracol Television [in Colombia] invited the whole production team to a breakfast at their studios to listen to the nominations. When the nomination was announced, it was euphoric, people screaming, jumping. Then calls began to come in from the press and it felt like I got kidnapped by them (chuckling).
I understand that one of the first calls you received was from the President of Colombia, Juan Manuel Santos. What did you talk about?
He called me and said he was excited and proud of the accomplishment. We also thanked him for supporting Colombian cinema, an important factor in the success we're having today.
Have you had time to absorb and digest the significance of the Oscar nomination and your place in it?
Yes, fortunately I have. The first day was very effervescent, it felt like the people of Colombia were really joyous. I, personally, take it with a bit of distance. It's a culmination of a process, the 100 years of Colombian cinema, and it's a journey that other pioneers have paved and which we have walked upon; today we stand on its shoulders.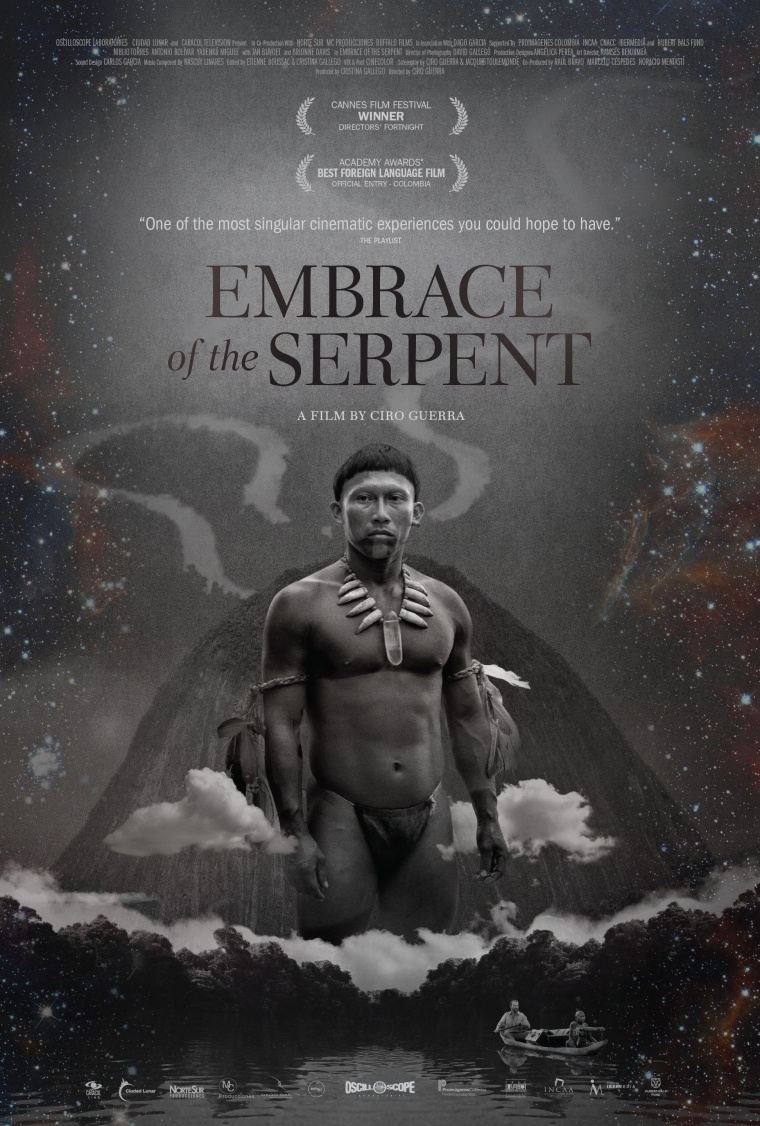 RELATED: Alejandro González Iñárritu's "The Revenant" Sweeps Oscar Nominations
Modesty aside, what is it about your film, "Embrace of the Serpent," that has tantalized the global film community and that separates it from the rest of the pack?
I feel the movie has touched a collective fiber. It's a special movie that has come at a special time when people are open minded to receive this type of narrative. The film is about a spiritual journey in which people are completely immersed. We see so many problems in the world, we see fractured societies, we see such hate, xenophobia growing. People are looking for other ways to see the world and to be human and I think the film talks about that.
What directors and films have influenced your cinematic style?
I'm a huge fan of Latin American cinema. Directors such as the Brazilian Glauber Rocha and his films "Tierra En Trance" (1967), "Dios Y Diablo En La Tierra Del Sol" (1964), "La Edad De La Tierra" (1980), have been a source of great inspiration and reflection. Also, Cuban director Tomás Gutiérrez Alea's films "Memorias Del Subdesarrollo" (1968) or "Muerte De Un Burócrata" (1966). These are fundamental films for me because they explore the essence of what it means to be Latin American.
RELATED: 2015 Movie Roundup: 10 Must-See Latino and Latin American Films
What is your opinion of Hollywood? Would you like to eventually direct a Hollywood film?
Hollywood is a machine that devours directors, so I know it's difficult to stand out amongst all that. But it would be an interesting opportunity to learn there and if there are offers to work… what I wouldn't do is make the same movies I do in Colombia.
I'd be interested in the possibility of creating different types of films and work with different types of talents. Science-fiction, smart science-fiction, fantasy, is something that attracts me. There's a part of me that is very influenced by [Hayao] Miyazaki who lets loose his imagination. It's a facet of me that I haven't really explored in Colombia and that would be interesting to do.
From here, where is Colombian cinema headed to?
This is all part of a process of renewal. There are many Colombian directors emerging, much support from private companies that are once again believing in Colombian cinema and there's a generation of talented people that have a particular view of what film and narratives are - that benefits global film. Let's pay attention to them.