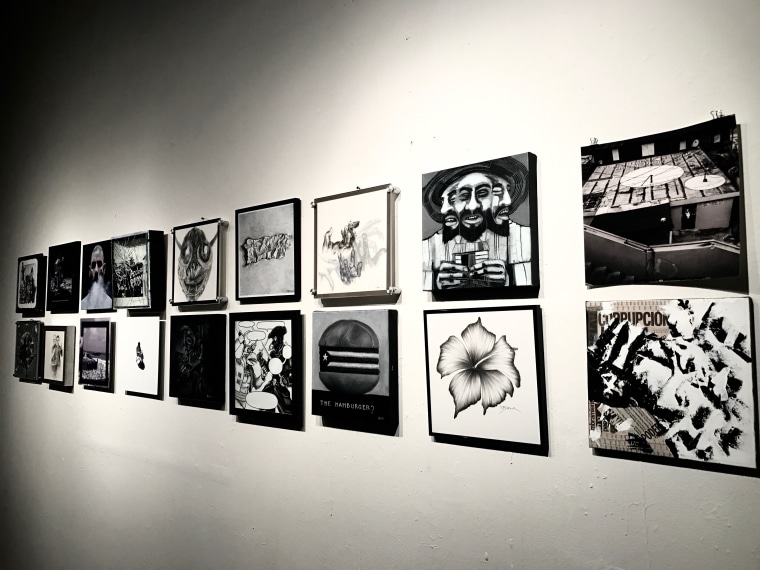 NEW YORK — A new exhibit examines the complexities and facets of Puerto Rican identity 100 years after U.S. citizenship.
CitiCien, a new traveling exhibition created by multimedia art collective Defend Puerto Rico, features 100 Puerto Rican artists from the island and the diaspora. The exhibit opened Thursday on the 100th anniversary of the Jones Act, the first piece of legislation that opened a pathway for Puerto Ricans to earn U.S. citizenship.
Many Puerto Ricans associate the Jones Act with the struggle of not being 'ni de aquí ni de allá', meaning neither from here nor there.
"It's a complicated identity struggle with our people," says Adrián Viajero Roman, CitiCien's curator and co-founder of Defend Puerto Rico.
RELATED: On 100th Anniversary of U.S. Citizenship, Puerto Rico Still Grappling With Its Identity
From iconic artists like Antonio Martorell to 20-year-old Gabriella Davila, who painted a chained woman holding the Puerto Rican flag while gesturing to the American flag, all 100 artists explain how Puerto Rican identity was impacted by the Jones Act through art.
Jo-El Lopez, one of the artists presenting at CitiCien, was born in Puerto Rico and brought to New Jersey when he was a year old. Thirty years later, Lopez visited the island for the first time.
"When I came back I told my mother: 'Mom, they're all Puerto Ricans,' and she laughed at me because I've never seen so many. It was like a rebirth. I was born again as a new Puerto Rican," said Lopez, who is 45 now.
Lopez's piece "Assimilate Spic" reflects his journey of reclaiming his Puerto Rican identity, after spending 30 years assimilating to American culture while suppressing his own.
"I want this piece to stir some kind of anger on assimilated Puerto Ricans," said Lopez whose piece depicts a god-like angry Uncle Sam, representing people's reactions to Puerto Ricans who don't assimilate properly.
"That's what they're doing with the Jones Act," said Lopez. "They're telling Puerto Ricans not to be Puerto Ricans, but to be Americans."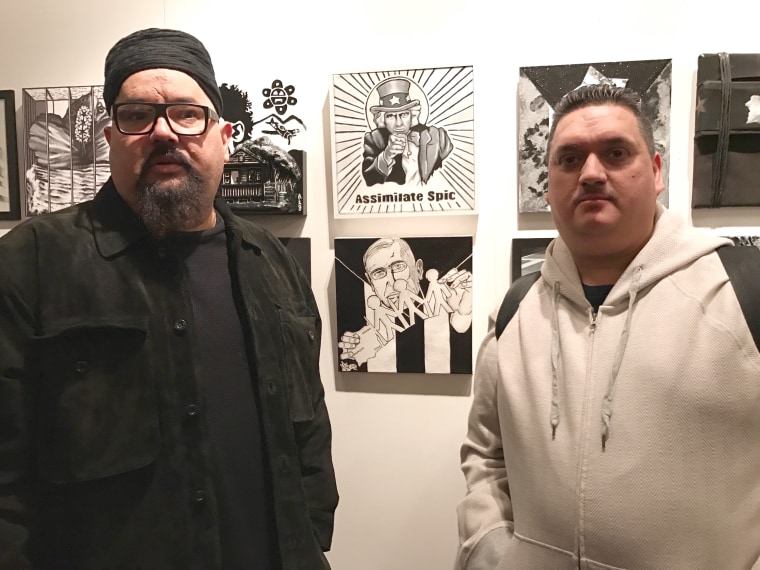 "I always say that what happened in the past, is always going to affect the future," said artist Nelson Host Santiago, whose painting shows former president Woodrow Wilson pulling apart a scissors cutout of soldiers drafted for World War I out of a paper shaped like the island of Puerto Rico.
"That [the Jones Act] was just the beginning of a lot of things that happened afterwards," said Santiago.
"I think there's a lot of confusion as to what people understand about being Puerto Rican," says Roman. "It wasn't like, 'Hey! Let's all be U.S. citizens. Let's do everything like the Americans.' It was forced on us."
The path to citizenship
The Jones Act gave Puerto Ricans a path to U.S. citizenship through naturalization. Essentially, Puerto Ricans had to go through an application process to earn U.S. citizenship. That's not the case anymore.
Seventy seven years ago, the Jones Act was replaced by the Nationality Act of 1940 which gave birthright U.S. citizenship to all Puerto Ricans. However, people born in the United States and Puerto Ricans born in the island don't enjoy the same type of U.S. citizenship.
U.S. citizens born or residing in the United States enjoy a constitutional citizenship thanks to the 14th Amendment. Puerto Ricans in the island were granted a statutory citizenship, through Congress.
For some Puerto Ricans, this distinction is crucial.
"Puerto Ricans are less than second-class citizens," says Charles Venator-Santiago, a political science professor at the University of Connecticut who's introducing a special study later this month for the Center of Puerto Rican Studies in New York.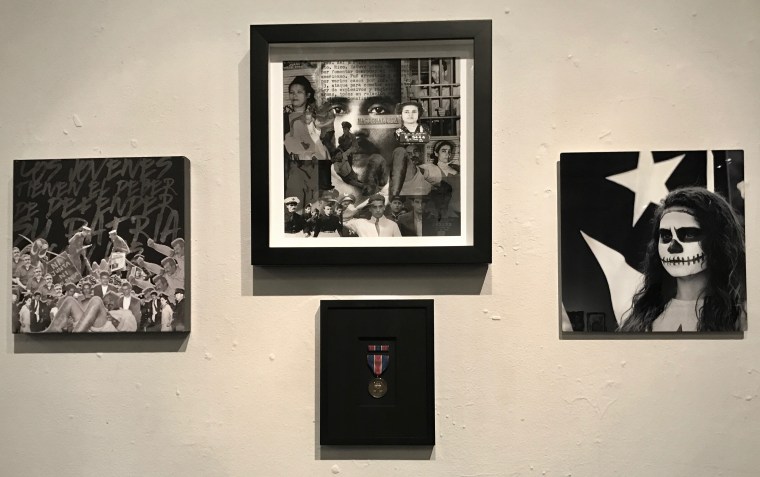 After a series of cases from the 90's in which Puerto Ricans wanted to give up their U.S. citizenships to become Puerto Rican citizens, courts determined this was not possible. They argued that in order to self-expatriate, petitioners had to declare a residency outside of the United States. Puerto Rico is a U.S. territory and thus not considered to be outside the U.S.
"Puerto Ricans who want to renounce from their U.S. citizenship can't do it and we can't become naturalized U.S. citizens either," says Venator-Santiago. But once Puerto Ricans born on the island declare residency in the United States, their U.S. citizenship becomes constitutionally protected and can't be revoked.
Just ten years after Puerto Ricans received birthright U.S. citizenship, nationalists in the island conducted the Jayuya Uprising to declare Puerto Rico free from the United States.
Artist Daniel Alago recreated a scene from this revolt that left 25 people dead in 1950.
Alago first learned about the uprising when his mother, Iris, told him how she saw Puerto Rico's National Guard soldiers bombard her town of Jayuya in an attempt to terminate the nationalist movement. Iris was just five years old.
"The stories I heard growing up, about the town being bombed, stayed with me," said Alago, whose piece pictures two mountains that represent Jayuya, a taíno symbol which is Jayuya's sun with a black and white Pedro Albizu Campos, leader of the nationalist movement. In the corner, there's a small scene of the National Guard bombing the town next to the casita, or little shack, where his mother hid during the bombing.
Even though this is not the first time an art exhibition explores Puerto Rican identity, Juan Sanchez, one of the most influential Nuyorican artists, said "this show is very special because you have a trans-generational body of art in complete unity."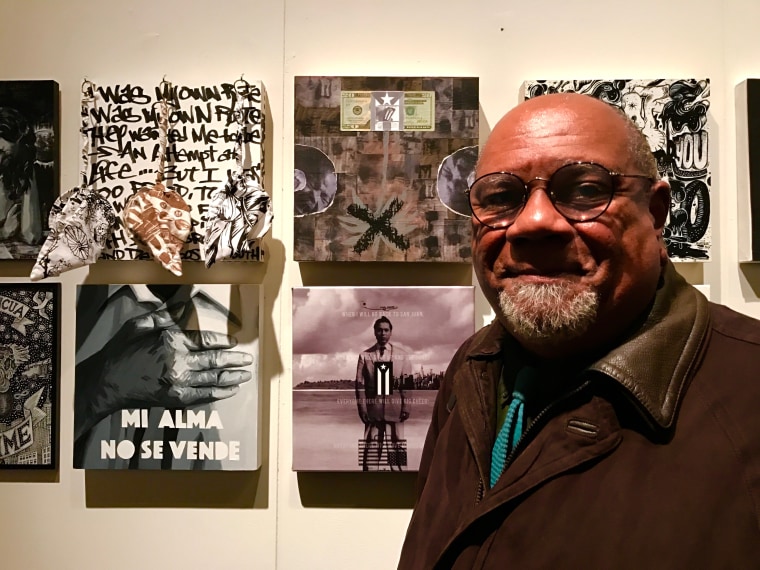 The CitiCien traveling exhibition will stay at the Clemente Soto Vélez Cultural & Educational Center in New York City until March 26 and then goes to different cities as it makes its way to Puerto Rico sometime in June.
Defend Puerto Rico is in talks to bring CitiCien to Orlando, Chicago and Philadelphia, where big Puerto Rican communities still prevail.