Leading Republican presidential candidate Donald Trump announced his campaignby accusing Mexico of sending over "killers" and "rapists" and promising to build a Great Wall on the nation's southern border.
Months later, the thought of a Presidente Trump is motivating many Latinos to go through the naturalization process to become U.S. citizens — and vote against Trump.
A number of Latino, labor and immigration groups — including SEIU, Mi Familia Vota, NPNA, iAmerica, UFCW, Unite Here! and Latino Victory Foundation — have banded together under the "Stand Up to Hate" campaign, and this weekend many of them were sponsoring naturalization drives in states where organizers have seen a marked interest in the process.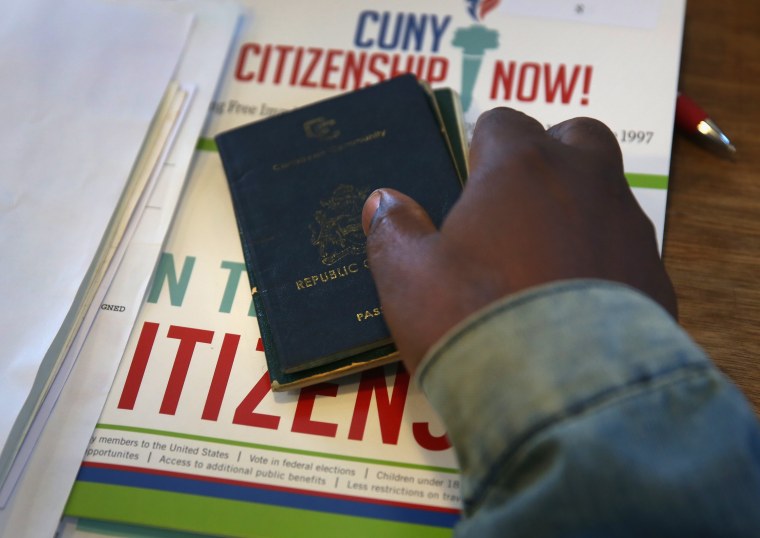 In Miami on Saturday, the line for a workshop sponsored by the Florida Immigrant Coalition and Catholic Legal Services, among others, wound up the Marlin's Stadium walkway for what seemed like miles.
Kids wearing their Sunday best stood next to grandmother's rocking babies in their arms as cheery but anxious parents reviewed the contents of their paperwork. The line buzzed with Spanish accents from all over Latin America and was sprinkled with Haitian French.
Many waiting in line where there because they had a score to settle, and they were doing it with a smile on their face.
Related Article: Latino, Immigrant Groups Launch 'Families Fight Back' Voter Campaign
Antonio Fernandez Robinson, a Cuban exile, jumped at the chance to talk about his reasons for being at the citizenship drive.
"I've had my residency papers for 19 years but one of the main reasons I'm becoming a citizen now is because I want to vote against Donald Trump," he said. "He offends me because he is insulting all Hispanics and what he is doing is wrong. It doesn't matter how much money you have, you don't have the right to denigrate people the way he has."
Nancy Arreola, originally from Honduras, was standing in line with her young daughter. She's had her residency for nine years but wanted to vote against Trump to make a larger point.
"I want to become a citizen vote against Trump so that Honduran brothers and sisters escaping persecution and crime can have a little peace of mind as they try and get educations and work and rebuild their lives," she said. "They need our support."
A Peruvian woman in her 50's didn't want to give her name, but said she has had residency papers for over six years and wants to vote against Trump "to help all of my fellow Latin Americans that haven't gotten their papers yet."
"This is a Hispanic city, look at this line!" she said. "If everybody here voted against Trump, we could deny him the presidency. Beyond his insults, he's not prepared. He doesn't present any policy details and he's not international. I'm voting for Hillary!"
State representative Jose Javier Garcia was on hand to answer people's questions and address their concerns. "There are a lot of people who are residents and for many different reasons don't get around to becoming citizens. For a lot of people it's expensive, but the rhetoric people are hearing in the presidential campaigns is really urging them to come get their paperwork done just out of a generalized fear," said García. "Citizenship gives them so many rights and now they feel they need that protection more than ever before."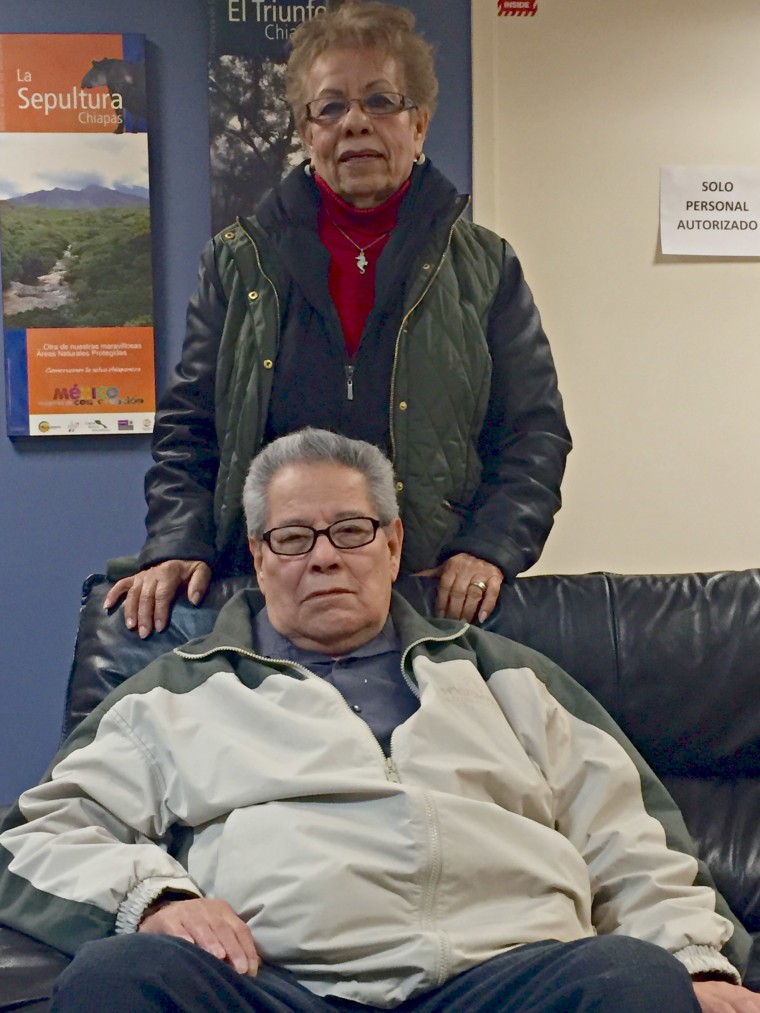 In Chicago, Aurora Rosiles, 76, and her husband Abelardo, 75, attended a citizenship workshop at the Mexican consulate organized by the Illinois Coalition for Immigrant and Refugee Rights; the couple is originally from Michoacán, Mexico. About 2.7 million of the 8.8 million legal residents in the U.S. are Mexican immigrants, but as a group they are less likely to become citizens.
The couple, retired factory workers, have had U.S. residency for about 20 years and have been in the country since 1974. Abelardo had thought of becoming a citizen for years, but had not gotten around to it until he saw an ad for the citizenship drive and picked up the phone. He said Donald Trump's rhetoric "definitely" influenced his decision.
"Everything he says bothers me, I don't think he's ever said a good or beautiful thing - I don't like that there are even some Mexicans supporting him, I think he's paying them," said Abelardo about Trump.
"He attacks all Mexicans, saying we are all thieves," said Aurora. "He is bothered by everything we are."
In Raleigh, North Carolina, José Fernando Martínez, 39, is in the process of collecting information and forms to apply for citizenship. "I am participating in a clinic on April 9th so that someone can double-check all my documents. And I am also taking online practice tests, they give you a test with 20 questions for you to answer. It's pretty cool!"
Martínez, an education activist, has been in the U.S. for 16 years and is originally from El Salvador. "To be honest, I mainly felt obligated to vote against el candidato Trump, regardless of who is the alternative.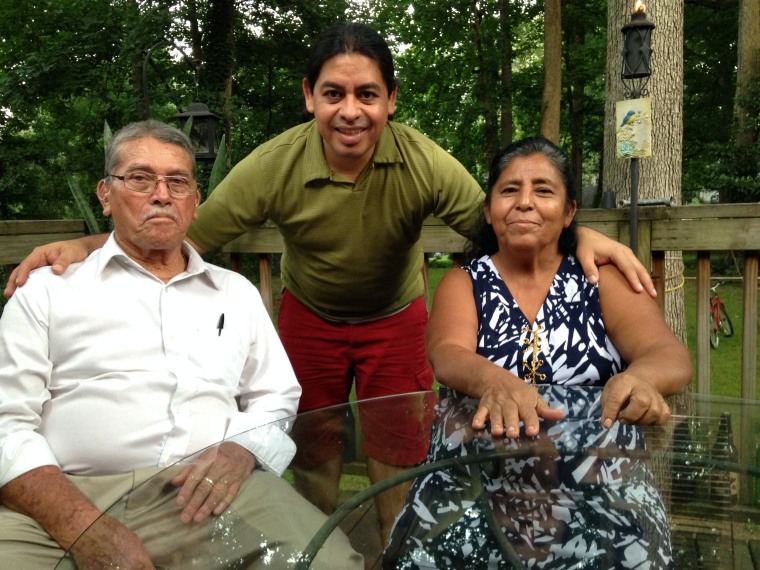 "His goal is to provoke and agitate the majority of people with power in this country to act against immigrants and minority groups," said Martínez. "That's what bothers me the most, it's how he manipulates the masses."
Other naturalization drives were taking place over the weekend in Tucson, Nevada, Texas, Maryland and California. In addition to targeting those eligible to naturalize, the groups are also looking to target the U.S.-citizen children of immigrants to engage them in voter mobilization movements.
There are 8.8 million people in the U.S. who are already eligible to become U.S. citizens but have not done so. Of those, 3.9 million are Latinos. Naturalization applications were up almost 15 percent in the last half of 2015, and advocates estimate this year will see higher numbers.
"We'd like hope to be the ultimate motivator, but many times it is fear and anger that drives people to action," said NALEO's Arturo Vargas, speaking in December about the national campaigns urging Latinos to become citizens and vote.
In Chicago, Idalia Cervantes, 24, was one of the coordinators helping about 300 people on Saturday, including the Rosiles, sign up for naturalization workshops in April; they filled all the slots.
Because of state budget cuts, her non-profit, the Illinois Coalition for Immigrant and Refugee Rights, had reduced their staff by more than half and were worried about how they would reach the community about apply for a citizenship.
"We've been able to get the word out though," she said. "Trump's doing the outreach for us."