The prospect that he might be a running mate to Hillary Clinton made Housing and Urban Development Secretary Julián Castro a target over his Spanish speaking skills, something that many Latino politicians are all too familiar with.
In a story published Thursday, Politico paraphrased an unnamed source saying Castro's ethnic background "may not be as effective in appealing to Hispanic voters as some believe."
"Tim Kaine speaks Spanish much better than Julian Castro does," the Clinton ally told Politico. Kaine is a Virginia Democrat who spent a year working in Honduras with Jesuit priests.
Castro is considered by many to be a potential running mate for Clinton, a 2016 presidential candidate.
Castro spokeswoman Betsaida Alcantara said she would not comment on the criticism saying, Castro is "laser-focused on ending homelessness, expanding responsible homeownership, tackling the affordable housing crisis and creating communities of opportunity across the nation, not on 2016."
But what appeared to be a flippant matter to the "Clinton ally" is one that can be agonizing and even embarrassing to some Latinos, something that opens them to questioning about their Latino identity.
Former U.S. Rep. Charles Gonzalez of Texas experienced painful ridicule and embarrassment over his Spanish speaking skills, often at the hands of other Latinos.
"There were people who tested me all the time when I was in office, just to see if I spoke Spanish," said Gonzalez, whose parents and grandparents spoke Spanish and who like Castro is from San Antonio.
"I'm not sure if you are supposed to be shamed into some sort of apology that you don't (speak Spanish) … It's expected of us and I don't think we should have that expectation. As you move forward in the generations we are no different than those groups that come from this country."
"There were people who tested me all the time when I was in office, just to see if I spoke Spanish," said former U.S. Rep. Charlie Gonzalez.
The focus on Castro's Spanish skills and the comparison of them to the speaking ability of a white politician reflect a continuing struggle in the country to understand the diversity of the Latino community and what it takes to reach them politically, a struggle found even within the Democratic party that won the Latino vote by 2-1 margin in the last election.
Gonzalez acknowledged that speaking Spanish is an asset, something to strive for, but said it cannot be something that determines how a person votes. In the end, what matters is the substance of what is being said to the Latino community in English or Spanish, he said.
"Our community should be be more engaged and involved in the substance," Gonzalez said.
Castro was born in the United States and is the son of a U.S.-born mother fluent in English and Spanish.
Like a number of Latinos, his family can trace its presence in the U.S. for several generations. Some Latinos had famiies in the U.S. Southwest when it was still Mexico or family who were native Americans, or both. Castro's maternal grandmother is from Mexico.
Castro is a Stanford University graduate who served as mayor of San Antonio, the nation's seventh largest city with a large, long established Hispanic population. He understands and speaks some Spanish but is not fluent.
"Those kinds of comments from someone who is trying to get Hillary Clinton elected are not helpful, not productive and misinformed," said Larry Gonzalez, a Washington, D.C. lobbyist who is Mexican American, grew up in a bilingual household but expanded his Spanish in school (he is not related to Charlie Gonzalez.)
A record 33.2 million Hispanics speak English proficiently while the share who speak Spanish at home is the lowest it's been in 13 years, said Pew Research in a recent report.
"While yes, Spanish is helpful with certain audiences in certain parts of the country, it is his story and his family's story and their plan to help the Latino community - their being Hillary as a potential president and him as a potential vice president - that matter," said Gonzalez, who speaks Spanish.
The criticism comes even as some are questioning the ability of Latinos to weave themselves into the fabric of the country and demands are being made for immigrants to be English proficient as a qualification for citizenship.
Republican Marco Rubio, the son of Cuban immigrants, can move easily between Spanish and English; Jeb Bush regularly uses his fluent Spanish.
Sen. Ted Cruz, a Texas Republican of Cuban descent who lived part of his life in Canada, admits his inability to speak Spanish, which also exposed him to questioning about whether he was truly Hispanic.
Castro has had to contend with other references to his heritage. The Washington Post last August apologized after it was swiftly criticized for a "We'll need more fajitas" subhead over a column item about Castro dining with Bill Clinton. And while Castro might not be fully fluent in Spanish, it hasn't stopped others from using Spanish when talking to him. While testifying at a House hearing in February, Castro found himself unable to quickly locate Rep. Steve Pearce of New Mexico, the committee member who was about to ask him questions. As he looked around the dais, Pearce said "Aquí! Right here" to get Castro's attention.
Recent waves of Latino immigrants, combined with the growth of Spanish-language media as well as technology have boosted the language. Progress has been made since recent decades when Jim Crow laws were applied to Spanish speakers, prohibiting them from speaking the language in school and segregating them into Mexican schools.
But as with previous generations of Latinos and other immigrant groups, English takes over as time passes. Pew Research Center recently reported that a record 33.2 million Hispanics speak English proficiently while the share who speak Spanish at home is the lowest it's been in 13 years.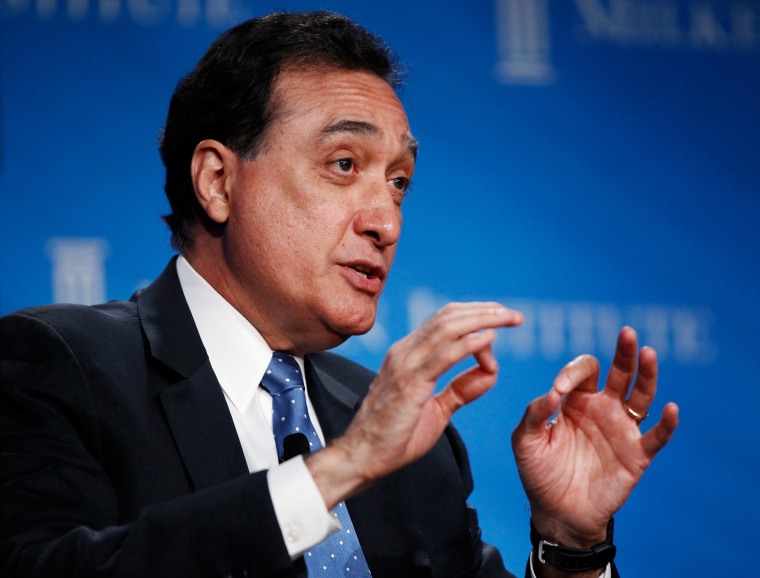 Former San Antonio Mayor Henry Cisneros said he does think it's important for a Latino candidate to speak Spanish. He said it's an act of respect to one's heritage and often instills a degree of pride in Latinos watching someone use their "heritage language."
Cisneros spoke only Spanish at home as young boy until his father, a World War II veteran who was bilingual and born in the U.S., decreed English would be spoken at home so they would not be at a disadvantage in school.
By high school, he said, he had forgotten most of his Spanish and took Latin. He revived his speaking when he was in Washington, D.C. as a graduate student and he taught citizenship classes to Latinos. His ability to speak Spanish grew when he was a city council member and did Spanish-language interviews and later in his role as president of Univision.
"All of us can improve. All of us educated in U.S. schools can work at it," Cisneros said. "It's something to work on and Julián will be just fine in that regard in due course."
Charlie Gonzalez joked that he has a single recommendation for people who are truly bilingual or not. Reaching into the language of Chicanos, he said: "End each sentence with con safos," which can loosely mean the insult can't come back to you.