LAS VEGAS – While Hillary Clinton and Bernie Sanders squared off in a Democratic debate in Milwaukee, Laura Lozano was working a phone bank in East Las Vegas.
A volunteer for the Clinton campaign, Lozano is calling Spanish-speaking Latinos to explain the intricacies of caucusing and why they should do so for Clinton.
"The majority of us, Mexicanos, don't vote and we want to have a better future for us so they treat us equally," said Lozano.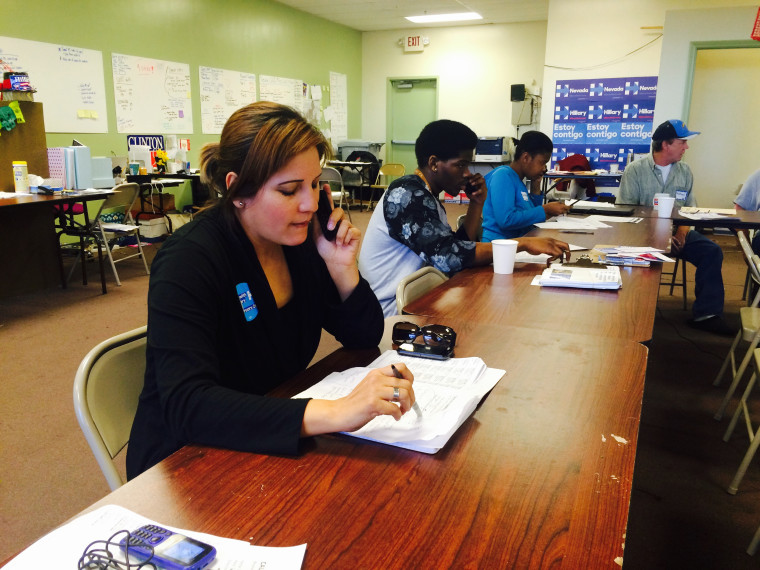 "We don't like how Trump thinks of us and it's very important we vote so we can assert our voice," she said in Spanish.
Nevada's Democratic caucus is a little more than a week away and the race is on to line up Latino voters. This is where Clinton beat Barack Obama for the popular vote in 2008 by a nearly two-to-one margin. But after a drumming in New Hampshire, Clinton faces a tough battle to keep Bernie Sanders from siphoning much of that Latino support.
Clinton organizers quickly boast they've been in place since April and their volunteers know well the people they've been calling and visiting at their homes. They explain they've been on the ground for months and visiting or calling people multiple times.
They've identified who the potential voters are who need assistance in Spanish and are building up a cadre of Spanish speakers to translate at caucuses.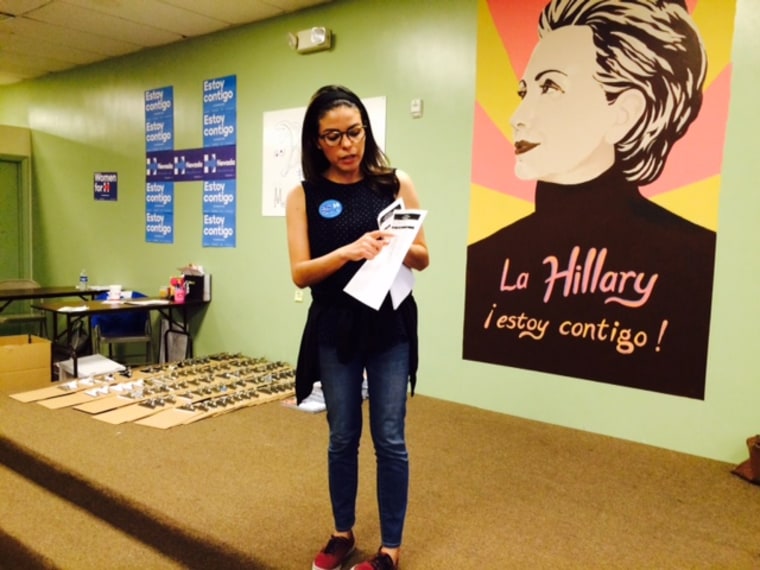 The advantage of being on the ground since April, said Clinton's regional organizing director for East Las Vegas, Anatole Jenkins, 25, is "we've created our own universe."
Lozano and others had gathered Thursday night in a strip mall suite away from the glitter of the Las Vegas strip to make the calls and learn how to caucus.
In the spare office, signs in Spanish "¡Caucus Conmigo!" hung alongside those in English "Fighting For You Nevada."
Plastic strands of colorful "papel picado" hung across the large, unfussy room. Though Hillary's referral to herself as "La Hillary" has been fodder for Twitter trolling, here it proudly blared from the front wall below a mural of Clinton in profile, stretching from the ceiling to the floor. "Estoy contigo," the Hillary likeness claims. "I'm with you."
RELATED: How Did Clinton, Sanders Do? Our Latino Panel Weighs In
"I'm hoping she can fix this thing," said Frank Magaña, 36, who sits below the papel picado with three pages of names of people to call to ask them to volunteer. Magaña has been without work for a month, laid off from a bar where he worked as a dishwasher.
"There's no work. Most people got laid off," he said. "They got rid of a whole shift."
A former Republican, Magaña cringed when asked whether he had considered any of the GOP candidates.
"Hell no! … Racist bas***ds! …. I registered Republican in 2000 and I voted for Bush. That was his shot and what he did, he screwed up the whole country," he said.
To him, Bernie Sanders "doesn't make sense."
"He's trying to raise the minimum wage to $15. That's just a dream. The economy at this point is not really strong enough to support that. If he does that, to me, there's going to be a lot of people without work," he said.
RELATED: Maná Urges Latinos to Vote, Honored with Hollywood Walk of Fame Star
Earlier Thursday, actor America Ferrera was on the College of Southern Nevada Cheyenne campus here to rally Latinos to register to vote, participate in the caucus and to get 10 other friends to do the same. The event was organized by Voto Latino, a non-partisan group that does not endorse a candidate. For years Voto Latino has worked to register younger Hispanics to vote and get involved in the political process.
The campus has a mix of students, citizens and those who have not legal status but have a reprieve from deportation through President Barack Obama's Deferred Action for Childhood Arrivals, DACA.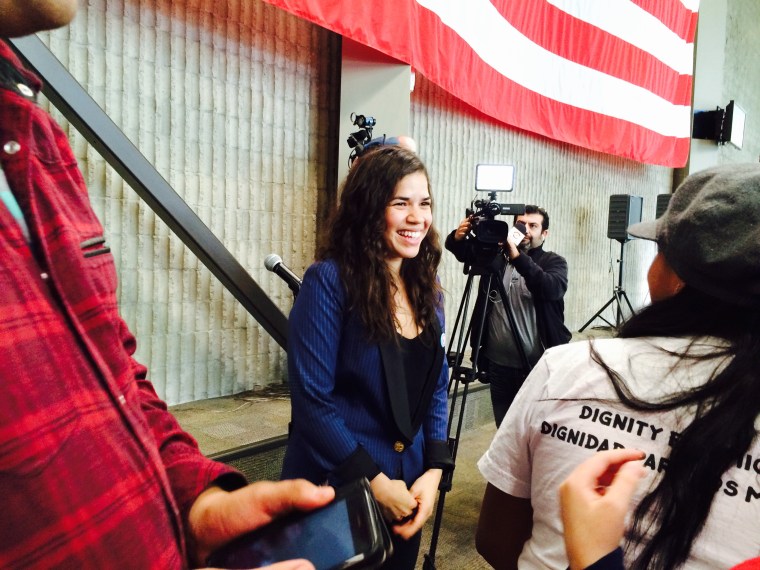 Ferrera urged the young people at the gathering in the campus student lounge to change the narrative about Latinos and voting.
"Now more than ever we are living in a time where we're being tested. Our community is being tested by people who are going out there and saying really hateful and racist extreme things in our community," Ferrera said. "They are fear mongering, they are painting a picture and telling a story about our community that we know is false."
"Latinos are people who don't stand up on the sidelines, we show up … We might be 10 years old but we translate our parents' prescriptions at the pharmacy, because t we do what has to be done," said the actress and activist.
University of Nevada Las Vegas graduate José Rivera, 22, was there to see Ferrera and help sign people up to vote. He said he would be caucusing for Sanders.
Although he sees support for Sanders and Clinton among his friends, Rivera said more seemed to be for Sanders, especially those in college or with college educations.
"I think he's (Sanders) interesting on a lot of the issues. I think he's walking the walk," said Rivera, whose parents are from Mexico but who was born in Los Angeles.
Sanders overwhelmingly won the youngest caucus-goers and voters in Iowa and New Hampshire. About 44 percent of eligible Latino voters in the country are millennials, 18-35 years old, so the youth vote and winning it plays a big role in capturing the Latino vote overall.
RELATED: Latino Celebrities Denounce Republicans for Anti-Immigrant Rhetoric
His team came in later and has recently added organizers and volunteers. Sanders has not been as popular among Latinos and African Americans as among white youth, but the campaign has said that is changing as Sanders' candidacy has gained momentum.
"A lot of the high school and college students see him in a rock star kind of way," said Erika Andiola, national press secretary for Latino outreach for Sanders' campaign.
Delilah, 18, who didn't want to give her full last name, said she planned to caucus for Sanders if her job in catering allows her the time off to do so. She said she sees Clinton as "very sketchy." She dismissed criticisms that Sanders is an idealist making promises that can't be kept. All politicians promise too much, she said.
"I'm so happy Bernie was able to win the last one in New Hampshire," she said. "I want to do my part to help him."