WASHINGTON – A year ago, Bernie Sanders was just getting started introducing himself to the Latino community with appearances at Latino conferences and events, including the National Association of Latino Elected and Appointed Officials.
But at this year's conference, that will bring hundreds of local, state and federally elected officials together, Sanders is the star, even though he won't be the Democratic nominee.
Presumptive Democratic nominee Hillary Clinton and presumptive GOP nominee Donald Trump are skipping the NALEO conference, billed by its leaders as "the Latino national political convention."
Sanders, who hasn't suspended his campaign and Libertarian candidate Gary Johnson are the headliners.
"I think it's a colossal lost opportunity to connect with this constituency," said Arturo Vargas, NALEO's executive director. He said the group had argued that the conference would be the first gathering since the Orlando massacre and the first chance to address local officials on the shootings and political issues surrounding it. The conference agenda includes panels on guns and another on mental health.
Related: Bernie Sanders Tells Latinos He Backs Immigration Reform at NALEO
In an emailed statement, spokeswoman Xochitl Hinojosa said Clinton is "committed to engaging the Latino community and having an open dialogue on the issues that impact them the most."
She went on to list how Clinton has done so through the campaign from meeting with young immigrants who arrived or stayed illegally in the U.S. to being the first to call out Trump on his racial comments about Mexicans when he opened his presidential bid.
She said the campaign would "ramp up efforts to engage the Latino community" in the general election "through various platforms to discuss Clinton's plans to help Latino families and highlight how Trump is temperamentally unfit to be president."
The no-shows from Clinton and Trump have not gone over well with NALEO's leadership. "I think it's a colossal lost opportunity to connect with this constituency," Vargas said.
There was no response from the campaign to follow-up questions on other plans for the week and whether she would be attending any other Latino conferences, in particular the NCLR conference in Orlando. Clinton attended that group's conference last year.
Related: Hillary Clinton Pitches Strengthening Latino Families in NALEO Speech
Clinton has not announced any public speeches or fundraisers for the remainder of the week.
Vargas said negotiations with Trump's camp for him to speak at the conference were done through GOP leaders and members of NALEO's board and he never directly responded. "Word came back to us he was unavailable," Vargas said Wednesday.
Trump's campaign did not immediately respond to a request for comment.
Vargas said the organization went back and forth directly with Clinton's campaign over the past week. In the end NALEO was told she would not make it because Clinton would not be going to events of organizations she attended last year.
Explaining why Sanders plans to be at NALEO, his campaign's Latino outreach spokeswoman Erika Andiola said in an emailed statement that Sanders' focus remains on shaping a party platform "that reflects the thousands of Latinos, especially millennials, that voted for Bernie and that decided to participate in this political revolution."
She said that in his speech Thursday morning he'll discuss the need to pass universal health care, the $15 dollar an hour minimum wage, free college tuition - and other proposals that were part of his campaign platform.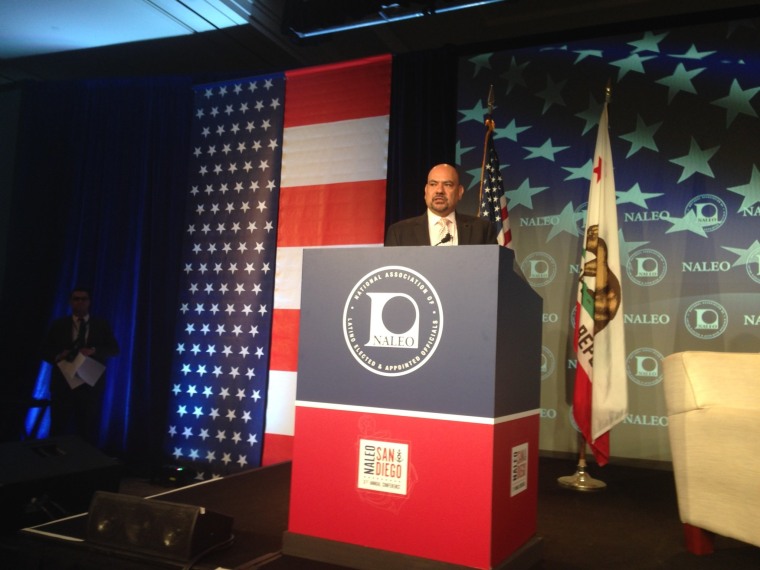 Skipping the event means passing up the chance to connect with about many locally elected Latinos, "each in themselves who have their own network" in the community that helped get them elected, said Chuck Rocha, a Democratic strategist who has been a consultant to the Sanders campaign.
Rocha declined to criticize Clinton for not attending, but said "it's an important meeting, I wish she was coming."
The no-shows from Clinton and Trump have not gone over well with NALEO's leadership. Vargas called their non-attendance "an affront to the contributions and sacrifices our Latino elected and appointed officials make to this country each and every day."
About 600 people have pre-registered and Vargas said there is usually a last-minute rush of attendees. He's projecting attendance of about 1,000. Many of the people attending are school board, police and municipal officials as well as state elected lawmakers.
"With the NALEO conference serving as the largest gathering of Latino elected and appointed officials in the country and the first national platform to address the greater Latino community following the Orlando massacre, this is a significant missed opportunity for Hillary Clinton and Donald Trump to provide guidance and support to our nation's Latino leadership at a critical time," Vargas said in a statement.
There are other Latino groups that hold conferences during the year, including League of United Latin American Citizens, National Council of La Raza and U.S. Hispanic Chamber of Commerce. Clinton and Trump sent video messages to the National Hispanic Christian Leadership Conference convention in May.
Trump has offended and angered many in the Latino community with statements about Mexicans and a Mexican American judge, so he likely would have been speaking to a hostile crowd had he accepted. But NALEO is a bipartisan organization.
Clinton aggressively courted Latino voters in the primary, losing some ground among younger Latinos to Sanders.
Clinton and Sanders spoke at last year's conference, signaling what would become a heightened battle for Latino voters. Ben Carson was the only Republican to speak at the conference last year.
Previous presumptive nominees have attended the conference. In 2008, Barack Obama, then a U.S. senator and Sen. John McCain, R-Ariz., addressed the group. In 2012, Mitt Romney and Obama did again.
Housing Secretary Julián Castro, whom The Associated Press reported is on Clinton's pared down short list for runningmate and Labor Secretary Tom Perez, who had been considered a potential vice presidential candidate, are on the agenda. Both are surrogates for Clinton.