Raul Marquez Guerrero will soon complete his first year of college, but he won't know what his summer will look like until next week, when he could be making history.
Marquez, 19, is running for a seat on the seven-member board of the Salem-Keizer Public School District, in northwest Oregon, which has not had a Latino member. He could be joined by another Hispanic, David Salinas, 39, who is a candidate in a different zone of the school district. The election is Tuesday, May 21.
"The reality is when you look at the current state of the school board, it's not representative of the changing demographics of our school district, and representation truly does matter," Marquez told NBC News.
Marquez said he's grateful for the support he's received during his campaign, including an endorsement by the Oregon Education Association (OEA), the union that represents over 40,000 educators in the state.
Marquez, who has also interned in Washington for Sen. Jeff Merkley, D-Ore., is already known locally for his leadership.
He made headlines last year when he pitched an idea for an overnight youth homeless shelter, which he and three other students had conceived, to the local United Way. A youth voting board member at the time, he left the meeting with a $100,000 pledge by board members. After Marquez asked the Oregon Legislature for an additional $200,000, among other community fundraising efforts, Taylor's House officially opened in fall 2018.
Marquez' school board candidacy began with a text last summer from Adriana Miranda, the chief of staff for Democratic state Rep. Diego Hernandez, where Marquez had interned during his senior year of high school. Miranda told Marquez his name had come up at a meeting with members of PCUN, an Oregon-based Latino union, about nominating someone for the school board.
"I knew right away this is someone that can represent our students of color and our parents in a very effective way," Miranda told NBC News, adding he's able to take all sides of the story and help develop effective policies.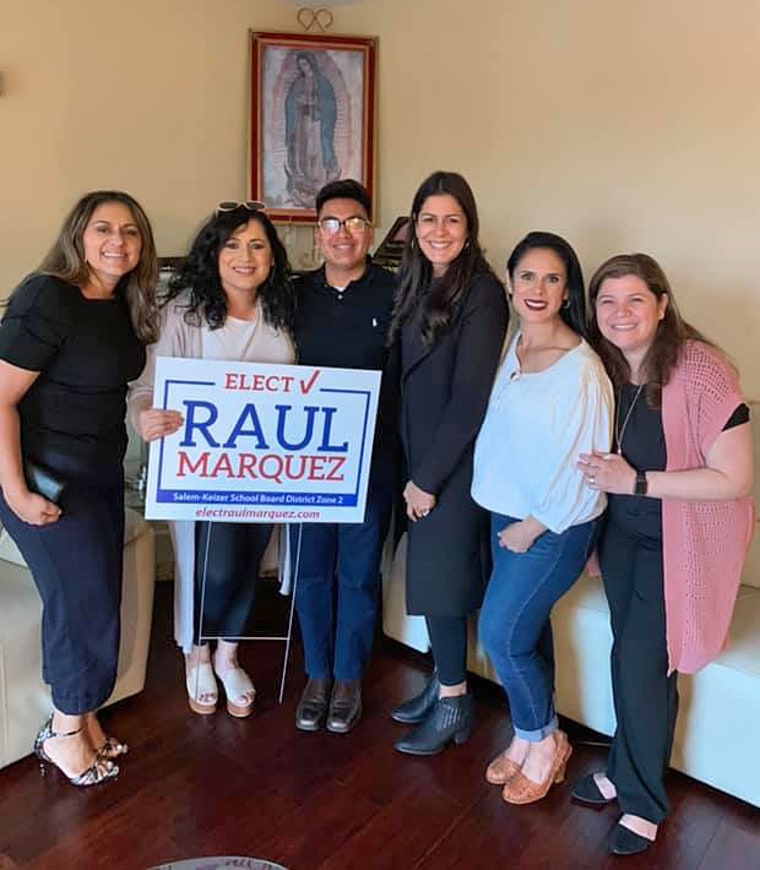 Marquez is running against incumbent Marty Heyen, 62, a board member since 2015. In an interview with The Salem Statesman Journal, Heyen touted her life experience and "first-hand, real experience on the school board" as qualities that separate her from Marquez.
"It is easy to look at something from the outside and make judgments. It is amazing how different things look from the other side," Heyen said in the interview, adding that her son attended the district's schools.
Marquez touts that he was recently a student in the district, sharing experiences with the current student body and having a "fresh perspective" from other members of the board, as he told The Salem Statesman Journal.
More Latino students, but few school board members
The National Center for Education Statistics projects that U.S. public elementary and secondary schools' student bodies will be more than one-fourth Hispanic by this fall.
But out of 90,000 school board members across the country — most of whom are elected — 75 percent are white and only 3 percent are Latino, according to the National School Boards Association's 2018 survey.
There have been gains in states with established Latino communities, like Texas and California, but in other areas, "we are going to have to contend with that lack of representation," according to Erica Bernal Martinez, chief operating officer of the National Association of Latino Elected and Appointed Officials (NALEO).
There are obstacles to running for school board, adds Bernal Martinez, such as the fact that school board positions offer only a modest stipend or are often unpaid, despite being a significant time commitment.
In the Salem-Keizer school district, which serves over 42,000 students, 48 percent of the students are white and 40 percent are Latino.
"I hope to be able to share my experiences as a student of color, navigating through the most diverse schools in the district, to ensure that we are having intentional conversations and making decisions through an equity lens," Marquez said.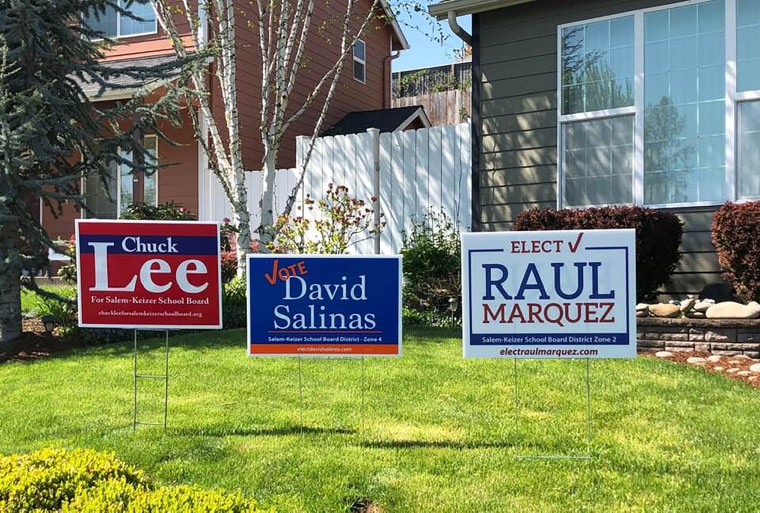 School board candidates are divided by zones where they must live, but they're elected by voters from all the district's zones.
Marquez, along with field organizers from PCUN and campaign volunteers, have been heading up phone banks, knocking on doors and trying to talk to as many prospective voters as possible. On Saturdays, Marquez's mom will swing by with a homemade treat like arroz con leche.
"It's a lot of listening," said Marquez about campaigning across the district. "It's a lot of talking, too, but there's been times where I'm like, okay, this is a time for me to listen."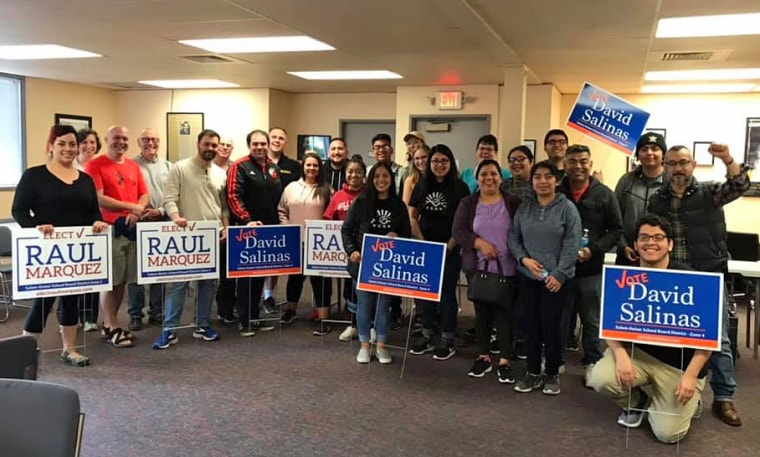 Marquez, who attends Willamette University in Salem, credits his upbringing for his drive.
His parents, who are from Mexico, worked in farm fields for years. Marquez still remembers picking berries with his family during some summer vacations.
"This is something that I've learned that no textbook would be able to teach," Marquez said, adding he was grateful for how his parents raised him and his six siblings.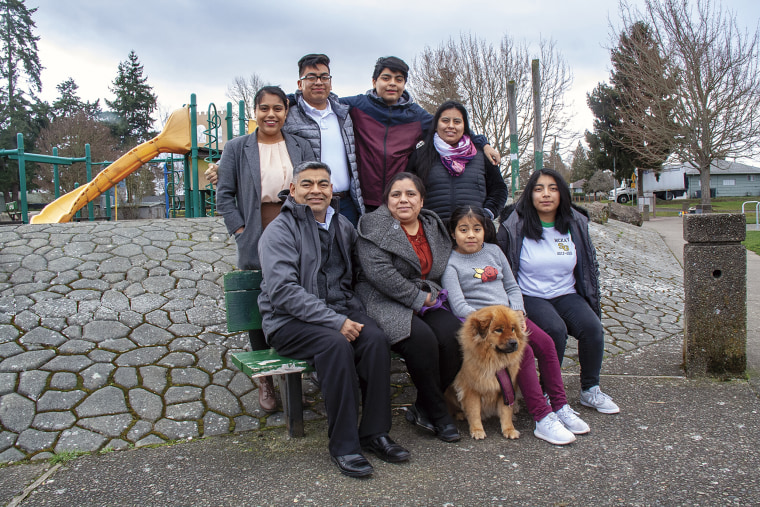 Marquez also points to his teachers and mentors like Hernandez, 31, the youngest legislator in Oregon and also a son of Mexican immigrants.
"There's this notion that you have to have experience to be in these decision-making bodies," Hernandez said. "I think lived experience is experience."
Marquez said his campaign is more than just winning a seat on the school board.
"It's about the future of our students," he said, "and the future of our community."
FOLLOW NBC LATINO ON FACEBOOK, TWITTER AND INSTAGRAM.