MEDELLÍN, Colombia — When Colombian President Juan Manuel Santos announced a number of emergency decrees last month in a bid to salvage a landmark ceasefire agreement with leftist guerrillas, the fragility of the country's truce was laid bare.
The measures, forced through Congress following a surge in drug trafficking-related violence and allegations of embezzlement of peace funds, came almost eighteen months after the Santos administration shook hands with leaders of the Revolutionary Armed Forces of Colombia (FARC) in a deal to end over five decades of civil war.
Fears for the future of the peace process are now set to escalate as Iván Duque, candidate for the conservative Democratic Center party, has pledged to make "structural modifications" to a deal that he and his supporters believe lets demobilized rebels off the hook for serious war crimes.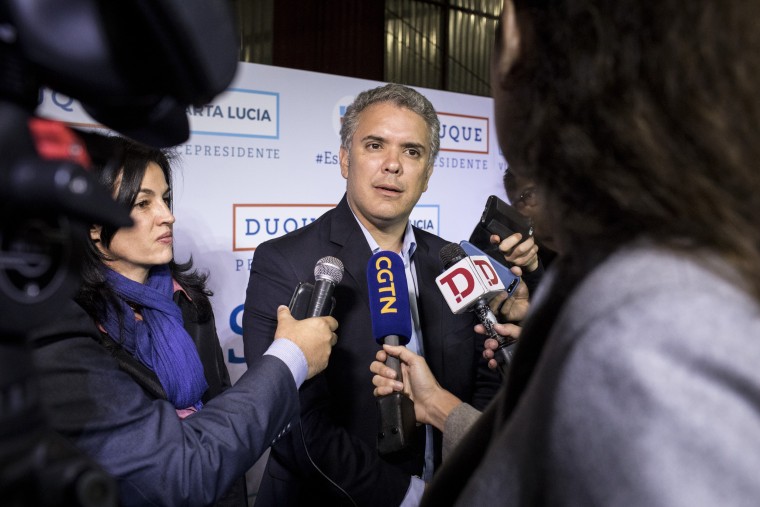 Duque, a protégé of former president Álvaro Uribe, a fierce critic of the peace process, leads with 38 percent of intended votes ahead of the first round of the election on May 27th, with his closest rival, the left wing firebrand Gustavo Petro, with 25 percent. Duque and Petro are favorites to face off in a second round of voting on June 17th.
Experts warn that tampering with the agreement could end up reigniting hostilities.
"If the FARC read it in a certain way, we could see a lot of members, including mid-level commanders, going back to violence," said Kyle Johnson, senior analyst for Colombia at the International Crisis Group.
The conflict in Colombia between government troops, Marxist guerrillas, right wing paramilitaries and drug cartels left more than 220,000 people dead and millions internally displaced.
Since the peace deal was signed, thousands of heavily armed FARC guerrillas have demobilized, handing over weapons and beginning the transition to civilian life.
A post-conflict transitional justice system comprising special courts and a truth commission will seek to exact testimonies from former combatants, raising the possibility of reparation for hundreds of thousands of victims.
Given the stakes, proponents of peace have reason to fret.
Ana Zapata, a member of Madres de la Candelaria, a Medellín-based collective of women seeking justice for relatives who were disappeared or killed during the fighting, said the rhetoric coming from the Duque camp was a "massive worry".
"If this peace process ends, it will help no one. The violence in Colombia will be even worse," said the 53-year-old, whose brother Humberto went missing in 2003 after a suspected run-in with paramilitaries.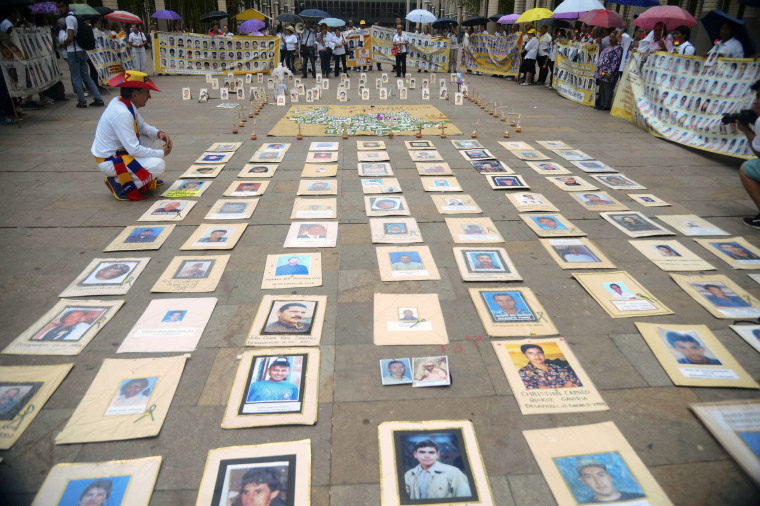 Like Zapata, Cristian Madrigal, 20, an economics student in Medellín, does not trust Duque's proposals to amend the process.
"Duque's proposals to change the peace agreement are being influenced by Álvaro Uribe, who clearly has a hatred towards the Farc," he said. "The deal isn't perfect, but at least with the capture of Santrich, we know there is no impunity for the Farc."
Duque has denied he wants to scrap the deal completely.
Rather, his campaign has sought to appease a broad section of Colombian society troubled by an agreement that could see ex-combatants escaping lengthy jail sentences.
As part of the transitional justice system, former guerrillas as well as members of the armed forces who own up to war crimes face five to eight years of "alternative sanctions", which could include house arrest or community work.
A bill that guarantees the FARC, now a political party, five seats in each of the upper and lower houses of Congress through 2026 is also fueling opposition to peace.
"There is a complete imbalance," Sebastián Velásquez, executive director of the Colombian Federation for Victims of the FARC (Fevcol), told NBC News. "Political participation is something that should come after prison sentences have been served."
María Cecilia Robledo, 41, an engineer based in Medellín, agrees with this view. "I don't really support any of the candidates, however I agree with Duque that those guilty of atrocities should pay for their crimes."
Last month's arrest of former FARC commander Jesús Santrich for allegedly conspiring to export tens tons of cocaine to the United States simply validated the widely held belief that the guerrillas cannot be trusted.
Patience is also wearing thin amid the sluggish pace of the peace process.
In a recent report, Notre Dame University's Kroc Institute, which is monitoring the enforcement of the deal, said that just 17 percent of the 558 stipulations in the agreement had been fully implemented.
While the Institute praised demobilization, a lack of progress on tackling rural inequity, considered to be the root of the conflict, was "worrisome", the report said.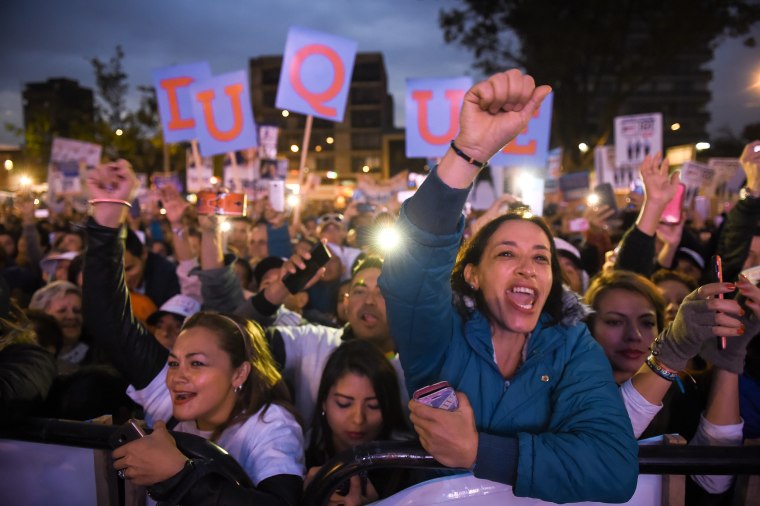 Meanwhile, Colombian troops are struggling to prevent dozens of other illegal factions, including FARC-splinter groups and the country's now-largest guerrilla force, the National Liberation Army (ELN), from muscling their way into former FARC-held territories for control of the lucrative narcotics trade.
"These groups are a huge menace to the country. They have been behind most of the killings of social leaders, which is at an all-time high," said Gimena Sánchez-Garzoli, a human rights advocate at the Washington Office on Latin America.
Fears that a Duque presidency would stoke the violence have led to a chorus of criticism from his election rivals, all of whom have pledged to leave the deal intact.
Supporters hope a constitutional court ruling last year protecting the peace process for the next twelve years may thwart any attempt to make wholesale changes, although analysts say regulatory obstacles are not insurmountable.
Otherwise, Duque would try to undermine the deal by "starving" it of time and resources, said Johnson.
"What we could be seeing is another example of Colombia signing a peace agreement, this one very technical, very advanced, very sophisticated, and just not being able to implement it — in this case because of political will."