While thousands of proud Italian-Americans will march Monday through towns and cities nationwide to celebrate Christopher Columbus as a hero of their heritage—and others will protest and reflect on the destruction that befell Native Americans after the arrival of European settlers—a small group of dancers in New York will use the holiday to launch a campaign for the victims of two devastating earthquakes that rocked Mexico in September, particularly the indigenous communities.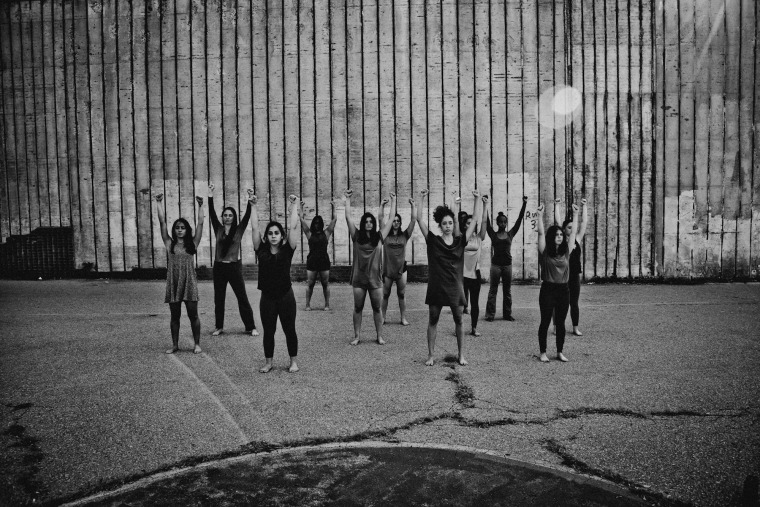 "When the earthquakes happened, you saw images of bodies helping other bodies, physical images of people supporting each other, hugging each other, and as a Mexican expat, you feel helpless because you are not there," said Camila Arroyo, co-choreographer of Move4Mexico, a dance video that calls for relief to Mexico. "These earthquakes brought Mexicans who did not know each other closer together as a community in New York. They stirred a deeper need for unity and solidarity."
Fifteen Mexican dancers dressed in simple grays, browns and blacks who were otherwise living independently in New York came together to produce a five-minute video titled "Déjame abrazarte México" ("Let Me Hug You Mexico") as part of a $15,000 funding campaign that aims to inspire long-term relief for the victims of the earthquakes, in particular the indigenous communities in Morelos, Xochimilco in the southern part of Mexico City, Puebla, Oaxaca, Chiapas and surrounding areas. The dancers use their movements and bodies to recreate how the Mexican community rallied to search for survivors, dig through rubble and rebuild homes.
"Art, and dance specifically, makes you aware of your body and surroundings," said César Brodermann, co-choreographer of the relief video. "How you position your arms, hug each other, is a good way to connect with humanity, and show how anyone can connect with you. And we want to use our art as a form of activism to celebrate what the community is doing, and connect more people."
Other Mexican artists have similarly rallied immigrants in Connecticut and New Jersey to help earthquake families who have been uprooted from their homes. And just like the Mexican dancers in New York, these expats were also compelled to come together and forge new relationships in the face of tragedy.
"Sometimes you see other expats and you don't speak to each other," said Miguel Angel Mendoza, a Mexican artist and musician who lives in Bridgeport, Connecticut. "In this case, the earthquakes have unified us more, pushed us to break through everyday apathy that I have lived among other people, friends, and even my own family."
Mendoza, and his 11-year-old son Cosobi, play popular Mexican and English language songs like John Lennon's "Imagine" to celebrate the double lives of fellow expats, and promote unity and solidarity at different immigrant venues. The father-and-son duo use music to deliver powerful messages about cultural pride and heritage, reminding immigrants of their hidden roots, even when they are thousands of miles away.
While the earthquakes are inspiring dispersed Mexicans in the Tri-State area to come together, this sense of solidarity is not new. Guadalupe Ramos, a Mexican journalist who has been covering expats in Connecticut and New York since 2004, says that the immigrant community has always played a crucial role in organizing marches, events and other initiatives for different causes.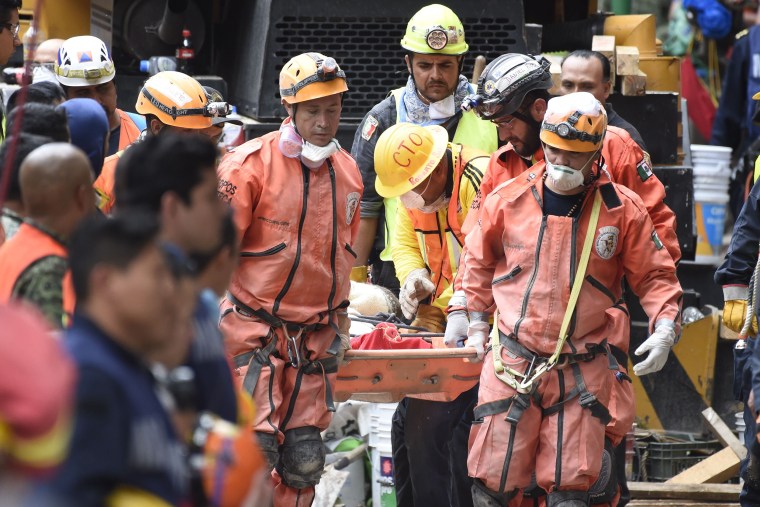 "Whether you are north or south of the river [referring to the Rio Grande along the U.S.-Mexico border], we are all part of a community," Ramos told NBC News. "Since I started reporting on Latino and Latina stories, I see how they maintain their roots while adapting to new communities in the U.S. And these shared circumstances unite different immigrant groups into a larger community."
In this sense, belonging to an immigrant community has also given some businesses a higher social purpose. This is the case of another Mexican expat Veronica Huitzil, owner of the Veso Quinceañera & Bridal Boutique in Bridgeport, Connecticut. Her store is being used as a collection center for relief materials that are sent weekly to Mexico, and sometimes Puerto Rico. And Huitzil says that her business has always provided different types of community support.
"From filling out tax applications to reuniting families, we service different community needs," said Huitzil. "And this has made us connect with more immigrants to offer support for earthquake victims. We are now sending relief materials from Bridgeport to Passaic [New Jersey], and from there, to Mexico."
Ramos says that the dancers in New York, and musicians like Mendoza in Connecticut, are celebrating the same community values that are connecting Huitzil with other Mexicans thousands of miles away. And in times of crisis, that artistic expression can remind people that they are not alone.
The Mexican journalist is now collecting letters, cards, and artwork with messages of love and hope for the victims of the earthquakes.