PHILADELPHIA - It may seem that Hillary Clinton doesn't need to tell people who she is and what she's done, since she has been in the political spotlight for decades. But a lot of those years came before nearly half of the Latino population was born or while they were quite young.
Latino eligible voters - a large base of the Democratic Party, are younger than any other racial or ethnic group. About a 44 percent share is millennial, from 18-35, meaning some 11.9 million of the 27.3 million were born in 1981 or later.
On Thursday night, the first female presidential candidate made a forceful appeal to the nation to support her candidacy, whose "primary mission as President will be to create more opportunity and more good jobs with rising wages right here in the United States - especially in places that for too long have been left out and left behind."
"From our inner cities to our small towns, Indian Country to Coal Country. From the industrial Midwest to the Mississippi Delta to the Rio Grande Valley," said Clinton.
Clinton sought to create a forceful contrast between herself and Donald Trump on everything from temperament and national security to her advocacy of gun control and immigration: "I believe that when we have millions of hardworking immigrants contributing to our economy, it would be self-defeating and inhumane to kick them out," alluding to Trump's comments that he would deport over 11 million undocumented immigrants.
"Comprehensive immigration reform will grow our economy and keep families together - and it's the right thing to do," added Clinton. Clinton also vowed that she would work with Bernie Sanders to ensure families could afford college and pledged to protect voting rights and reproductive rights.
At the convention, many thought Clinton hit all the right notes, especially when she spoke of wanting to be a unifying president.
"Oh my god, that speech, we're gonna have so many Republicans coming over, cause everything she said was fantastic," said Lenora Sorola-Pohlman, a Texas delegate and president of the Women's Contractors Association, who said Clinton's message would have wide appeal.
The week's display of the Democrats brand of politics – chock full of optimism that was capped with Clinton's acceptance of the nomination – is one that needs to get big acceptance from the Latino electorate. That's the work that lies ahead for Clinton and her team.
"When they talk about the future, about children, it's impossible not to see us," said Nathaly Arriola, a Democratic strategist who worked in the Obama White House.
Some of the key accomplishments in the trajectory of her career are those that involve families and children, and that is "definitely the message that is going to carry forward," Arriola said.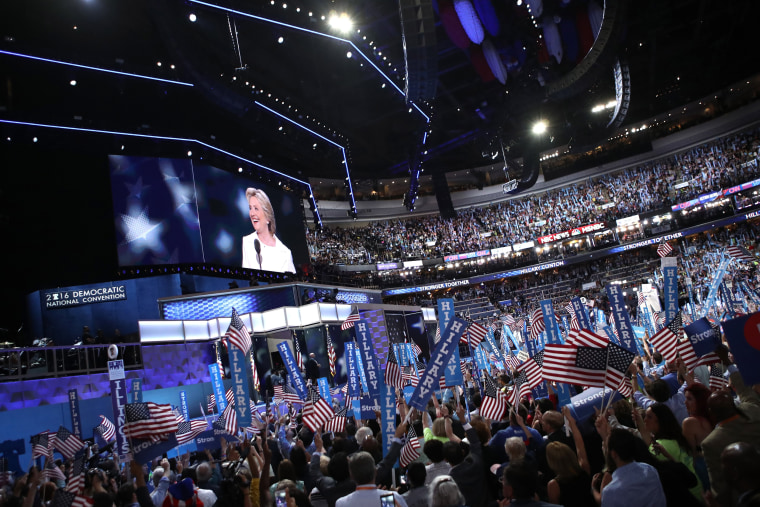 Considering that that the majority of children being born now in this country are Latino and one in four children in public school are Latino, "no campaign can move forward without acknowledging that point," Arriola said. "It's about family, every single aspect of this campaign, including picking (Tim) Kaine (as her running mate) has led back to this idea that it takes a village," she said, referring to the African proverb that she made the title of her 1996 book.
At the convention, Democrats made a point of showcasing their larger Latino presence than what Republicans presented in Cleveland.
Both onstage and in the basketball arena that became the convention hall, it was far easier to spot Hispanic delegates and surrogates as well as celebrities and community advocates than a week earlier at the GOP events.
"We made a commitment to make this the most progressive and inclusive convention in history, and with over 600 delegates that self-identified as Hispanic we delivered on that promise," said Juan Pachón, a Democratic National Convention Committee spokesperson.
RELATED: GOP: At Least 133 Latino Delegates at Republican Convention
But Democrats acknowledge it's not the party faithful in Philadelphia they need to reach, it's the bigger electorate, including Latinos.
José Parra, a former aide to Senate Minority Leader Harry Reid, D-Nevada, said on a large stage Clinton isn't always presenting who she is.
RELATED: Latino Delegates on Clinton Nomination: 'Historic'
She does better in small settings, such as when she met with immigrant families in Las Vegas and ended up pulling 10-year-old Karla Ortiz onto her lap to reassure her she would do all she could to keep her parents from being deported, Parra said.
The scene was so touching, the Clinton campaign made video from the moment into a campaign ad. The ad was played at the convention and Ortiz and her mother were part of the speakers' lineup on the first day.
RELATED: Once Potential VPs, Latinos Promote Tim Kaine's Cred in the Community
"In that, you see the warmth" of Clinton that often is missing in her speeches from a stage to large crowds, Parra said. "She needs to ensure that sort of warmth and personality translates and communicate it to voters," and she needs to do it from the stage, he said.
"We (Latinos) have always looked for personal connection in leaders. We relate more to the person than the institution. We are going to be looking for that person. we can relate to and communicate with," Parra said.
Earlier in the week, Clinton national political director Amanda Renteria said relationships built early by the campaign - that range from those with traditional groups such as unions to growing groups such as Asian American and Pacific Islanders to first-time voters in Nevada "make all the difference."
"You have this national message every single day on what you are doing that doesn't necessarily get to your individual communities, so we work really hard, when we talk for instance about college affordability, how does it affect you communities," Renteria said.
"The primary really taught us, going in and thinking about things state by state," Renteria added, "and the tighter you can be in doing that and things roll up from the state back to headquarters, we were more effective."
RELATED: Rough Start Overshadows Latinos Showcase at Democratic Convention
The Clinton campaign said it recognizes that Bernie Sanders succeeded in attracting millennials and "that we have to do something different to get those voters." In addition to reaching out to millennials attending college, the campaign is looking beyond the campus, recognizing that a third of them are parents.
Destiny Molina, 22, of Lubbock, Texas, is a super volunteer and delegate to the convention who will be doing some of the shoe leather organizing of millennials and others in the community.
The vice president of Texas college Democrats she said that one of the big things she wants to take in to the Hispanic community is "we need to tell them what her policies are compared to hers."
"We need to tell them what Trump's policies are compared to hers. Younger people need to know both sides of the story, not just that Bernie lost."