California Gov. Gavin Newsom's plan to provide some monetary relief to undocumented people who don't qualify for federal funds during the coronavirus pandemic is a start that recognizes a key group of the state's workers, say advocates and lawmakers who support the initiative.
"The most important thing is coronavirus affects all of us," said Sonja Diaz, executive director of the Latino Politics and Policy Initiative, at University of California, Los Angeles.
On Wednesday, Newsom announced a $125 million public-private Disaster Relief Fund for California workers who do not have permanent legal status. The fund, which will start taking applications next month, will pay a one-time cash benefit of $500 per adult, capped at $1,000 per household.
The fund puts California out front in assisting undocumented residents and workers. But the money is only enough for about 150,000 people in a state where the undocumented population is about 2.2 million.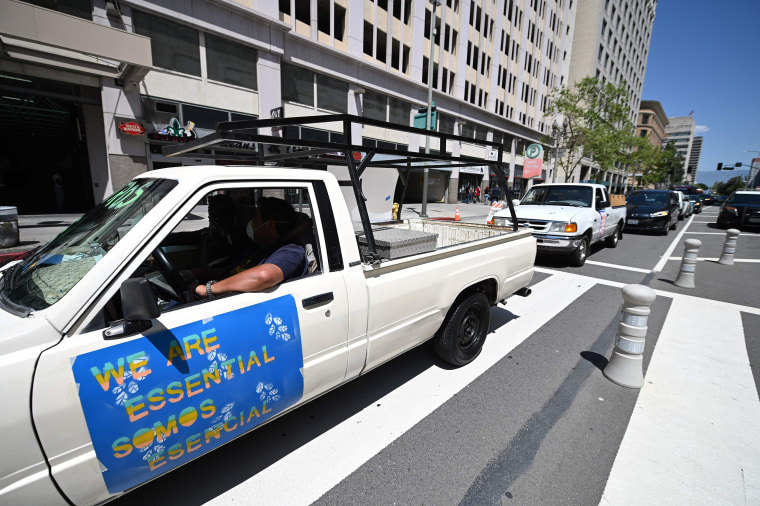 Advocates as well as some Democratic lawmakers are pushing for follow-up at the federal level.
"In California, the undocumented constitute about 10 percent of the workforce here and they annually pay about $7 billion in taxes — local, state and federal — and yet they're left out of the federal relief," said Daranee Petsod, president of Grantmakers Concerned With Immigrants and Refugees. The group has raised $6 million toward the relief fund, with an ultimate goal of $50 million.
"This is necessary. Immigrants were intentionally excluded from the federal stimulus package. They will not be getting the $1,200 checks that are going out this month," Petsod said. "It doesn't make sense in any pandemic to leave anyone behind."
The exclusion of undocumented people is hitting Latino and Asian families the hardest, said UCLA's Diaz.
Fifty-six percent of majority Latino neighborhoods in Los Angeles County had a high proportion of residents at risk for not qualifying for federal relief, according to a study by the Latino Politics and Policy Initiative, with UCLA's Center for Neighborhood Knowledge.
Hispanic Caucus: Tax-paying Americans should have 'support'
Undocumented immigrants who plant and harvest America's farms, clean homes and public spaces and care for children and the elderly have either become essential workers who can't stay at home or have joined the unemployed as restaurants and other businesses have shut down.
Another 5 million people filed first-time unemployment claims last week, bringing the number of people out of work to 22 million. In addition, there are other workers who have not been able to get through to file for benefits, and people who are undocumented can't collect unemployment.
In the $2 trillion federal coronavirus relief package, Congress restricted assistance to people who have a Social Security number. For those who file jointly, both must have a Social Security number and any dependents included also must have a Social Security number.
Most people without legal status do not have valid Social Security numbers, although many pay taxes with a tax identification number.
California's plan comes as lawmakers on Capitol Hill are pressing for another relief bill that includes those who have been left out. However, it's clear there is heavy competition for any new funds. The Small Business Administration's relief fund, the Paycheck Protection Program, hit its $350 billion limit, officials said Thursday.
Members of the Congressional Hispanic Caucus have been calling on Congress to include farmworkers and the undocumented in the next relief package, while also asking that the administration extend employment authorization for those whose work permits that are expiring.
Rep. Tony Cárdenas, D-Calif., chairman of Bold PAC, the Hispanic Caucuses's political action committee, said Newsom is doing what he can to ensure the state's workers and taxpayers receive some assistance.
"Undocumented working and tax-paying Americans should have the basic human rights and support from the government as everyone else," Cárdenas said.
Rep. Alexandria Ocasio-Cortez, D-N.Y., said in a tweet: "If you don't believe undocumented workers should have access to relief during #COVID19, does that mean you're willing [to] return the billions they pay in taxes each year? Will you defund your schools? Or, in this moment, will we recognize that we should just take care of each other?"
Various groups have been trying to fill gaps to assist those who are not included in the three federal relief packages President Donald Trump has signed. The National Domestic Workers Alliance created the Coronavirus Care Fund to raise $4 million to help some 10,000 domestic workers; many of them are immigrants. That fund provides $400 to qualifying home care workers, nannies and house cleaners.
The Latino Community Foundation, based in San Francisco started the Love Not Fear Fund for undocumented families before Newsom's announcement.
Christian Arana, the foundation's policy director, has raised about half a million to provide assistance. The philanthropic organization regularly invests in Latino-led organizations.
Arana said he hopes Newsom's action helps apply pressure at the federal level to assist people left out of the previous relief packages.
"We can't pick and choose when society wants to consider us essential," said Arana, whose parents emigrated from Guatemala. "We were always essential."
Follow NBC Latino on Facebook, Twitter and Instagram.