During the day, she wears a uniform and cleans rooms at a high-end hotel. At night, she makes financial and policy decisions as a City Council member in Providence, Rhode Island. Now the story of immigrant hotel-housekeeper-turned-politician Carmen Castillo is coming to public television.
On Tuesday, Sept. 3, the documentary "Councilwoman" will have its broadcast premiere on the World Channel, as part of the latest season of "America ReFramed."
A mother of three and a grandmother, Castillo is currently serving her third term on the City Council in Providence, a city with a $773 million annual budget.
The council job is part time, paying $18,000 a year, so she works full-time as a hotel housekeeper.
That Castillo is a councilwoman is notable since working-class people are underrepresented in American politics, so they rarely have a say in the policies that affect their lives.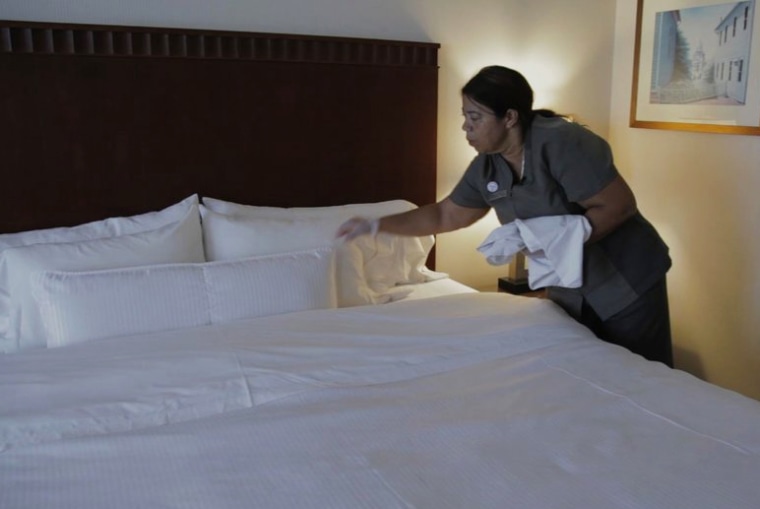 "It's like being in two worlds," Castillo said in an interview of her dual role as a hotel worker and a politician. If necessary, Castillo will negotiate with her employers to take time off during the day to rush to City Hall for council business. Then she returns to her shift, her uniform and the hotel job she has held for 24 years.
Originally from the Dominican Republic, Castillo was working as a hotel room attendant and volunteering with her union when she decided to run for an open seat on the Providence City Council; she was elected in 2011.
"At first, I was scared, I worried about my English, I worried if I could really do it," she said. "But I wanted to help protect my co-workers, and this was an opportunity."
It was also the challenge of a lifetime, as Castillo was sometimes mocked for being "a servant" as well as a political novice.
From 2011 to 2014, director/producer Margo Guernsey trailed Castillo with a camera crew, shooting hundreds of hours as she followed Castillo through her first campaign. The documentary shows the day-to-day work of a grassroots campaign as Castillo, alongside supporters and friends, knocks on doors, organizes rallies and attends fundraisers.
The film also depicts the hardships, including the effect of her nascent political career on her marriage.
For Castillo, watching "Councilwoman" brought back memories. "Seeing my life like that, on the screen, is emotional. It reminds me where I started and where I am now," she said.
Sabina Matos, the president of the Providence City Council, said she was proud of "Councilwoman" and of Castillo. She noted that at the Providence premiere of "Councilwoman" in February, there was cheers from the large hometown audience.
"The documentary shows to the public that we all have a right to be in politics. And Carmen knows that she belongs here because she fought for it," Matos said. "No one can tell her she doesn't belong on the council, because she fought for her seat at the table."
Like Castillo, Matos is from the Dominican Republic. Their political success mirrors the growing influence of Rhode Island's 148,000 Latinos, who make up 14 percent of the state's population.
Since last year, the film has been screened in festivals across the country. Guernsey hopes that it will help change how people typically view politics. "I want people to look at the system and say, 'People who make policy decisions should be real people with experiences like me.'"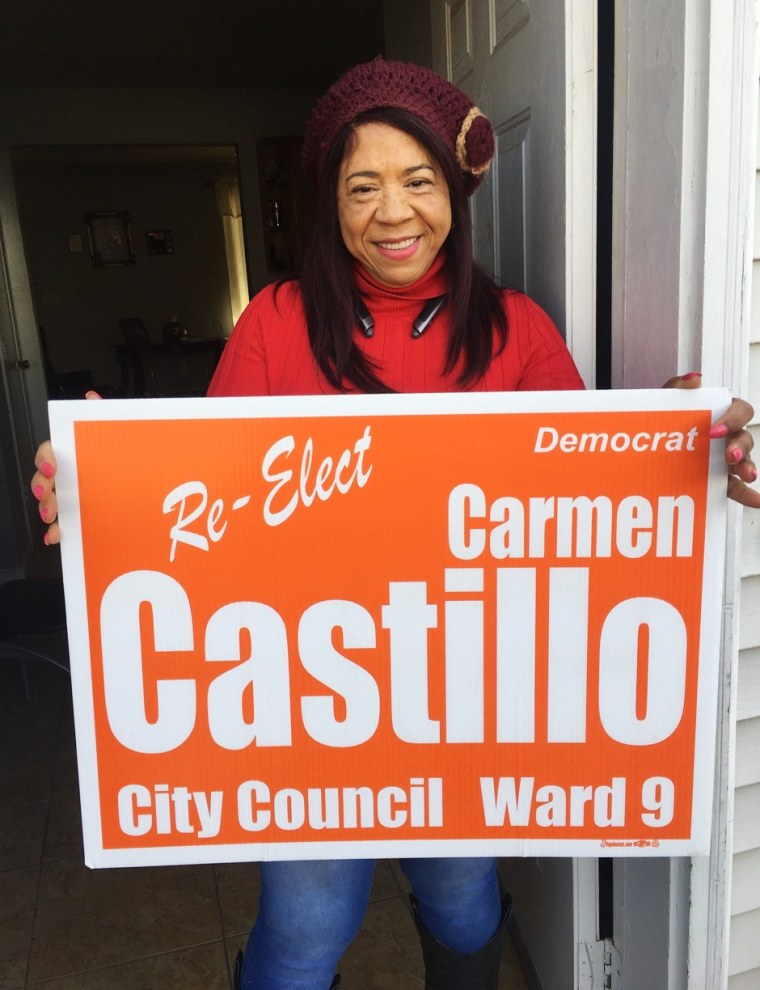 Guernsey has been happy that, at screenings, people of different ages and backgrounds say they can relate to Castillo.
"That shows me how this film can build bridges," Guernsey said. "Carmen is brave and courageous and followed her dream."
For Tuesday's TV premiere, there will be an online watch party (featuring a Q & A) at the "Councilwoman" Facebook page.
Castillo remembers that she felt nervous the first time she took her place in the council chambers.
"I had won, and then I thought, 'Oh my goodness, what am I doing?'" she recalled.
Now, she said the most rewarding part of her job is helping constituents, which include working-class residents, immigrants and union members.
"Before, maybe people thought I wasn't going to be here for a long time," Castillo said. "Now people respect me. They call me 'councilwoman.'"
"I am a room attendant," she said of her day job, "but I know how things work — I have a brain."
Follow NBC Latino on Facebook, Twitter and Instagram