WASHINGTON — Just days after he was criticized for being slow to call out white supremacists and Nazis following the deadly violence in Virginia, President Donald Trump is under fire again for saying he's seriously considering pardoning former Arizona sheriff Joe Arpaio.
Critics said the pardon would be an endorsement of racism and further hypocrisy on the part of the president and blasted Trump for "attempting to lionize" Arpaio by calling him a 'great American patriot' despite his racial profiling of Latinos. Arpaio is facing sentencing in October on a federal misdemeanor conviction of contempt of court.
Arpaio is facing sentencing in October following his conviction on criminal contempt of court. A federal judge found Arpaio willfully disobeyed orders to stop arresting immigrants solely on the suspicion that they were in the country illegally. Before that, Arpaio had also been found to be ignoring court orders to stop racially profiling and illegally detaining Latinos.
RELATED: Trump Condemns Hate Groups, Calls Racism 'Evil' Days After Charlottesville Violence
Fox News reported that Trump told the news outlet on Sunday that he was considering the pardon and possibly doing it "right away, maybe early this week."
Trump's consideration of a pardon for Arpaio, which Fox News reported Monday, demonstrates "how inextricably conflicted" Trump is about condemning racism and the targeting of minorities, said Thomas Saenz, president and general counsel of the Mexican American Legal Defense and Educational Fund.
"Arpaio's guilt lies in openly defying federal court orders to cease directing his deputies to detain Latinos on suspicion of undocumented status," Saenz said.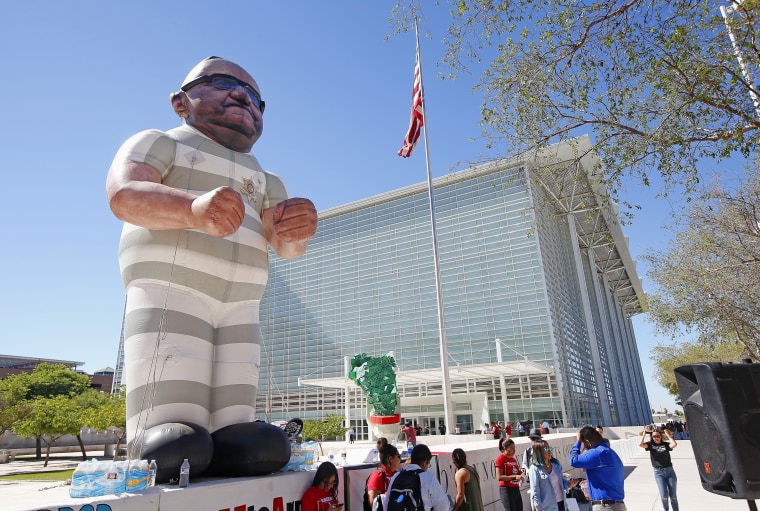 Salvador Reza, a Phoenix community organizer, said in a statement that Trump was throwing a bone to Nazi and Ku Klux Klan supporters after being forced to condemn them.
"He is also sending a signal to law enforcement nationwide that they can disobey a federal judge and disregard the constitution, whenever the victims are racially profiled for their ethnicity, color of skin or national origin," said Reza.
Cecilia Wang, deputy legal director at the American Civil Liberties Union, said if Trump follows through, he would be pardoning Arpaio's "flagrant violation of federal court orders that prohibited the illegal detention of Latinos."
"Make no mistake," said Wang, "this would be an official presidential endorsement of racism."
The criticism comes as Trump is facing a backlash for his response to the violence in Charlottesville, Virginia, Saturday. Heather Heyer, 32, was killed when a man plowed his car into a crowd of people in protesting a rally held by white supremacist and Nazi groups.
Nineteen others were injured and two state troopers died in the crash of their helicopter that had been circling above the protests. James Alex Field, 20, has been held one suspicion of second-degree murder.
"He has done a lot in the fight against illegal immigration. He's a great American patriot and I hate to see what has happened to him," Fox reported Trump said of Arpaio. Arpaio had been and ardent supporter of Trump and campaigned with him.
NBC News reached out to the White House for comment which declined to comment.
RELATED: Former Arizona Sheriff Joe Arpaio Convicted of Crime For Ignoring Judge's Order
Arpaio told The Associated Press he was pleased the president was standing by him.
"I didn't ask for it, but if he's going to offer, I will accept, because I'm not guilty," Arpaio told the AP.
In his first comments after the Charlottesville, Virginia violence, Trump failed to condemn the KKK, neo-Nazis, white supremacists and other far-right extremists He criticized "hatred, bigotry and violence from many sides."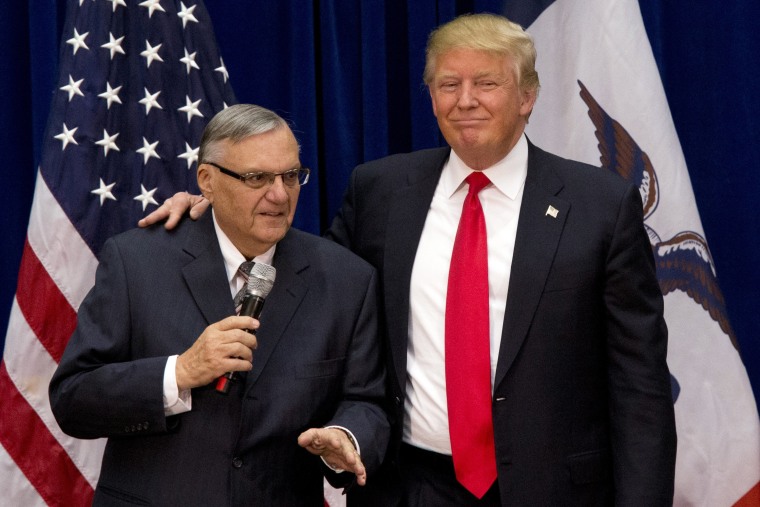 But under heavy public pressure and from his own party, Trump on Monday afternoon denounced racism, saying "those who cause violence in its name are criminals and thugs, including the KKK, neo-Nazis, white supremacists and other hate groups that are repugnant to everything we hold dear as Americans."