PHOENIX -- As the nation celebrates Immigrant Heritage Month, Arizona journalist Linda Valdez tells the story of how she, a daughter of a middle-class family from Ohio, fell in love, married and has made a life with Sixto Valdez, the son of a family of 14 children who grew up poor in a rural town in Mexico.
Their love story is chronicled in Valdez's book "Crossing the Line: A Marriage Across Borders." She writes that she was talked into going on vacation to Mexico with her mother in 1988. As it turned out, it was the right move because it led to her meeting Sixto, who later crossed the border illegally from Mexico to be with her.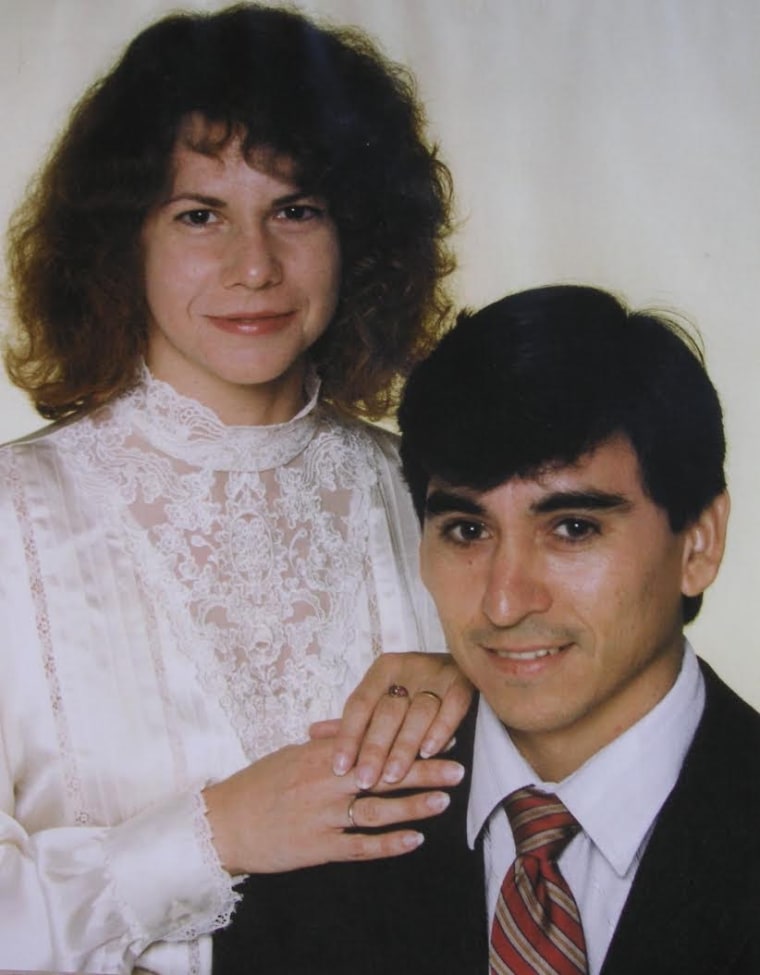 Valdez is a columnist and editorial writer for the Arizona Republic who was a finalist for the Pulitzer Prize in 2003. She said her life was "enriched by marrying a man that my country refused to allow to enter by the front door." She said Sixto initially tried to enter the country legally by applying for a visa. But his application was denied even after he completed all the requirements.
"I felt betrayed by my own country, because I thought that if we followed the rules, then things would work out—and I realized that's not true," Valdez said in an interview with NBC News Latino. "They didn't even tell us why they turned him down."
Feeling like there was no other choice, a young Sixto entered the country illegally. He came in through a hole in a fence that separated Mexico and the United States. Two weeks later, he and Valdez got married in Tucson, and so began their quest to build a life together that honors each other's cultures.
They've now been married for 27 years and have a 25-year-old daughter who is bilingual and engaged to a Latino.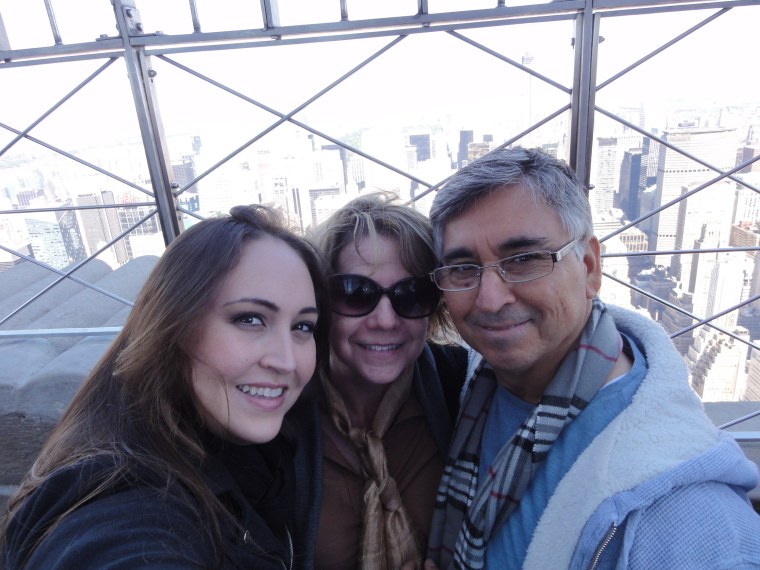 Valdez said she wrote the book because she strongly disagreed with the anti-immigrant rhetoric she is hearing from politicians and wanted to shed light on what marrying Sixto taught her about Mexico and the issue of immigration.
"It seemed to me there was so much dishonest emotion coming from the other side," she said. "I thought that maybe an honest love story might be the best way to counter that rhetoric and show that this is really about human beings."
Former Arizona Attorney General Terry Goddard said Valdez's book "should be a required reading for Donald Trump." The presumptive Republican presidential nominee has been criticized for his comments about Mexican immigrants, including calling them rapists and criminals.
Valdez said her husband dispels stereotypes, including that immigrants don't want to learn English. She said her husband insisted they speak English because he wanted to speak it better. He also began taking English classes, attended church services in English and watched English-language television in an effort to master a new language.
The Pulitzer-nominated journalist says she wrote the book to dispel stereotypes of immigrants and to stress that it's usually the "best and brightest" who risk so much to make a life in the U.S.
Valdez wrote in her book that her husband "immersed himself in my world" and she did in his.
They started spending more time with family and dressing up for holidays and family get-togethers at Sixto's request. There was also more hugging, especially between Valdez and her mother. Valdez wrote in her book that she and her mother "were always close" but that they rarely showed affection toward each other.
"That changed when Sixto entered the picture," Valdez wrote. "He brought the Mexican custom of hello and goodbye embraces."
In addition, Valdez said her husband introduced her to his faith. The couple began attributing many things that happened to them to God or miracles, which she writes about in the book.
Valdez's husband started working soon after he crossed the border. But with no legal status, his options were limited. His first job was at a travel agency that required him to run errands in a car with expired plates and no insurance. He drove despite not having a driver's license and got paid $5 a day. He held several other jobs, including one where the employer tried to withhold several weeks' worth of pay.
Valdez said through her husband's experience, she learned how "vulnerable" undocumented immigrants are and how easy it is for employers to take advantage of them.
Valdez' mother was able to find Sixto a better job with fair wages. He did custodial work at a church. But Valdez said she didn't want him to continue living in the U.S. without a legal status, so they began the process of applying for legalization.
She petitioned for him to become a legal permanent resident. With the help of a caseworker from a non-profit organization, they filled out the application and turned in an inch-thick stack of paperwork, which included letters from police departments of every city in Mexico where her husband had lived to prove he had a clean criminal record.
Five months later, they were given an appointment at the U.S. embassy in Tijuana where, after a few unanticipated delays, a federal officer reviewed their paperwork and asked them questions. The officer approved the application and Sixto received a green card in 1989.
In the book, Valdez wrote there were hundreds more people at the U.S. embassy office in Tijuana who were anxiously waiting to hear whether or not their relatives would get approved for a green card.
"This was the new Ellis Island," Valdez wrote. "These new immigrants were walking away from one country and taking a chance on another one, just like my grandfather did when he left Germany. Just like my great-grandfather did when he left Ireland."
Valdez said she realized how much Sixto left behind to be with her when they visited his family in Mexico for the first time. They traveled to a rural town in Mexico called Los Suárez where Sixto was born and where his mother, Doña Sole, lived.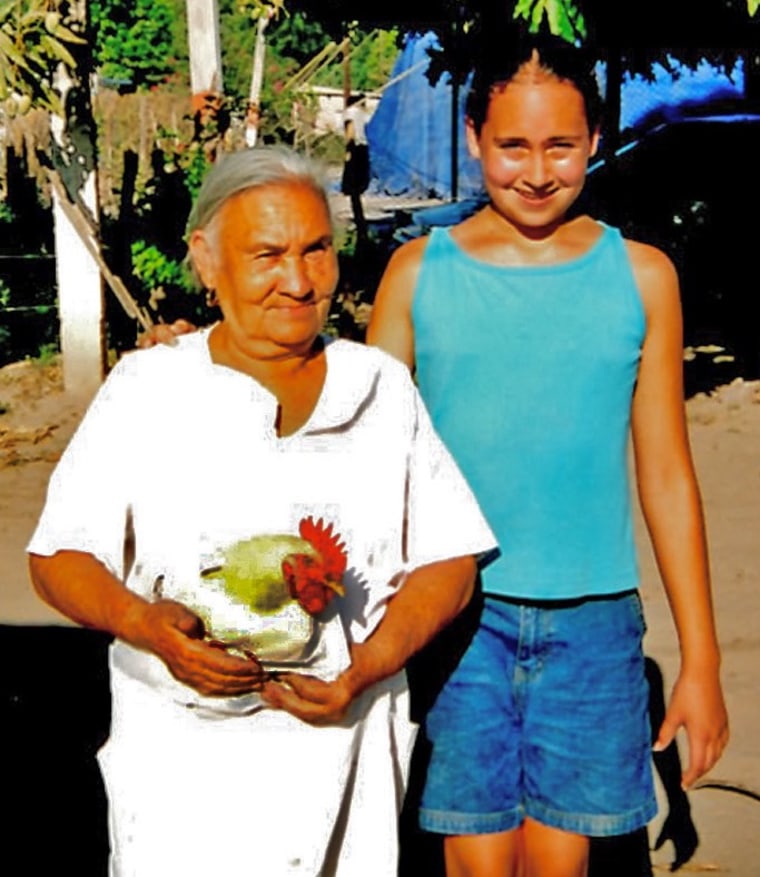 When they arrived, it became clear to Valdez that Sixto and his mother were undeniably close. She wrote that even though Doña Sole insisted that she didn't have favorites among her 14 children, anyone could see Sixto was "extra special to her."
Also there to greet them when they arrived were Sixto's many siblings, their spouses, their children and neighbors. They all gathered for a welcome dinner at Doña Sole's house, which had walls made out of cactus ribs and mud. The roof was made out of corrugated metal. The house also had dirt floors, and the bathroom was an outhouse.
Valdez said what struck her the most about the first visit to Mexico was not only how big her husband's family is, but how quickly they took her in. It also surprised her to see how much of "a rock star" he was in the community.
"I always assumed that what he found on my side of the line was infinitely superior to whatever he'd left behind," Valdez wrote. "Who could not prefer a reliable toilet to a rickety outhouse? Now I saw something more impressive than good plumbing. Here was an outpouring of genuine friendship and respect that left me breathless and humbled."
"The lives of the people of this ejido were woven together in elaborate patterns," she continued. "There had been a Sixto-sized hole in that tapestry. Their welcome back was unbounded. What's more, they had plenty of goodwill left over for me. As Sixto's wife, I got instant respect in his community."
Sixto is now a U.S. citizen and an elementary school teacher with a master's degree. He dreams of opening a dual-language school. He lives in Tucson with Valdez, who's an editorial writer for The Arizona Republic. She won top national recognition for her editorials opposing Arizona's controversial immigrant bill, known as SB 1070, in 2010.
Valdez said she hopes people, particularly those who support putting up walls along the border, will read her book and gain a better understanding of immigrants.
"There are some bad people who come across the border both legally and illegally," she said. "But I think as a whole, contrary to what Trump says, we get the best and the brightest and the most daring people who are willing to give up everything and come to a new country in order to better themselves and have a better future for their family."