WASHINGTON – Groups and individuals are urgently raising money to help young immigrants meet an Oct. 5 deadline to renew their permission to stay in the U.S., at a cost of $495 each.
All across the country, immigration and community groups, and in the case of Rhode Island its governor, are providing "scholarships" and loans to cover the fee for immigrants to renew their enrollment in the Deferred Action for Childhood Arrivals, or DACA, program.
President Donald Trump ended DACA, stopping new applications and requiring anyone whose DACA expires between Sept. 5 and March 5 to renew by Oct. 5.
For some, Trump's decision sped up when they have to come up with the $495 fee.
In Rhode Island, where an estimated 1,200 people are believed to be effected by the deadline, Gov. Gina Raimondo announced on Monday that she and a coalition of groups and individuals have commitments of $170,000 to pay renewal fees. Raimondo said the donors plan to pay the renewal fee of every eligible DACA recipient in the state.
"We're not going to allow $495 to stand in the way of our neighbors' dreams," Raimondo said in a statement.
Related: What Now? Here's What DACA Recipients Should Know
Other assistance funds created around the country range from individuals raising money online to pay their own fees to $9,000 raised by Charlottesville, Va., Family Action Fund through lunches to a $1 million fund established by Mission Asset Fund to help 2,000 DACA recipients.
"We sprang into action once we saw a small window of opportunity to help thousands of Dreamers to renew their protective status," José Quiñonez, Mission Asset Fund CEO, said in a statement. "The time to help these young people is now."
Philanthropic foundations provided the money for Mission Asset Fund's DACA Renewal Fund. Half of the money, $500,000, is reserved for California students attending community colleges, at California State universities and the University of California.
Related: Trump Ends DACA Program, No New Applications Accepted
In Charlottesville, Virginia, Families in Action organized lunches with tapas plates of ribs, smoked and pulled pork, bacon wrapped dates, arroz con pollo (chicken and rice) and more. The food helped draw sizable crowds to Mas Tapas restaurant for two lunches to raise money for fees and legal help for DACA recipients.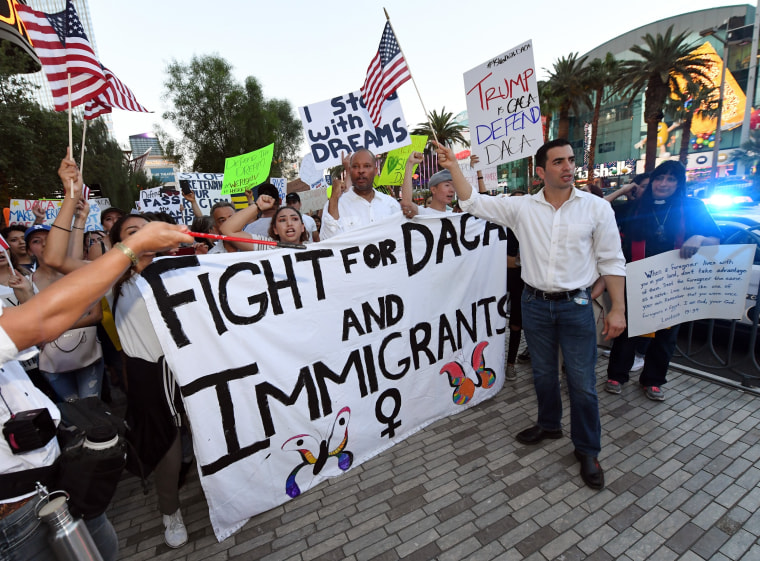 "We filled every seat in the restaurant two times over," said Kristin Clarens, an attorney and the founder of Charlottesville Families in Action. "We were restricted by the size of the restaurant. We filled it two times in about four hours. Yesterday, I had to turn people away."
In Connecticut, Camila Botolleto, campaign manager of CT Students for A Dream, said the deadline has caught some students off guard. Her group has been raising money for about two weeks and raised about $12,000 through an online crowdfunding site. It has given 20 "scholarships" so far. The group's goal is $25,000.
Ben Monterroso, executive director of Mi Familia Vota, which is part of a coalition raising money for Arizona DACA recipients, said he worries most about DACA recipients in Florida and Texas, in particular families who are recovering from Hurricanes Irma and Harvey and who face the same deadline.
"Those people probably need the most help," Monterroso said.
UnidosUS (formerly NCLR) has published this state-by-state list of places that are offering help.
Related: Trump Talking DACA With Democrats Has Republicans On Edge, Again
Tania Mejia, spokeswoman for JOLT Texas, an immigration advocacy group, said the group started raising money soon after Trump's announcement on DACA. Texas has the second-largest number of DACA recipients, although not all will need to renew. The group has raised $3,500 so far, but figures that millions will be needed to help all who need to renew.
"I think $500 is a lot of money for anyone to just come up with unexpectedly, especially for those folks in Houston who have been hit so hard," Mejia said.
"Unfortunately those effected most by the hurricane were undocumented Texans," Mejia said. "They can't access FEMA or money from other places to help them put their lives together. They have to do it on their own, and now they have this added expense."