HAVANA — Every morning, Alejandro Martín-Ramos, 24, parks his 1953 pink Bel Air in front of Havana's Central Park, one of the most touristy neighborhoods in Cuba's capital, and waits for tourists to hop in for a whirl around the city.
He and his father purchased the classic American car before his father passed away a year ago. They spent $22,000 because the family needed a higher income than the average monthly state salary of $30 a month. Six family members, including Martin's girlfriend who is five months pregnant, depend on him financially.
But with the Trump administration's tightening sanctions on Cuba and especially since U.S. cruise ships were banned from docking on the island, Martin has to work 14-hour days just to keep his head above water, paying taxes, other fees, and all the maintenance a 1950s car requires.
"When my baby is born, I will hardly be able to spend time with her," Martin said on a recent morning, dressed in a traditional, long-sleeved shirt known as a guayabera and straw hat to protect himself from the harsh summer sun.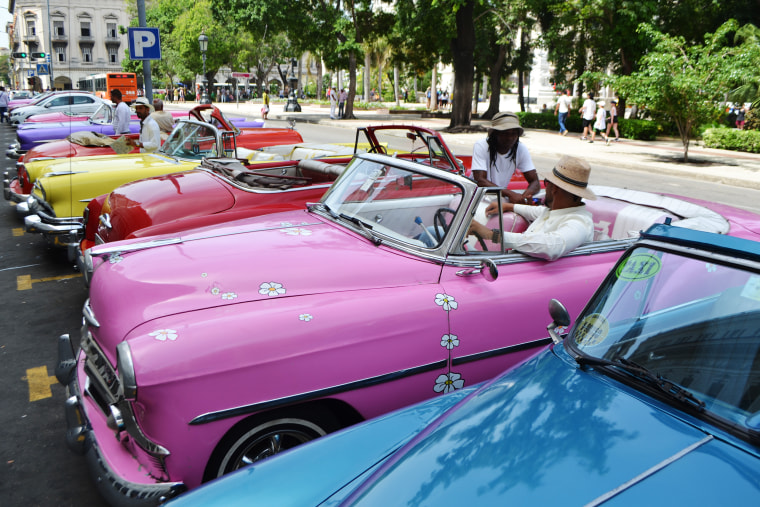 For the past few years, U.S. policy toward Cuba has caused a whirlwind of activity for entrepreneurs. President Barack Obama relaxed travel restrictions that were part of a historic thaw in relations announced on Dec. 17, 2014 — a date carved into the memories of Cubans on both sides of the Florida Strait. American travel to the island blossomed for the first time in almost 60 years. Prohibited from staying in resorts because of the U.S. embargo, Americans gravitated to the private bed & breakfasts and restaurants. The private sector became an integral part of the Cuban economy.
After President Donald Trump took office and tightened travel restrictions in the summer of 2017, American travel to the island began to dwindle, according to many business owners. The end to U.S. cruise ships dealt a particularly heavy blow. Not only were cruise ships jammed with Americans, but also with international tourists who would board in Miami for a tour around Caribbean islands.
Now, the vibe in Havana is that of nostalgia and disillusionment of what was once an economy that appeared to be on the cusp. There is also feeling of anxiety of what is yet to come.
For the four founders of AlaMesa, (from the term "a la mesa," which means "to the table") a website and app used to make reservations, rate restaurants, and pay for meals at most restaurants throughout Cuba, U.S. policy has been constraining.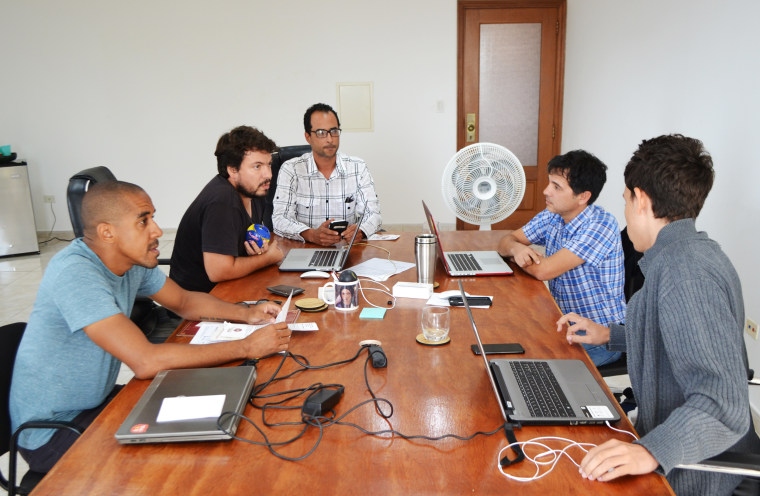 "When the U.S. Treasury Department announces new measures, we get cancellations the next day," Ariel Causa said. Their modern-looking, 200-square-foot office space has bare walls except for some two dozen sticky notes and two long tables and chairs. But few of the chairs are occupied these days. They went from a staff of 20 earlier this year to only 12 now.
There was a 30 to 40 percent decline in reservations during the past three months. "The next trimester is going to be worse," Causa, 38, lamented.
Throughout Havana, dozens of business owners echoed the same worry.
David Díaz, 48, opened his bed and breakfast "Casa David y Lidia Díaz," in 1998 in a colonial-era home his family has owned for generations. He painstakingly renovated the home with carpenters who specialize in these historic, detailed structures. Tourists, including celebrities, flocked to his B&B that still has original furniture, mirrors, and clocks dating back to the 1800s.
But after witnessing the explosion in tourism, they're experiencing a spiraling downfall under Trump.
"This hurts the average Cuban," said Díaz, who said he limits the use of the air conditioner, how often they eat meat, and their food portions.
It creates uncomfortable situations when relatives visit because there is not enough food to offer. "We have to add water to the black beans," a staple in Cuban meals, Díaz said.
Some entrepreneurs were just getting started when Trump took office. Though they sensed what was coming, they had no choice but to forge ahead.
For Raul Hernández, 33, owner of Grados, a paladar or privately-owned restaurant in the more upscale Vedado neighborhood, business has been slow since he opened two years ago just after Trump took office. His restaurant has a South Beach look with white and light gray freshly ironed table cloths and green, tropical foliage along the wall.
But on a recent afternoon, it sits almost empty at lunchtime.
Hernández doesn't necessarily see Trump's policies as negative because he feared the island wasn't prepared for the avalanche of tourists that were descending on it at a rapid pace.
"Obama's policy could have generated disorganization in the Cuba that was coming," an upbeat Hernández said.
"It affects me. It pains me."
Patricia Santa Coloma, 37, who offers video services for events like destination weddings through her company Producciones Almendares, said she is looking into different markets now. She recently received four cancellations from couples in the U.S. Another client who wanted to shoot a music video canceled and went to Puerto Rico. "It affects me. It pains me," Santa Coloma said.
But in Cuba, those in the private sector — even with the decline in tourism — have a different economic position than the average person who relies solely on their state salary. In a country with a workforce of almost 4.5 million, there are more than 591,000 private business owners, according to data released in December. Three million work for the state.
Cuba's economic woes go beyond U.S. policy. The island, with one of the world's last communist governments, has been caught in a perfect storm. Its economy has been stagnant for years, averaging only about 1 percent annual growth. Its centrally-planned economy imports over two-thirds of its food. Its ally, Venezuela, has been in political and economic turmoil, causing an overall decline in oil shipments from the South American country. The island's medical exchange program, a major source of revenue, also took a blow. Last November, Cuba recalled 8,517 medical professionals from Brazil in response to President Jair Bolsonaro's tough stance against Cuba.
Exacerbating all these issues is the U.S. tightening of travel restrictions and the implementation of Title III of the Helms Burton law. It allows original owners of nationalized properties to sue in U.S. courts foreign companies using the properties for profit. Though few lawsuits have been filed, economists have warned it will alienate much needed foreign investors. The Trump administration has linked these moves to Cuba's support for Venezuela's government, currently under Nicolás Maduro.
Ricardo Torres, an economist at the University of Havana's Center for the Study of the Cuban Economy, said the economy is a lot worse than it was a year ago though it's now getting slightly better.
"I don't think we will get to a Special Period, barring a sudden collapse of Venezuela," Torres said, referring to the time of extreme deprivation after the demise of the Soviet Union, which led to the drying up of subsidies to Cuba. Torres said the island has already adjusted to the decline in Venezuelan oil by importing from Russia and Algeria.
In response to the economic forecast, the government recently approved a series of modest measures, including raising the minimum salary to $17 a month and the average salary somewhere between $32 to $44.
Cuban President Miguel Díaz-Canel said on state television, "We are obliged to think as a country, in order to not return to the conditions of the Special Period."
Recently, there were shortages in basic goods such as eggs, cooking oil and chicken. They are back on the shelves now, but many in Cuba still worry about their salaries and overall economic situation.
Outside a Havana supermarket, Lucemi Valdez González, 45, stood with her daughter and 9-month-old grandson waiting for a bus. They wanted to purchase diapers but left empty handed. Valdez makes less than $15 a month milking cows in Caimito, a town in the province of Artemisa.
"My salary is not enough," González said, adding that the only diapers she found cost around $13. When asked what she was going to do, she answered, "Resignarme," ("I give up"), throwing her hands up in the air as the bus pulled up in front of them.
Orlando Matos contributed from Havana. Video by Roberto Leon.
FOLLOW NBC LATINO ON FACEBOOK, TWITTER AND INSTAGRAM.