MIAMI – Since Yaniel Guevara left Cuba five years ago, the 33 year-old U.S. permanent resident has traveled back each year to visit his parents and ailing grandparents. He was there in January and, for the first time, he plans to go twice in one year. But he is wondering if he will make it on the mid-July flight to Havana after President Donald Trump announces his new Cuba policy in Miami on Friday.
Although a decision has not been finalized, it is expected Trump will reverse some Obama-era executive orders by tightening restrictions on trade and travel with the communist island. The administration might ban U.S. trade with any Cuban entity linked to the military. There may also be a reduction in the number of categories under which Americans can travel to Cuba. Travel may even be limited to once a year - including for Cuban-Americans with relatives on the island.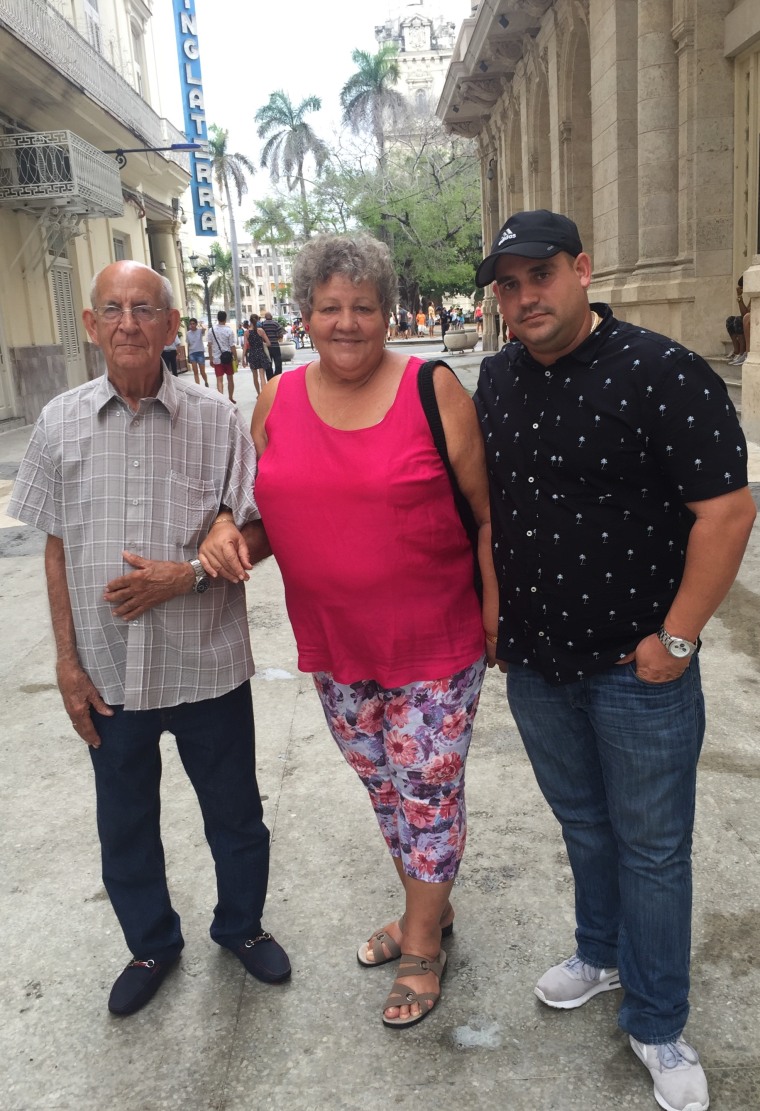 "This would affect us a lot in the Cuban community. I have tried six times to bring my parents to visit me," Guevara said. But each time, the U.S. government denied them a visa, leaving him with no other option than to visit them in Cuba, Guevara explained while dropping off packages in a residential neighborhood for the shipping company he works for.
With money he sends to his parents, they have been able to repair their house, and rent out one of the rooms through Airbnb. They accumulate up to $500 a month, which allows them to pay for medicines and food. Guevara worries this could end soon.
After Obama announced in late 2014 that diplomatic relations would be restored between the two countries, Airbnb became the first major U.S. company to operate in Cuba. Last week, the company released a report that indicated $40 million have been paid to private bed-and-breakfast owners in Cuba since April 2015.
It's unclear to what extent the Trump administration will restrict deals between U.S. companies and Cuban firms controlled by the island's armed forces. Pedro Freyre, an attorney and international practice chair at Akerman LLP who has represented cruise lines, pharmaceuticals, telecommunications, and other U.S. businesses that have done deals with Cuba, said his clients are concerned and hoping to get clarity on the administration's future policy with Cuba.
Freyre says the impact the policy will have on American companies hinges on how broad the prohibition will be.
"What's still unclear is whether it's a matter of investing in — for example, joint ventures — or if the restriction goes further into transacting any business. I mean, making any payment to such entities. Because if the latter were the case, that has a much broader impact," Freyre said.
The Obama administration hoped that engagement with Cuba would eventually bring democracy to the island. The administration argued that over five decades of isolation did not bring democracy or human rights to Cuba.
Since diplomatic relations were reestablished, the number of Americans traveling to the island has soared with renewed commercial air service.
This also includes some Cuban Americans traveling there for the first time. About a year ago, Lissette Calveiro, 23, told NBC Latino about meeting her grandmother. "When I actually met her, I had no words," said Calveiro.
There has also been an increase in small businesses in Cuba, mostly supported by American tourists.
It's still unclear how far Trump will roll back on these changes. Many will be paying close attention to Trump's tone and wording to see whether he returns to the language used during the cold ware era.
RELATED: Cubans Fret New Trump Policy Will Dampen Tourism Boom
Gustavo Arnavat, a senior advisor at the Center for Strategic and International Studies and a former U.S. executive director at the Inter-American Development Bank, said he will be listening for the approach the administration is going to take. "Is it going to be forward looking or is it going to be backward looking?" he asked. "By backwards looking, what I mean is, not trying to engage in any real negotiations with the Cubans."
Sen. Marco Rubio, R-Fla., and Rep. Mario Diaz-Balart, R-Fla., have been leading the push for a reversal in policy. It has been widely reported that Rubio, who is on the Senate committee investigating Trump's relations with Russia, has been working closely with the White House to shape the new policy. Cuba is a personal issue for both politicians, who are Cuban-American.
The concept of isolation also has support among some Cuban-Americans in Miami, home to the largest Cuban-American community.
Nerys Gongora, a seamstress who came from Cuba in 1980 welcomes any reversal in Cuba policy. She travels to Cuba once a year to visit her older siblings in the province of Las Tunas who are aged 74, 81, and 82. She spends time with them and takes medicine, clothes, and some food during each trip.
Gongora says any measures Trump takes will help because the Cuban people will have no choice but to find a solution, especially now that the wet foot/dry foot policy, which grants grants Cuban migrants U.S. residency who reach U.S. land, doesn't exist.
RELATED: In Cuba, Entrepreneurs Start First Business Group
"It helps a few people in Havana but the rest of the country lives in misery," she said.
The majority of Cuba's population of 11 million live outside Havana where there is little or no interaction with tourists, except for beaches like Varadero.
"While there was a way out, people left instead of trying to resolve the problem in their country," Gongora said.
Cuba's main ally, Venezuela, is in political and economic turmoil, with extreme shortages and almost daily protests that have turned deadly. Although the supply of oil to Cuba continues, it's no longer what it used to be. Those who support isolating Cuba say the lack of reinforcement from Venezuela will force the Cuban government to make changes.
Many Cuban dissidents, who were once divided over Obama's Cuba policy, now agree a policy that focuses more on human rights and limits the amount of money that the Cuban government receives is the way to go.
In an open letter to Trump, the leader of the opposition group the Patriotic Union of Cuba (UNPACU) José Daniel Ferrer wrote: "This is the moment to reverse to the maximum the policies that only benefit the Castro regime and does little or nothing for its oppressed people."
High ranking Cuban government officials like Foreign Ministry chief Josefina Vidal and Cuban ambassador to the U.S. Jose Ramon Cabañas have been consecutively tweeting opinion pieces and other articles about why the U.S should not reverse policy with Cuba — a clear indication the Cuban government would like to continue with the policy of engagement.
Meanwhile, Guevara's parents in Cuba, tell him anxiously each time they speak over the phone there are rumors circulating in Cuba, that Washington will be more lenient in giving visas to those who wish to visit the U.S. "With Trump, you never know," he said.