Alex Cuba's unanticipated musical and personal paths are the stuff of a Hollywood screenplay. Born Alexis Puentes, he was raised in a Cuban music-performing family and, despite being told he couldn't sing like other Cubans —so he shouldn't even try — he pursued his love of singing while playing. Then, while on tour in Canada he met the other love of his life, Sarah Goodacre. They married in Cuba, then settled in the tiny, remote Canadian town of Smithers, in British Columbia, and his creativity boomed.
Cuba has become a cross-cultural singer-songwriter and multi-instrumentalist who luckily ditched the advice he got in Cuba and defied the odds. The pursuit of both loves has resulted in an armful of Grammys and Junos. He calls his latest album, Lo Único Constante (The Only Constant) "the most free, honest, naked, musical statement I have ever made."
RELATED: The Cuban Music You Haven't Heard: 'Forbidden Shore' at Havana Film Festival New York
Minimalistic, its main influence is the mid-1900s Cuban sound of filin (pronounced "FEE-leen"), a poetic offshoot of the acoustic guitar-based trova that was inspired by the romantic "feeling" of American jazz. The album sprinkles in soul, pop and flamenco.
Cuba's mastery of making complexities sound simple stuns.
Stirring melodies, harmonies and creative arrangements dance over infectious Afro-Cuban percussion and polyrhythms. And, that sweet, smooth, soulful, tenor magic — Alex Cuba's voice can touch a heart as easily as Adele's can make people cry. We feel the filin as his melodies flow like honey over streams of acoustic goodness and love.
Lo Único Constante philosophically presents change as the one constant in life, with songs that speak to love, hope, empowerment and transformation. Perhaps powered by his beautiful Santero essence, Cuba's sublime artistry lifts us through changing times.
Coming off his US tour, Cuba spoke with NBC Latino from his remote home in Canada to talk about his life, music and the new album.
It takes a radiant heart to transmit the joyful effect your music has. Where does that come from?
All my music has the vibration of coming from a happy place from me. In 2002, I went to Cuba and became "born" as a Santero priest. [Though] just a beginner, it has given me even more discipline to follow my vision and feelings; a lot of guidance that I have learned to trust from a metaphysical (not superstitious) point of view. It's very beautiful; it has helped me a lot. And I have helped others, too. I hope this album helps [people] find answers when they have questions about their own lives.
Artists are responding deeply to world happenings.Your two singles are both amazing and drastically different, with messages of being positive. "Todas Las Cabezas Están Locas" is an upbeat metaphor, while "Lágrimas Del Que Llora" featuring guitarist Josemi Carmona has a dreamy, jazz-flamenco sound.
Without aiming at being current, I've created my most socially conscious-of-the-moment record. Those two songs, I wrote over ten years ago and never recorded. What stopped me with 'Lágrimas' was not wanting to sound flamenco; it had to be real, from me. Then life brought me together with Josemi about five years ago for his album. It was so beautiful, we both walked away knowing we were going to do something else, sometime. When I [revisited] this song, my wife said, 'Talk to Josemi.' The ten years that this song has waited was so worth it! It's beautiful on its own but also so now; saying to leave your sadness and move on.
How did your father, musician Valentín Puentes, influence your musicianship?
Fundamentally, his love and passion for Cuban music passed on to me; his performing and also teaching created this whole musical universe I grew up in. I was breathing his harmonies from the time I was born.
Cuban musicians specialize in just one thing. But I challenged him. When I was 14, I switched from guitar to electric bass and dove into American music; blues, jazz, rock and funk. And he was like, "Don't play that American music." But I wanted more.
He discouraged you from singing, because you don't have a booming voice like your twin brother's.
It's not like "my dad didn't let me do this!," but that's a true fact. Cuban singers have to have a big, bright voice — not necessarily soulful, to command a loud band. You have to be as loud as a trumpet. It took me a lot of courage to move far away from my culture in order to find my voice.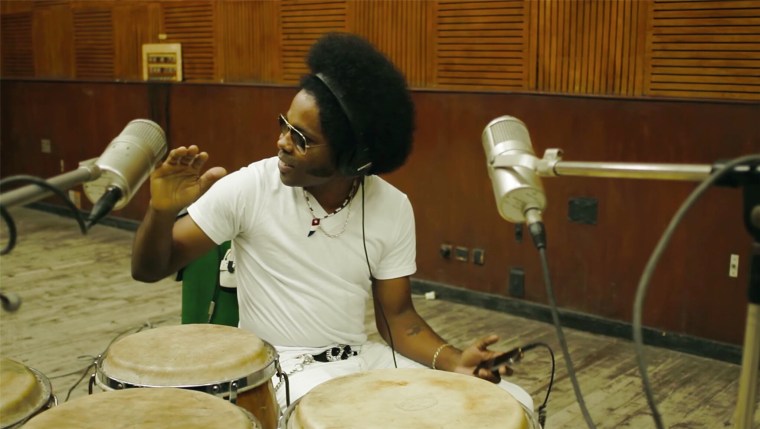 You started recording in Canada. How has moving there impact your songwriting?
Canada made me explode with creativity, with all these influences. It allowed me to grab all of those pieces from my past, bring my Cuban-ness into it and put them together, digging even deeper.
The first album featured Cuban music with your brother. Your subsequent solo albums gravitated to world music and now everything in between, with a Cuban infusion. Were there pivotal moments behind those musical directions?
The producer had heard my voice and encouraged me to sing on the album with my brother. It was very successful. We played interesting places, [but] that somehow very quickly took my passion out of it. I started writing songs with a different sound. That's when I said, 'Hey bro, I think we're done with this album and need to both find our own paths.' That was the turning point for me.
After[ward], one of my first shows was just me and my guitar, for only 40 people. Despite language, the crowd was so present, was so in the moment, so taking the music in, that I came off that stage with my heart full of love and joy. I was so happy! And I knew this was what I wanted to sing, and never looked back.
A setback inspired your becoming an independent artist.
When my first album came out, I did it with a company that was half British, half American. They'd find the talent, produce the album and then look for the proper label. I was so excited that I was going to get signed to a label, you know? I waited with such big hopes for about a year. Songs were [pouring] out of me. And then nobody signed me because I'm Cuban.
[President] George Bush had said, 'No business with Cuba.' One of the labels, Blue Note Records, loved the album. They wanted to sign me, but said there was nothing they could do. I was devastated.
Then, I became enlightened with the idea that, 'If the mountain doesn't come to you, you go to the mountain.' And we created our own little label. It was 2004. I put Caracol Records on the back without saying it was an independent label.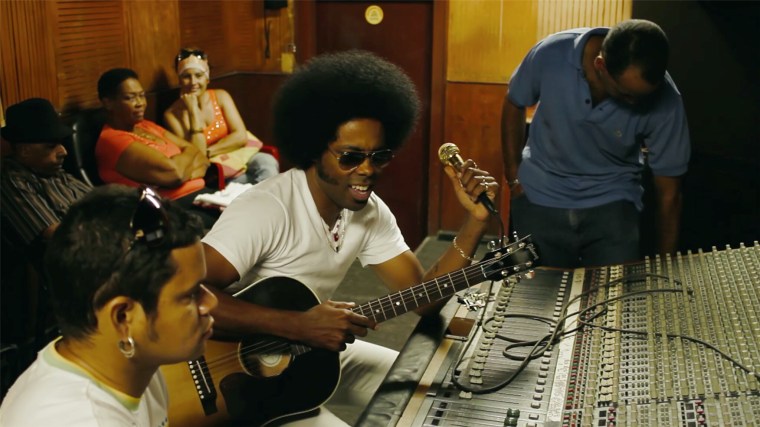 So, what does your father say about your music now?
Ha! He's a big fan of my music now, and incredibly proud. In April I invited him, and we played to a sold-out crowd of 1,100 people in Toronto. He was amazed, and happy. It helped him validate my leaving Cuba, and all my hard work. It was beautiful!