WASHINGTON — A prominent Cuban neurologist who has been investigating U.S. claims that its diplomats and other workers suffered health "attacks" in Havana is calling the allegations "far-fetched," arguing that the laws of physics disprove the theory that an unseen weapon was involved.
Dr. Mitchell Joseph Valdés-Sosa, who leads the Cuban Neuroscience Center, tells NBC News Chief Foreign Affairs Correspondent Andrea Mitchell that "no evidence of brain damage" has been presented by the U.S. so far. That's despite the fact that the U.S. has said many of the evacuated diplomats have been diagnosed with mild traumatic brain injury and other ailments that developed after they heard mysterious sounds or felt strange sensations.
"The idea there is brain damage in a large group of subjects and that that brain damage occurred in Havana, that brain damage I think is not demonstrated," Valdés-Sosa says.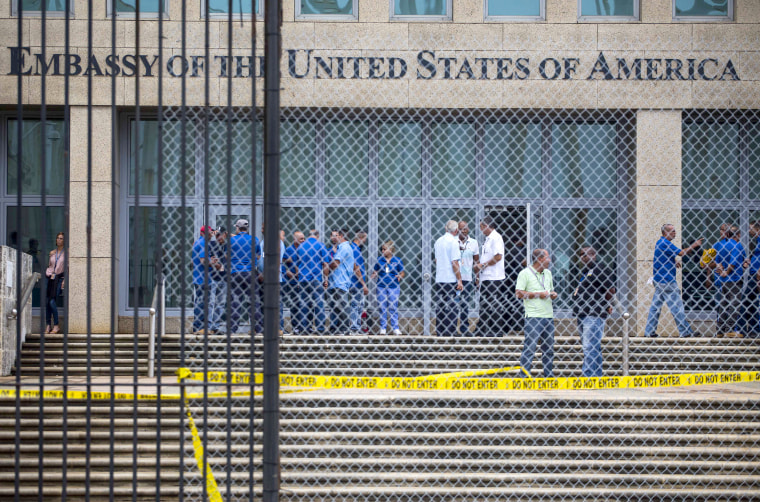 Valdes-Sosa, who is part of the Cuban medical and scientific team that's been looking into the incidents, is in Washington for meetings Thursday with U.S. officials to discuss the medical problems that the U.S. says have affected more than two dozen U.S. government workers who were posted to Havana starting in late 2016. One U.S. government worker in China who heard strange sounds has also been confirmed to have similar symptoms, raising concerns the situation has spread.
The U.S. government says it's confident they were deliberate "health attacks" targeting U.S. personnel. From the start, Cuba has adamantly denied any involvement in or knowledge of any attacks on Cuban soil.
Valdés-Sosa said that Cuba's government has long sought to partner with the U.S. to investigate what may have happened but has been denied access to medical records, lamenting that "the exchange of this data has not occurred." On Thursday, U.S. officials plan to give the visiting Cubans a medical briefing about the injuries, which Valdés-Sosa says he hopes marks the start of a change in course.
"We hope that this would be the beginning of a collaboration, a detailed exchange of data so we can establish what happened," Valdés-Sosa tells NBC News. "We would like to talk to the people that were treating the diplomats and their families."
The Cuban neurologist pushed back on the notion that Russia's government may have been involved in attacking Americans in Cuba, following an exclusive NBC News report that said U.S. officials now consider Russia to be the main suspect.
"That's not my field, but I think it's something that is very unlikely, it's very far-fetched," Valdés-Sosa said. He was equally skeptical about reports that the U.S. suspects microwave technology was used to harm the diplomats, adding that "you'd have to practically vaporize the person before microwave can damage the brain."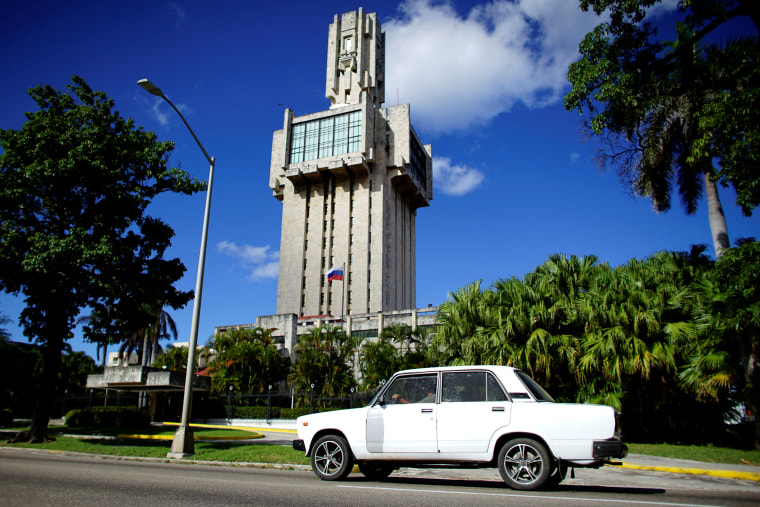 An editorial Thursday in Granma, the official newspaper of the Cuban Communist Party, also dismisses those reports, calling them part of a "permanent impeachment orchestrated by the U.S. State Department."
"One would have to ask who is most affected by these arrows being launched against third countries without any solid evidence and the crude and meaningless way in which they blame and allude to Russia and China, after it is still not proved to have happened, even after months of rigorous investigation — much less any indications that they are related to any other country," the editorial says. It adds: "Let's hope farce and unfounded accusations against any nation do not continue."
Earlier this year, University of Pennsylvania doctors treating 21 patients evacuated from Cuba published a study in the Journal of the American Medical Society laying out their medical findings, including that patients had symptoms consistent with brain injury but with no history of trauma to the head, as would be expected in a concussion. Some doctors who have not examined the patients but have reviewed the medical study have questioned its methodology.
Valdés-Sosa pointed out that according to the published study, there were disparities in the cognitive and hearing-related ailments found in the various Cuba patients. He said that suggests they aren't suffering from the same syndrome and that some symptoms may have been pre-existing.
"If there's not a common pattern, wow can we figure out if there's a weapon? And in fact, I repeat: Any of the hypotheses that have been proposed simply violate the laws of physics."