HAVANA, Cuba — There was subuded emotion as 67-year-old Barbara Amaro watched television coverage of the raising of the American flag at the reopened U.S. embassy here, but she felt its impact.
"Se me paran los pelos (I have goosebumps)," Amaro told NBC News Latino after the flag was run up the flagpole into a bright, blue sky and the U.S. national anthem was played as the flag flapped in the wind.
Amaro watched from the couch in the living room of the home of her son-in-law Alberto Amoros, 44.
Watching with them were Amoros' wife Ailen, her daughter Shakira; Yairon his 14-year-old son from a previous marriage, and Ailen's father Angel Corcho. NBC News Latino joined them as they watched, some of the family.
They watched from a flat-screen television in their apartment in the working class neighborhood of La Lisa, located in the Havana municipality of Versalles and a few drank "cafecitos" while the ceremony took place about a half hour away from the apartment..
"I never thought I would see this. I do believe that we are very solidarios (unified)," Amaro said. "Somos un país que amamos la paz (We are a country that loves peace) and all I want is la union de los pueblos (a uniting of the people) and that we have exchanges of all types and experiences."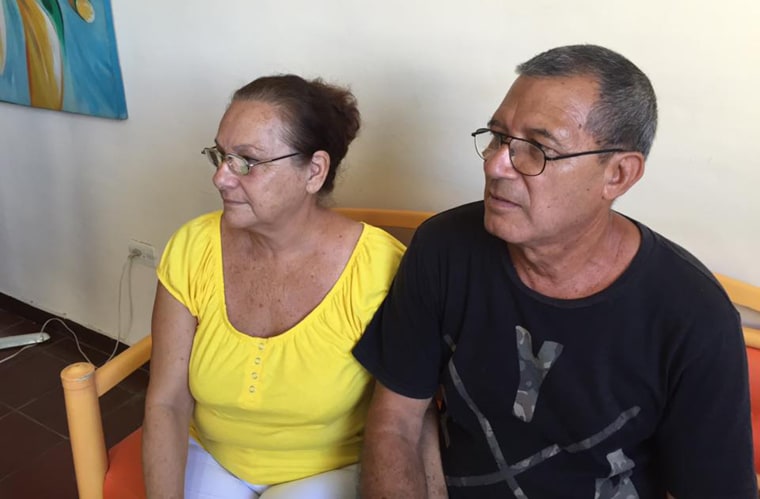 Secretary of State John Kerry ticked off the list of historical U.S.-Cuba events that have taken place in Amaro's lifetime, straining, stretching thin and then severing ties between the countries: the Bay of Pigs, the Cuban missile crisis.
"A whole generation of Americans have grown up and grown old," over those years, Kerry said.
He said Americans believe the nations will benefit from people of the two countries to learn more about one another and meet each other. When he spoke of people visiting one another in each other's country, smiles were exchanged between Ailen and Yairon, who lives with his mother in Hialeah, Fla.
"Establishment of diplomatic relations is not something one country does as a favor to another. It is something two countries do together when the citizens of both countries will benefit," Kerry said.
Amoros has begun doing so. A cuentapropista (who runs his own business), Amoros makes juice and sells it around Havana.
"What this means to Cubans is we're always in the hope that there is an evolution when it comes to the economy, work, todo (everything) and we live with the hope that this happens because we really are in need of many things," Amoros said.
He and the rest of the family support a lifting of the U.S. embargo on Cuba but said both countries need to work at improving relations between them.
Yairon lives in Hialeah, Florida, with his mother. He makes trips between the U.S. and Cuba to see his father, who is remarried. But the family said the visits are difficult.
There was a time when such travel wasn't so hard as it is now for Yairon. Amoros and his family, watching the American flag unfurl, a few weeks after the same happened when the Cuban flag was raised over its embassy in Washington, D.C., thought things might be that way again.
"My grandmother once told me that you could go to Miami for the weekend and vice versa," Amoros said. "We are all Latinos, todos, and that would be great."