HAVANA — Driving from José Martí International Airport, as you approach the center of the city, you start seeing the clusters of people.
In the bustling Vedado neighborhood, amid the bus terminals and near the well-known Coppelia ice cream parlor, people are looking down at their mobile phones, making use of the new Wi-Fi hot spots around the city that they frequent as much as they can, hoping for the best.
The spread of Wi-Fi hot spots may be related to the reconciliation between Cuba and the United States, two former Cold War foes that have restored diplomatic ties. In January, President Barack Obama eased the U.S. economic embargo for telecommunications, hoping to give a boost to the Internet in Cuba.
Cuba has in recent months opened 35 Wi-Fi access points, paving a digital path in a country that until now has limited the use of the Internet to an elite few.
At these new Wi-Fi stations, people have developed a system. Many prefer to go at night after the hot sun is gone.
On a Tuesday around lunchtime, Mayara Scull, a young sales clerk, sat patiently at a median in the Villa Panamericana, the neighborhood that was the site of the 1991 Pan American Games. Scull comes twice a week, or "cuando se puede" — "when she can."
She was having trouble with an Internet connection. She took it in stride.
Alex Oliver, 47, a guide and driver who has a teen son, frequents this spot, and explained that he comes here not just for his own use, but, like many other parents, to help children with their school projects.
"Now that schools use more Internet, it's more work for parents," he said. "If my son needs to research Isaac Newton, I come here to go to Google and look for the information."
On Tuesday, it took Oliver a long time to get connected as he sat in a park bench. "Too many people trying to get connected at the same time," he said.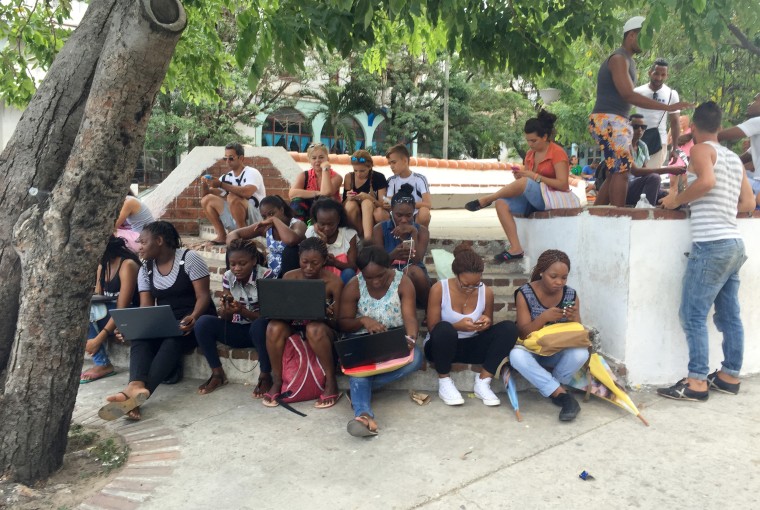 For Cubans, a lack of connectivity is an issue at so many levels — professional as well as personal.
Yunior Rojas, 30, is a stunt coordinator for movie scenes filmed in Cuba and uses the Internet to try to secure work. Standing outside a Wi-Fi hot spot outside a building in Vedado, he said he tries to come two to three times a week, but he can't come as often as he would like because of the steep cost.
"It's still very expensive for the type of salary that Cubans make."
He says he does what he can and family members outside Cuba also help him connect with work colleagues.
In front of a CUBACEL office in downtown Havana, people had gathered early in the day, waiting in lines to purchase cards for email or Internet. Many Cubans said that buying phone, Internet and email can take up a very significant chunk of a person's salary — more than 60 percent of someone's monthly take-home pay.
As one woman speaking in a group explained, the steep price and the difficulties in accessing the Internet are especially hard since "most of us have divided families — some of us are in Cuba and some of our families are away."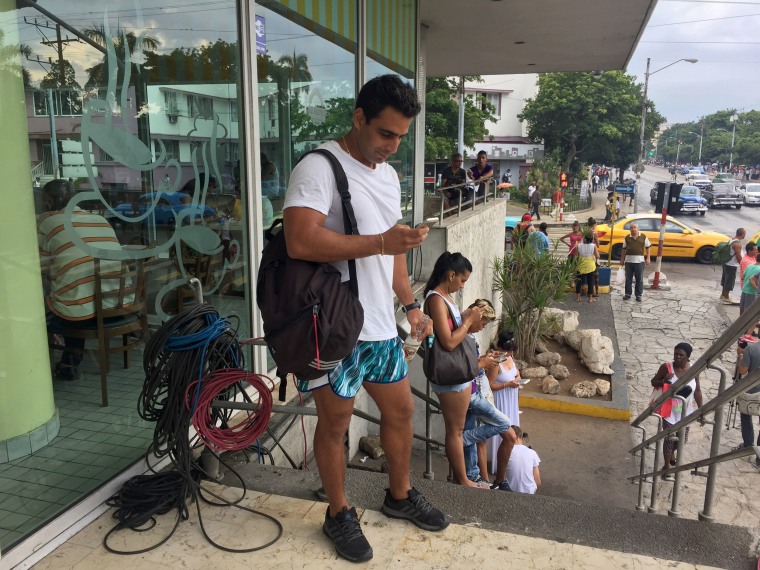 Sibonisiwe Mangaliso, a young South African who arrived in Cuba recently to study medicine, was at the Villa Panamericana neighborhood attempting to connect with his family through Facebook. At most he comes once a week — if he has money.
For a growing number of Cubans, the sporadic visits to the Wi-Fi hot spots are now part of life on the island. Though frustrating due to its steep cost and unpredictable success, Rojas looks toward the crowd and says, "como usted ve, el Cubano se las arregla" — "as you can see, Cubans find a way."
Reuters contributed to this report.