HAVANA, Cuba – Yoanny Amaro says she is optimistic that the upcoming U.S. embassy opening will bring improvements in commerce, international relations and on a personal level, easier ties between Cubans here and their loved ones in the U.S.
But what looms large for the 42-year-old orthodontist and dental implant specialist is whether better U.S.-Cuba relations will eventually translate to an improved local economy – and more money in her extremely stretched paycheck.
RELATED: Hope Rising As Havana Awaits U.S. Embassy Opening
"Our biggest problem right now is our salary compared to the prices we have to pay," she said. Amaro said that she and her husband, an engineer, have incomes significantly more than the average of about $20 a month in 2013 – yet most of their combined income goes to food. "Even for those of us professionals who have made big sacrifices, we are not compensated."
Many Cubans on the street were candid about the biggest issue they say they face – their inability to afford the steep prices for basic items and their desire that changes eventually lead to more money in their pocketbooks.
"I would like to remain living here – there is no country like this one," said a 31-year-old sales clerk who only wanted to give her first name, Yaniri. But she worries about the future, she said, as she looked anxiously at her 7-year-old son. "Up to now we haven't been advancing enough."
Yaniri's husband has been working in Miami for the past three years and, as is the case with many families, he sends money to supplement their income. Yaniri's friend, 28-year-old Melia, says she plans to join her father, who moved to Naples, Florida and has a job installing air conditioners. "The majority of us wouldn't leave if we had money. We leave because of necessity," Melia said.
"It's the economic part that hits us hard. It shouldn't be that the state buys a pen and charges us 200 percent more to buy it."
Satisfaction in other fronts
In front of the Cubacel phone company offices, a 43-year-old man who also only wanted only his first name used, Cesar, reflected on the state of things.
"It's the economic part that hits us hard," he said, complaining that he doesn't understand why the government marks up basic products. "It shouldn't be that the state buys a pen and charges us 200 percent more to buy it." Yet he was quick to point out what he credited the government for – low crime rates, and good education and health care.
"Kids can walk out on the street, nothing happens. If a kid falls from a bike, the hospital takes care of you without asking you about insurance. "Eso es real (that is the truth)," he said. He also praised the education system and the country's teachers – "Estan haciendo cosas del corazón, y eso no tiene precio (They're doing things from the heart, and that doesn't have a price)," he said, extolling the dedication of many of the teachers despite their low pay.
"In general, the system is designed for people's well-being," said Amaro, the orthodontist, praising the chances to get a good education. "I have lived that," she added.
On the economic front, more "horizontal" movement
A conversation with Gabriela Ferreira, 19, is emblematic of changing economics on the island. Her mother, who is a gestora, or bookkeeper, is one of a growing number of cuentapropistas (a term that comes from the words "por cuenta propia" which means of one's own accord). Her mother has her own business. Her father has been working in Miami for the past three years. Ferreira, who is a university student and is studying to be an English teacher, started learning English in a "casa particular (private house)" with a private tutor.
"I like my life here. I love it here," said Ferreira. "But we need changes," she said, wanting greater movement in travel as well as connectivity; she was at a wifi hotspot trying to get connected.
RELATED: Cuban Internet Usage, Public Wifi Spots Are A Big Draw
Angel Ramirez, 61, an internationally acclaimed painter whose taller, or workshop, is in the historic Plaza de Armas square in Old Havana, said the changes in the last few years under Cuba President Raul Castro have been more deliberate.
"Se mueve mas la economia en sentido horizontal" ("The economy is moving more in a horizontal way)," Ramirez said, explaining that before the economy was basically trickling down from the state; now more money is flowing between individuals with their businesses.
Even for artists like him, things have changed. When he graduated he and others in his field were art professors, as was the expected career path. Over the last decade he has had his studio in the historic plaza and a tourist group wandered in as he spoke to NBC.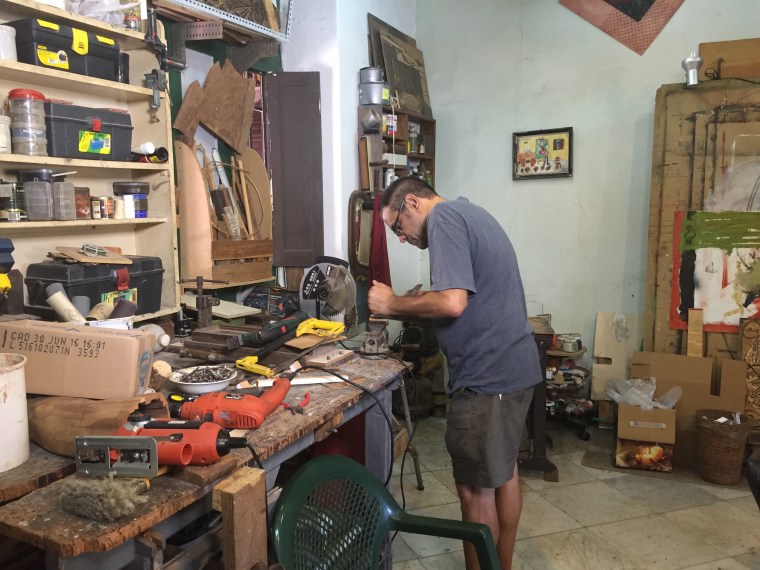 Ramirez thinks the increased U.S.-Cuba relations will have wider repercussions as investors from other countries are more comfortable putting more money into Cuba. "Cuba esta de moda (Cuba is in vogue) once again," he said laughing.
Hoping for More
But while there have been changes, it is not enough for the families who have reluctantly had to leave.
"I miss everything, the food doesn't taste the same, and I even miss the coffee," said Dania Baez Hernandez, 52, who moved to Mexico three years ago to help her daughter, a ballet school teacher who went to live in Mexico.
She misses what she considers to be Cuba's superior healthcare and education and her life in Cuba.
"It's the scarcity that makes a Cuban emigrate," she said, explaining that she doesn't need a lot and would have been happy with enough money to cover the basics and not having to leave.
While eyes are on Cuba over changing U.S. relations, residents hope increasing ties bring more economic activity – all the way to the pocketbooks.
"Hay ya que tomar el cambio sin miedo (We need to have more changes without being fearful about it)," Yaniri said.