HAVANA, Cuba -- At the recently opened U.S. Embassy where the flag will be raised on Friday, a crowd was gathered at a nearby little park that some refer to as the Parque de los Suspiros (Park of Sighs). Here, people waited anxiously Thursday to form a line to go into the building to get a visa interview or to hear whether they were approved for one that will take them to the U.S.
While some go to obtain a visa for a visit, the group on Thursday were going as permanentes and staying in the U.S. to live, having been reclamados (claimed for or sponsored) by their relatives in the U.S., now residents or citizens.
"Es mas importante reunificarme con mi hija que cualquier otra cosa (It's more important reunite with my daughter than anything else)," said Mayra Arrebola Rodriguez, 61. "La familia es la familia (Family is family)", she said, her eyes watering.
RELATED: Cubans Await Better Economy with New American Ties
While improved U.S.-Cuba relations have shifted the focus to what future changes may take place in Cuba and between both countries, the reality for most Cubans is the pain of living in a bifurcated family with some relatives on the island and some in the U.S.
"When you're in the hospital and you don't see anyone around you, you say, ¿Qué cosa es esto? (What's this?)" said a 42-year-old man who was so nervous about his upcoming embassy visit he would not even give his name. "Everyone in my family is gone and my mother in Miami is sick," he said. It was time to be with his mother, who was getting on in years, he said. He was worried about his interview with embassy officials a few weeks ago and was hoping he would get good news.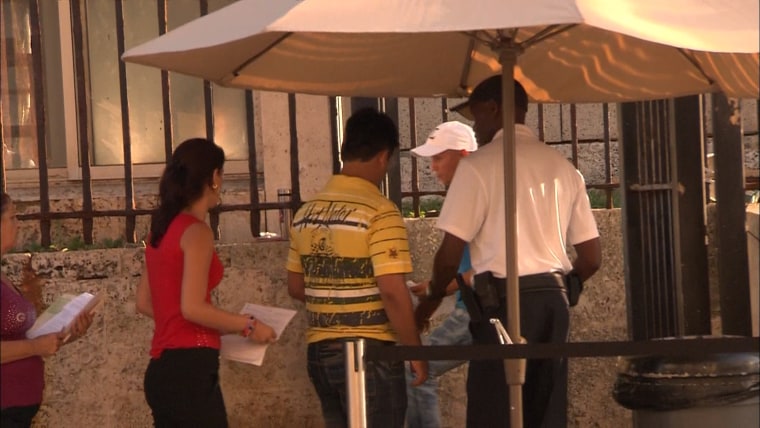 Through the decades, the U.S.'s wet food/dry foot policy has enabled many Cubans to become U.S. residents and citizens even if they arrived without a visa. The wet foot/dry foot policy allows Cubans to remain legally in the U.S. if they are able to get to U.S. soil, essentially set foot on it. Cubans intercepted at sea are returned. This is different from other immigrants who are required to have documents for entry and pass through inspection at a legal port of entry.
Several Cubans who were waiting in line Thursday spoke of relatives who had taken a chance on a boat or had gone to a country like Mexico and stayed, making their way to the U.S. from there.
When asked if they thought that changing relations would have an impact on the process of visas, family visits and reunifications, people seemed cautiously optimistic.
"Yo espero que si, con el favor de Dios, para el mejoramiento de ambos paises (I hope so, with God's will, for the betterment of both countries), said Arrebola Rodriguez.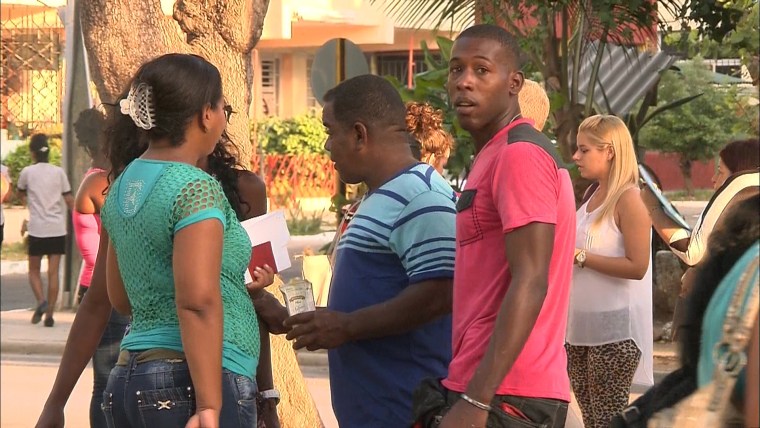 Yoander Santiesteban, 37, a waiter, was being sponsored by his sister, who has been a citizen for three years after living eight years in Miami. He had traveled from Holguin, 900 kilometers from Havana for the appointment.
About an hour later, he came out. "No ha llegado (It hasn't come), he said, referring to the visa. But he seemed confident, and said he would be coming back in a few weeks.