MEXICO CITY — The journey north for a group of Central Americans fleeing persecution and violence in their countries is nearing an end, after President Donald Trump's tweets thrust the group into the international spotlight.
About 500 migrants, mainly from Honduras, are preparing to arrive at the U.S.-Mexico border between Sunday and Tuesday, hoping they can claim asylum and begin building a new life.
Pueblo Sin Fronteras, an immigrant rights group led by volunteers, has been running these types of caravans for more than 15 years to help people escape from dangerous situations in their home countries and protect them as they travel.
The caravans had been relatively unknown to most Americans until Trump began tweeting about them earlier this month.
There are now about 800 migrants in the caravan. About half have decided to stay in Mexico and seek asylum there, while between 400 and 500 migrants will continue their journey and seek asylum in the U.S. The group is largely made up of mothers, children and young people who identify as LGBT.
This week, some of them shared their stories as the caravan paused in Mexico City, before embarking on the final leg to the north.
Mirna Lopez joined the caravan with her husband Magdel and her nearly 2-year-old son Joshua.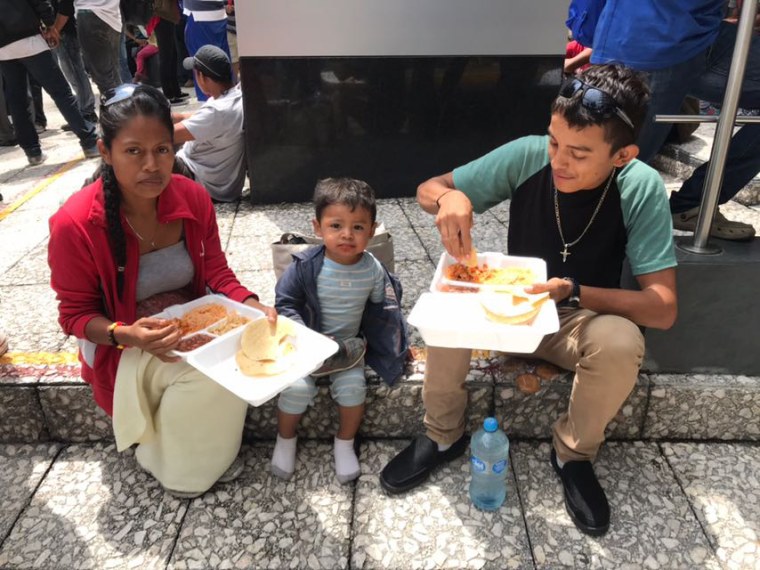 Mirna and Magdel were fieldworkers in eastern Honduras, where they lived in a town so small that it didn't have a school. After two of Mirna's sisters were killed by narcotraffickers, the family decided to flee to a safer place.
Magdel dreams of becoming an architect. If the family is able to travel to the U.S., he hopes that his little experience in electrical repairs will help him get a job.
While uncertainty clouds the family's future, Magdel is hopeful. When asked if he's scared of his family being separated at the U.S.-Mexico border, Magdel replied, "We have rights as humans to be safe, and I believe the troops at the border will respect that."
The migrant caravan includes about 20 transgender people, and Alexandra Mejia is one of them.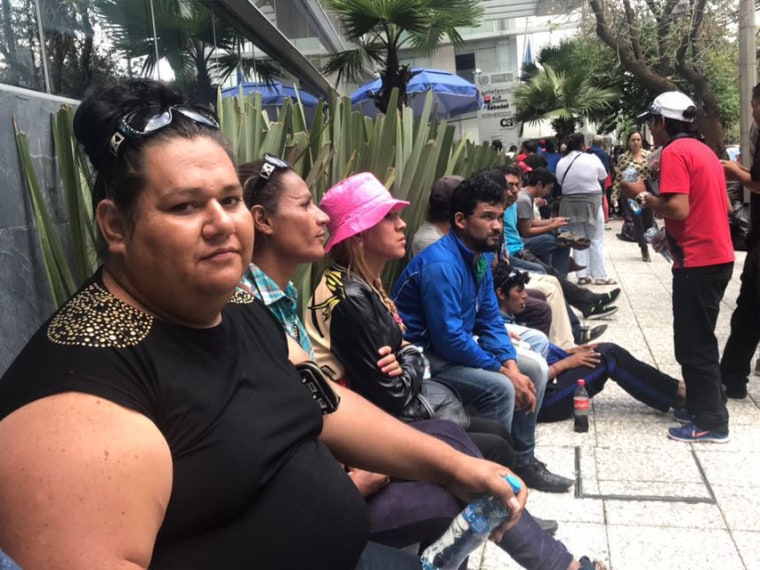 Alexandra, 29, was born in El Salvador's capital city, where her transgender identity made her a target of persecution and harassment. Drug traffickers tried to force her into the business, she said, and when she refused, local gang members raped her and killed her father. The same gang members showed up at her father's funeral to give her an ultimatum, she said.
They told her that if she ever set foot back in El Salvador, she would be dead within 24 hours.
Alexandra is now one of the hundreds of migrants hoping to stay in Mexico. She believes she has a good chance of qualifying for asylum.
Part of the reason Pueblo Sin Fronteras organizes these types of caravans is to guarantee migrants' safety as they travel north.
That security was particularly important to Marlon Nolasco, 31.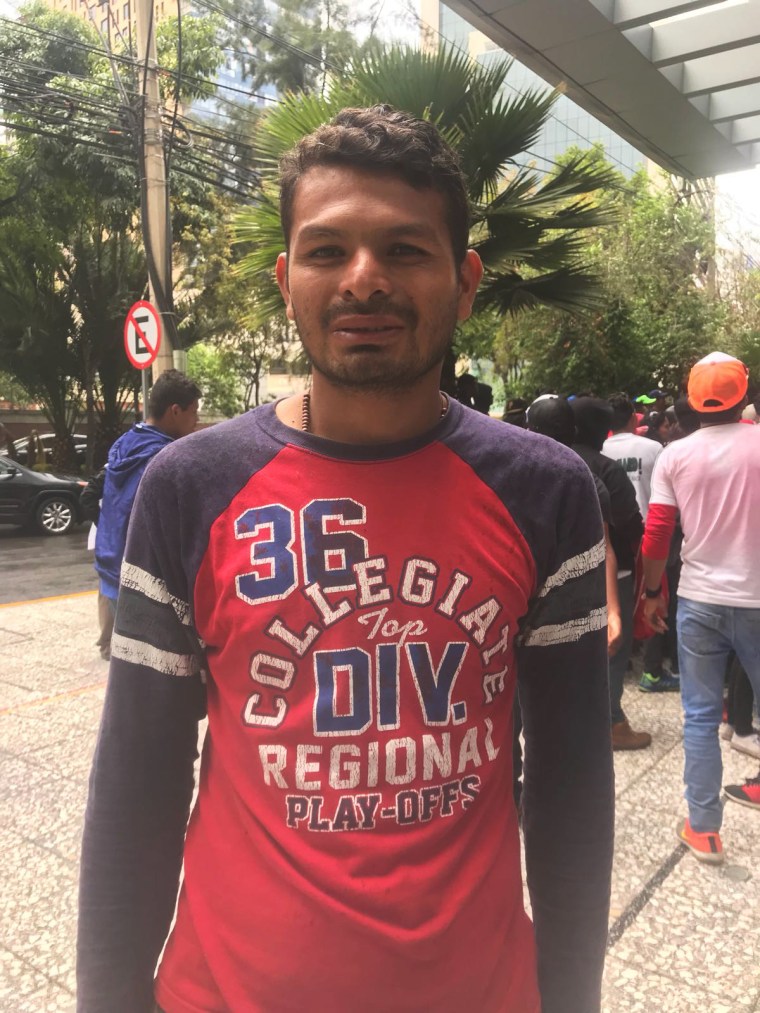 When NBC reporters met him for the first time, he desperately asked if he could use their phones to call his wife and two children in central Honduras. Before joining the caravan, Marlon was robbed at gunpoint by gang members. He said they took all the money he was carrying, as well as his cell phone.
After that, he figured that it would be safer to travel in a crowd. He's aiming to get to Colorado, where he hopes to reunite with his brother.
Juan Carlos, 23, who joined the caravan earlier this month, also started his journey alone before joining the caravan.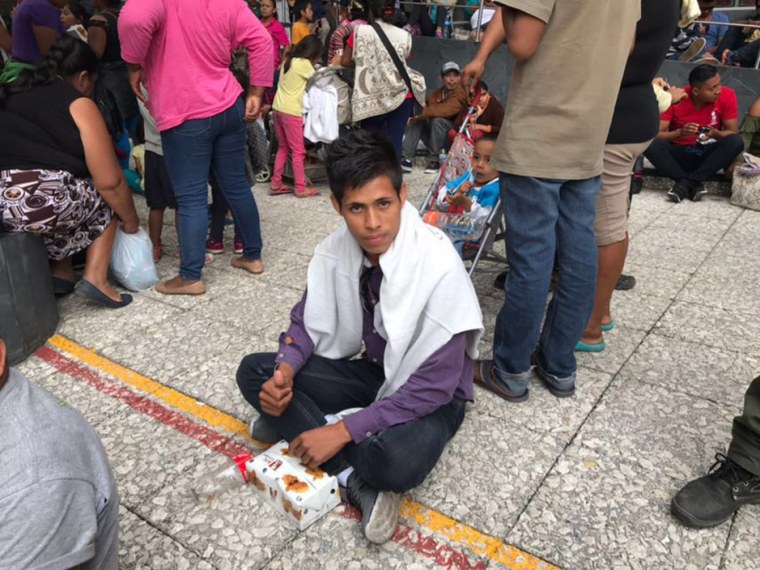 Juan Carlos is from Honduras' capital city, Tegucipalpa, where his family of eight brothers and sisters survives on less than $60 a month. Once in the U.S., he hopes to find work and send them at least $200 a month.
But unlike many in the caravan, Juan Carlos is not interested in seeking asylum at the U.S. border, because he doesn't want to risk being turned away. Instead, his family paid $2,000 for a smuggler to sneak him across the border.
When asked if he was scared of the journey ahead, his response reflected the fears and hopes of many in the caravan.
He said he's putting all his trust in God's hands.
Annie Rose Ramos reported from Mexico City, and Nicole Acevedo reported from New York.