The death of an unarmed 17-year-old Colorado girl who was shot by police was ruled a homicide, according to a medical examiner's report released Friday showing that she suffered four gunshot wounds.
Jessica Hernandez's Jan. 26 death sparked protests and is under investigation by the Denver District Attorney's Office. The Denver Police Department said officers opened fire on Hernandez when she drove a stolen car toward them, but the family's lawyer, Qusair Mohamedbhai, said the autopsy tells a different story.
The autopsy performed by Denver Chief Medical Examiner James Caruso shows Hernandez was shot two times in the left side of her torso. Two more gunshot wounds in Hernandez's pelvis and right thigh may have resulted from the same bullet, according to the autopsy. The bullets fatally wounded Hernandez's heart and both lungs. She also had marijuana and a small amount of alcohol in her system, the report found.
"There was no evidence of close range discharge of a firearm associated with any of the entrance wounds," Caruso said in the report.
Mohamedbhai said in a statement that the autopsy doesn't indicate that Hernandez was driving toward the officers who shot her since since the bullet wounds entered her body from the driver's side of the car and were not fired at close range. He told NBC News on Saturday that the left-to-right wound path and trajectory of the bullets that struck Hernandez "undermine the version of the events put forth by the Denver Police Department."
Denver police spokeswoman Raquel Lopez said it would be "inappropriate" for the department to respond to comments from the Hernandez family lawyers until the district attorney's investigation is complete.
The Hernandez family is calling for an independent federal investigation into the teen's death because they have "no confidence" that police or the district attorney will conduct "any sort of fair or meaningful investigation," Mohamedbhai said in a statement.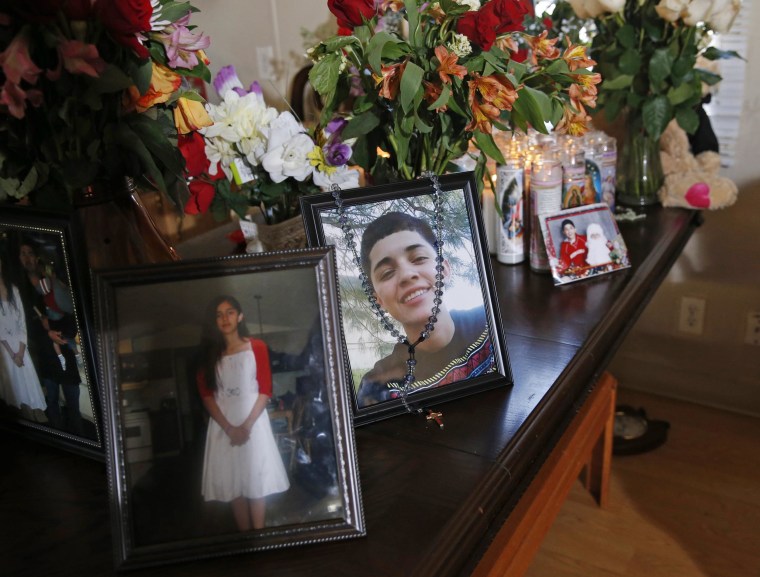 IN-DEPTH
— Elisha Fieldstadt