Federal authorities are investigating the death of a Panamanian immigrant who was being held in solitary confinement at an immigration center in southern Georgia, officials said this week.
Jean Jimenez-Joseph, 27, was found unresponsive with a sheet around his neck in his cell at Stewart Detention Center in Lumpkin, Georgia, officials with U.S. Immigration and Customs Enforcement (ICE) said Monday.
The death of the detainee, who was facing possible deportation, was preliminarily ruled a suicide.
Jimenez is the first fatality at Stewart Detention Center in more than eight years, ICE Spokesman Bryan Cox said. Jimenez's death will be subject to a full investigation, he added.
ICE had a total of nine detainee deaths out of 352,000 individuals who were in custody during the 2016 fiscal year.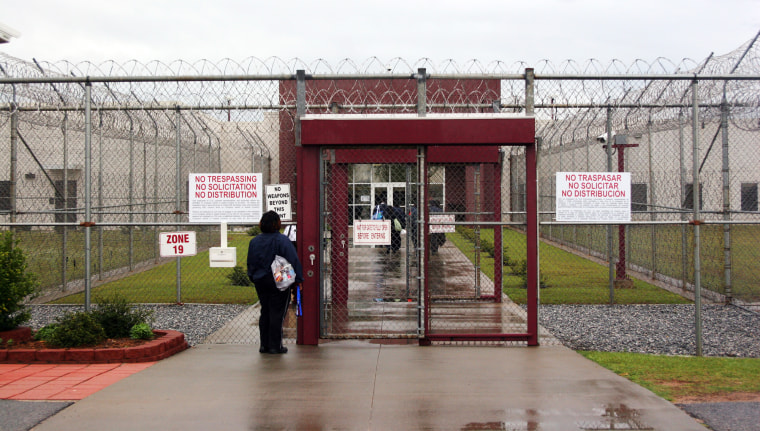 "The specific incident he was placed in isolation for on April 27 was for jumping over the rails on the second floor" at the detention center, said Georgia Bureau of Investigation (GBI) Special Agent Danny Jackson, who is leading the investigation.
Jackson said while Jimenez was in isolation, he exposed himself to one of the nurses and was given an additional three days in solitary confinement.
On the day Jimenez died, he had served 19 of his 23 days of isolation.
However, this was not the first first time Jimenez was in isolation. "He was placed in disciplinary segregation once before for fighting with another detainee," said Bryan Cox. That period of isolation spanned April 13-18, he said.
Per a recommendation by the United Nations special rapporteur, detained immigrants should not be placed in segregation for more than 15 days.
Because Stewart is an immigration center, even the warden does not know what medications detainees are taking, since ICE oversees all medical personnel at the facility, according to GBI.
GBI has requested more information from ICE about Jimenez's prescribed medications — particularly if any of them had to do with his mental health.
"We know he was apparently taking some kind of medication," Jackson said before adding that he doesn't think GBI will ever find out what kind of medication Jimenez was taking in terms of their investigation.
Every person in ICE custody receives a mental health screening upon arrival, according to Cox, and an additional mental health assessment within 14 days of that. Medical health personnel are also available at the detainee's request.
According to a year-long investigation released just this month on behalf of Penn State Law and Project South, a Southern-based social justice organization, even though health care staff exists at Stewart, they primarily handle suicide risks, which are reportedly dealt with by placing the at-risk individual in segregation. The investigation says immigrants do not approach the mental health care staff because they are too afraid of being placed in segregation.
"The suicide of this young immigrant at Stewart is a horrific tragedy that could have been prevented," said Azadeh Shahshahani, legal and advocacy director at Project South. "As our year-long investigation revealed, conditions at the facility are deplorable and there is lack of adequate access to mental healthcare."
Jimenez's autopsy will take place no later than Thursday, according to GBI, and ICE has advised Panamanian consular representatives who have notified his next of kin.