The Republican field continued to expand, but the Democratic hopefuls spoke Monday as if Donald Trump is the GOP nominee in their speeches to the National Council of La Raza.
Neither Bernie Sanders, Martin O'Malley or Hillary Clinton passed up a chance to blast Trump and paint him and his view as emblematic of the party before the audience attending NCLR's annual conference in Kansas City, Mo.
"The real problem isn't that the Republicans have such a hate-spewing character running for president," O'Malley said. "The problem is that it's so hard to tell him apart from the other candidates."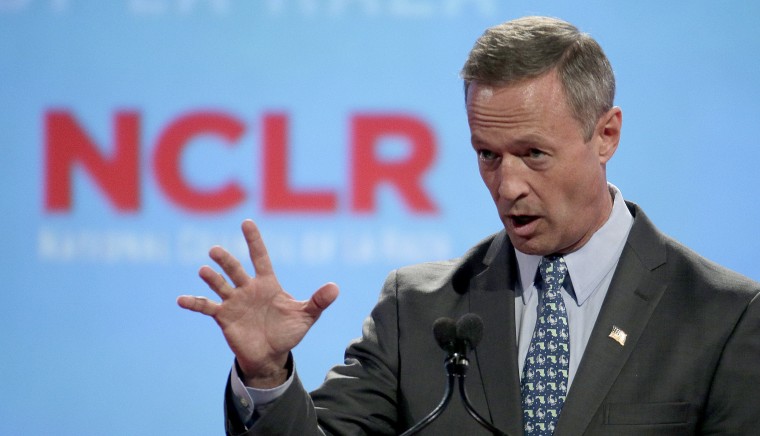 Related: Donald Trump: 'Don't Worry, We'll Take Our Country Back'
First in the lineup, Sanders told reporters after his speech that Trump is an outrage.
"We have come a long, long way to overcome racism. We've elected the first African American president. For a major candidate of the U.S. to be throwing slurs at one group of people because of the country they came from is totally unacceptable," said Sanders, whose father is a Polish immigrant who lost his family during the Holocaust.
Although she mentioned Jeb Bush and Scott Walker, Clinton spent more time on Trump. She told the crowd that everyone knows immigrants living here illegally, and Trump's comments are about "people you and I know." She called his continued hammering of immigrants here illegally as "shameful."
"I have just one word for Mr. Trump — Basta! Enough!" Clinton said to cheers.
"And to all the other Republicans running for president, why did it take weeks for most of you to speak out?" she said. "The sad truth is even if some of the other candidates now condemn those words if you look at many of their policies, it's hard to tell the difference."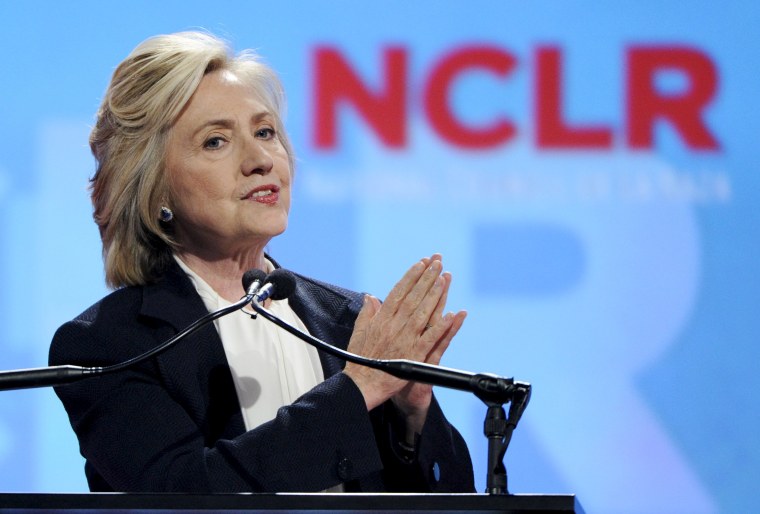 For extra measure, HUD Secretary Julián Castro, considered a potential vice presidential runningmate to Clinton, piled on as well in his speech delivered between O'Malley's and Clinton's.
"Donald Trump and his conservative allies oughta hear this: Americans will not stand for your rhetoric or your hatred, not today, not tomorrow and not ever," Castro said, winning applause.
Even comedian Joe Hernandez-Kolski got in the act when he had the audience yell back "Not Cool" when he shouted - to a beatbox by fellow comedian Joshua Silverstein - a list of things, such as Donald Trump's comments about Mexicans.
"When Mexico sends its people, they're not sending the best. They're not sending you, they're sending people that have lots of problems and they're bringing those problems," Trump said when he declared his presidential bid last month. "They're bringing drugs, they're bringing crime. They're rapists and some, I assume, are good people, but I speak to border guards and they're telling us what we're getting."
The Republican Party, asked for a response to the Democrats, referred to Republican National Committee chairman Reince Preibus' request to Trump last week that he tone down his rhetoric. But Trump has not complied. Polls have been showing Trump in second in Iowa and New Hampshire and thousands turned out to see him at appearances in Arizona and Nevada. Although he has seen business disappear over his comments, Trump cheered a report that supporters are lashing out at Macy's, which severed ties with him.
NCLR President Janet Murguía said the Democrats' appearances at NCLR's annual conference marked the first time the organization has had three presidential candidates address its annual conference. No GOP candidates agreed to address the crowd.
Latino groups and their conferences have been getting attention from candidates this primary season as they try to court the Latino vote, one that has become critical in some battleground states.
The Democrats hit on other themes. O'Malley discussed assisting Puerto Rico with its debt. Sanders discussed minimum wage and health care and Clinton carried on her theme from a speech earlier in the day about the economy.
Following Clinton's speech at NCLR, RNC Hispanic Media Director Ruth Guerra said in a statement, "Hillary Clinton is ignoring the fact that a Democrat has occupied the White House for the past six and a half years – a period that has seen the weakest economic recovery in modern history, particularly for millions of Hispanics across the country. Many Hispanics have dropped out of the labor force entirely or pushed into part-time work, while others see their wages fall and struggle to make ends meet.," stated Guerra, adding that Latinos "have heard the same story from Democrats for far too long."
Related: First Read Scott Walker's Big Moment
The speeches by the Democrats at NCLR preceded an announcement by Wisconsin governor Scott Walker that he was joining the now 15-member field of GOP presidential candidates. Walker has taken a tough stand on immigration that some have referred to as a flip flop from his earlier views.