In less than a week, the Hillary Clinton-Bernie Sanders presidential nomination saga will essentially come to a close in California, a state where Latinos slightly outnumber whites, but have been far fewer of the state's voters.
The end is practically written, given that Clinton lacks just 72 delegates to reach the required 2,383 total delegates to become the presumptive nominee, while Sanders needs 841.
It could all be done before Californians finish voting. But there is excitement nonetheless, because California so rarely has much say in a presidential race. Also, although a Sanders win isn't likely to give him the nomination, it could send Clinton into the general election contest a little damaged.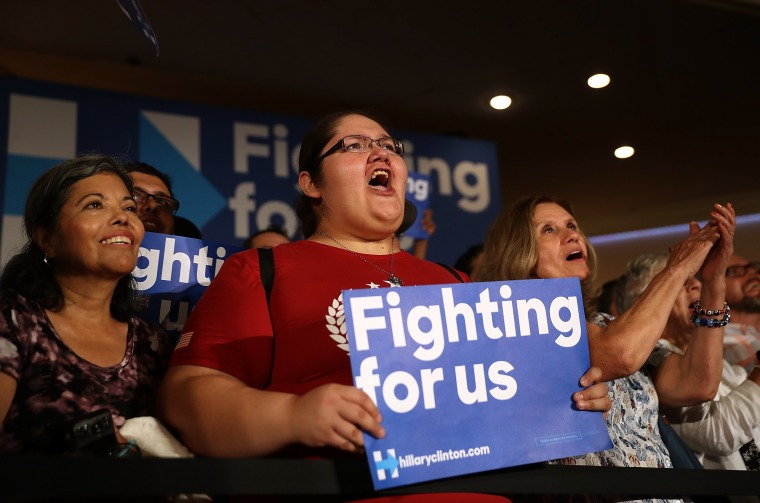 California has the largest Latino population of any state and nearly half of that population is eligible to vote. But turnout has been so bad at times that in the last presidential election cycle, when the Latino vote was hitting new heights nationally, the Latino Caucus of the state's Legislature lost three seats.
But there is hope for better this year, particularly in the general election.
"When there's a contest and a flurry of activity – and we are seeing a flurry – seeing this kind of activity and what looks like a race, people are going to be more active and engaged," said Roger Salazar, a Democratic consultant with ALZA Strategies in California.
Related: Dem Race Tightens, Clinton Barely Leads Sanders
Salazar thinks more Latinos will turn out when they are "ticked" off at somebody and this year there is Trump. Also, more than a third, 36 percent, of California eligible Latino voters are millennials - ages 18 to 29, higher than the share of all California eligible voters who are millennials, 24 percent, and younger Latino millennials have been excited about Sanders. Finally there is a competitive Senate race and the consistent Latino voters who turn out in every election.
"Put that all together and there is going to be substantial Latino voter turnout," Salazar said. "There are signs people are paying attention."
Trump is the presumptive GOP nominee but has campaigned in California and drawn crowds.
To be sure, Clinton and Sanders have been doing their part to pump up the drama on this final stretch – Clinton made an abrupt departure from New Jersey to do more campaigning in California and she unveiled her endorsement from popular Gov. Jerry Brown. Sanders has been feverishly campaigning the state, hitting Latino areas, promising to soldier on to the party convention in July.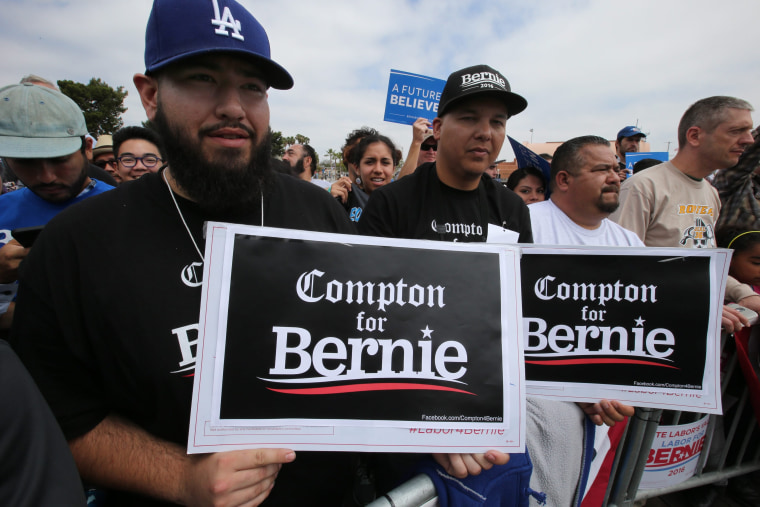 Bill Velazquez, Sanders' National Director for Latino Outreach and a native of East Los Angeles, said the campaign has seen increased involvement and response to canvassing from the Latino community. Latino Sanders supporters had been organizing in the state on their own for a while, some for a year, before the campaign set up in the state.
"People are very invested in Bernie to a person. They all want him to stay in the race ... to influence the (party) platform," Velazquez said. He maintains that superdelegates still could be flipped to win Sanders the race.
First Read: Why Hillary Clinton Needs To Win California
In the Clinton camp, "we're doing everything possible to reach out to the Latino community," said Hilda Delgado, the campaign's California press secretary.
With immigration such an important issue, she said canvassers and phone bankers are telling Latinos of Clinton's plan to introduce an immigration bill to fix immigration in her first 100 days. But she also said they are contrasting Sanders' and Clinton's plans on Obamacare and education. "Bernie wants to do away with Obamacare," she said.
And, there's another force enlivening the Latino electorate, Delgado said.
The predominantly Democratic landscape of the state today is a product of Proposition 187, an anti-immigrant measure that was signed into law some 20 years ago by then Gov. Pete Wilson.
Related: NALEO's Arturo Vargas on Latinos' Growing Political Landscape
That law is credited with spurring increased Latino voting that, in turn, helped build their political power. Californians today can't help but project a similar result from the candidacy of Trump.
"I think what happened here 20 years ago is happening nationally with Trump," Delgado said. "We are experienced voters. We've seen it. We've lived it in the past. What we experienced 20 years ago, not just the Latino community, but immigrant communities in the U.S., are experiencing (now) what we lived 20 years ago."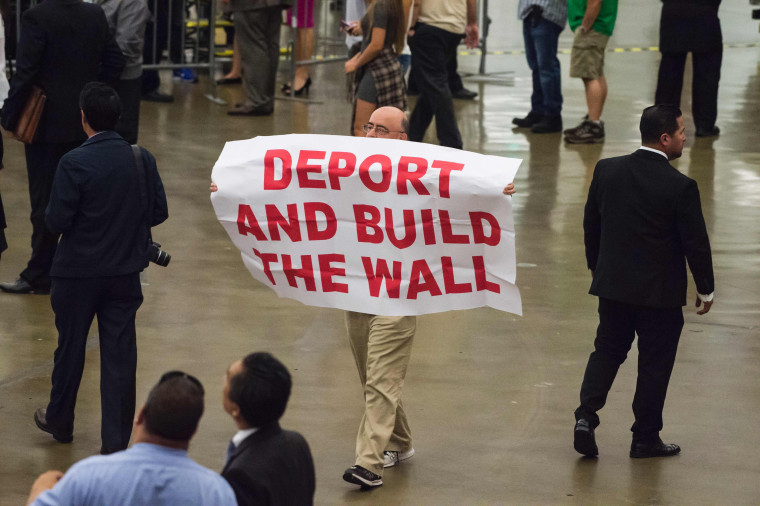 The state is seeing surging voter registrations, particularly among Latinos whose registrations are more than double those of the 2012 pre-primary registrations.
"The level of interest in this campaign is off the charts," said Michael Soller, California Democratic Party communications director.
In fact, according to Paul Mitchell, vice president of California-based Political Data Inc., Latino registration in this year's primary have been higher in raw numbers than Latino registrations before either of the last two presidential general elections. Political Data is a California data company that tracks voter registrations,
Out of 1,967,543 registrations since Jan. 1 through the end of May, 488,437 were Latino with 58 percent registering as Democrats, 12 percent as Republicans and 31 percent as no party.
Those numbers don't include a few counties, including the high Latino population counties of Los Angeles and San Diego, that were still getting registrations up to the May 24 deadline.
"That's really the California story, that Latino voters and young voters and Democrats are all surging. Republicans are falling back," Soller said.
California Latinos number about at 14.99 million and are 38.6 percent of the population, which is majority minority.
Pew Research Center reports that 28 percent of California's eligible voters are Latino.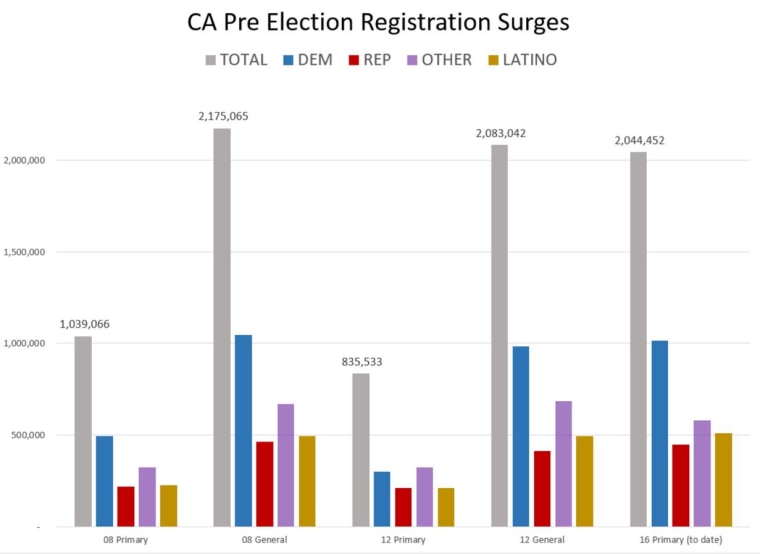 "The greatest significance of this election is not the Trump factor, but is the fact that Latinos have significant voting power (in California) and that's why (the Democratic candidates) are making certain they do everything they can to reach out," said Hector Nieto, a Democratic consultant based in Texas.
California's Latinos were 24 percent of those who voted in 2012, the last presidential primary, according to an analysis by the Willie Velazquez Institute.
Antonio Gonzalez, the institute's president, said the final numbers may not show an increase in registrations for the primary, because the voter files used to identify Hispanics don't always reflect deaths, moves and other issues.
But if similar increases in registrations are seen before the November election, then Latinos could make up a higher share of the electorate.
"The Democratic party would not be contending for the president if they were not getting all the electoral votes in California. That's what makes them competitive," said Chris Zepeda-Millán, a political scientist in the Department of Ethnic Studies at University of California, Berkeley.
"California is where Latinos hold the most political influence," he said.