In Cuba, members of government opposition groups say they are hopeful they will be attending the scheduled meeting with President Barack Obama on Tuesday despite the temporary detentions of some fellow dissidents on Sunday.
Berta Soler, who heads the opposition group Damas de Blanco (Ladies in White) was detained after the group's usual march on Sunday morning. Others detained included her husband Angel Moya and dissident Antonio González Rodiles; the group was released Sunday night.
Former political prisoner and independent blogger Guillermo Fariñas spoke to NBC News by phone on Monday. He said that "while anything could happen," and while there is police vigilance surrounding the house where he is staying, he is part of the group planning to attend the meeting.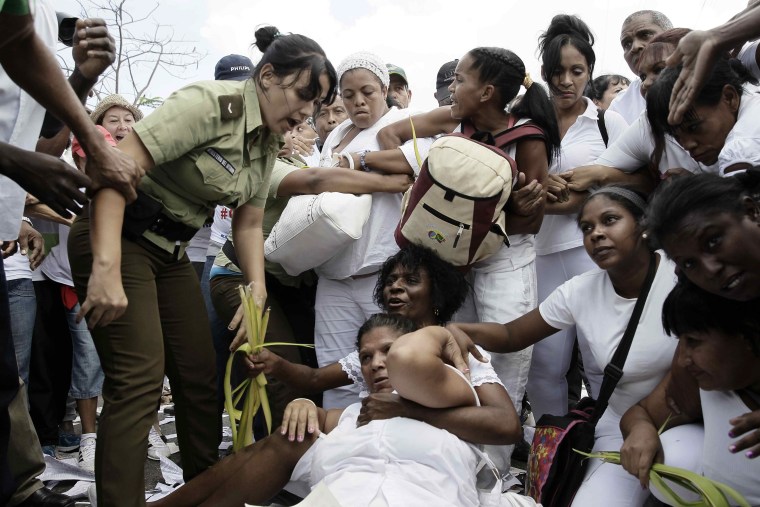 Among the issues of importance in the next couple of days, he said, is that Obama focuses his speech to the Cuban public on Tuesday on the importance of "freedom of expression, freedom of information and tolerance." Fariñas also said he hopes they can talk to the U.S. government about other issues such as their desire that foreign investors be able to hire Cubans directly.
Former political prisoner Jose Daniel Ferrer of the group Union Patriótica de Cuba told NBC News by phone that he is "almost sure" there won't be obstacles preventing him from attending the meeting with Obama on Tuesday. He said he has been folowed as he has moved around Havana, but he has not been detained.
"What the government fears is public manifestations and rallies - when there are visitors the government does not want the international media to see Cubans demanding their rights, so they moblize their repressive apparatus," said Ferrer.
RELATED: In Cuba and U.S., Expectations Are Mixed On Obama's Historic Trip
"At these moments what they fear are manifestations, so a meeting with the President is a lesser evil," he said.
Ferrer said he consider Obama's visit a positive thing, since it could lift the "estado de ánimo" (mood) of ordinary Cubans. "Instead of leaving, they could see that working to make Cuba better is worth it," he said.
He said he hopes the U.S. can help Cubans access more information as well as have better connectivity, among other things.
"We live in a nation controlled by the state, so now that Barack Obama is here the free press is interested in what happens in Cuba," said Ferrer.