EL PASO, Texas — Latinos around the country have expressed feeling fearful and vulnerable after a gunman targeting Hispanics walked into a Walmart store in this west Texas city and fatally gunned down 22 people.
While the charged atmosphere has many Latinos on edge, the 14 members of an all-female mariachi band, Mariachi Femenil Flores Mexicanas, said they feel particularly vulnerable because of their visibility.
"What is more Hispanic than wearing a mariachi outfit?" Lilly Sanchez, who has led the group since 2002, said. "We certainly feel like we have a target on our back, but we still have to do our job, so we do our job."
One member even quit after the shooting because she was so scared, Sanchez said Sunday.
"It's still fresh, it's very fresh," Sanchez, who plays the guitar, said. "We still pass by that Walmart every single day, several times a day, so it's a reminder that it just happened, and yeah, we're feeling afraid, we're feeling targeted after this."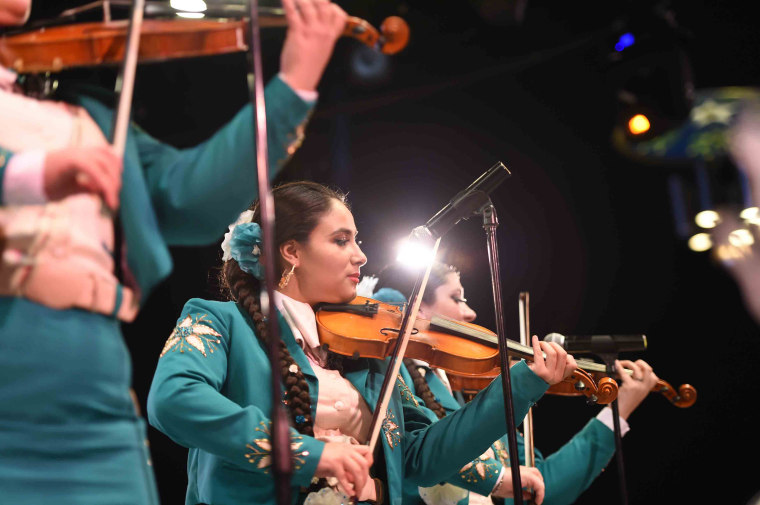 Karyme Perea, who plays the violin, said she finds it difficult to go outside but draws strength from the people of El Paso and the knowledge that the alleged shooter was from someplace else. Authorities say he drove 11 hours from his home outside Dallas to carry out the attack.
"I also know that we still have to keep on going, and I trust the city," Perea said. "It was from someone on the outside. No one in the city would actually do that, and I put that trust back into the people and that's what makes me go outside every single day."
One of the band's youngest members, high school student Regina Hernandez, said the shooting has left her constantly anxious.
"There's times where I feel very nervous to even go to school because I don't know what's going to happen," Hernandez, who plays the guitarrón, said. "There's times where we have to … go on with it, pretend like we're still okay, we're still strong enough to."
Yet the band members said they will forge ahead and continue to do what they love — play music.
"We're not going to let him win and take away our security" Sanchez said of the gunman, who was arrested. "But if we stay home and we let this change our lives, his racism wins."
Follow NBC Latino on Facebook, Twitter and Instagram.