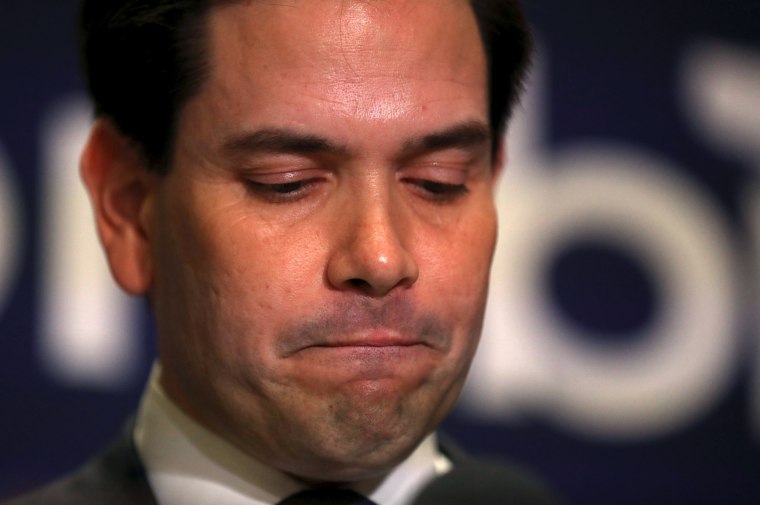 The two candidates that several Republican Hispanic leaders had hoped would win the GOP nomination and stop Donald Trump are done. The latest was Marco Rubio, who Tuesday night followed his mentor Jeb Bush in having to give the "suspending my campaign" speech.
Bush did it after a dismal showing in South Carolina. On Tuesday it was Rubio, who picked up some of the Hispanic support that had gone to Bush, who had to make his exit in his own home state of Florida, one of the states with a significant Latino electorate. Despite campaigning heavily in the Sunshine State, Rubio lost to Donald Trump by a significant margin.
"While it is not God's plan for me to be president in 2016 or maybe ever and while today my campaign is suspended, the fact that I've come this far is evidence of how special America truly is," Rubio said.
Alfonso Aguilar, a spokesman for a group of GOP Hispanics who hoped to give Rubio a win in Texas and Florida, said a lot of people who watched Rubio's speech were thinking "we are about to nominate the wrong guy."
"It's like (Ronald) Reagan getting out in '76. He gave his delegates to (Gerald) Ford and gave an incredible speech. This is a year when an optimistic message doesn't resonate and it's all about negativity and playing with the fears of people."
Rubio is one of two Hispanics to make history with how far they've gone in a presidential nomination, but he won only in Minnesota, Washington, D.C. and Puerto Rico. Ted Cruz, the first Hispanic to win a caucus or primary when he won Iowa, remains in the race. Like Rubio, Cruz is Cuban-American.
Early exit polling showed Rubio winning 52 percent of voters surveyed who identified themselves as Latino. But Trump won 3 in 10 Republicans and about half of whites. Hispanics were 17 percent of the voting Republicans, while whites were 78 percent, according to the exit survey.
Rubio and his backers had hoped a high Cuban-American community turnout would offset the big lead polls showed Trump held going into the primary.
Related: Marco Rubio's Latino Backers Hope For 'Political Miracle' in Florida
Bush had lined up a bevy of Latino supporters, many who felt he had the best plan on immigration. Several formed a coalition to formally denounce Trump and Cruz because of their views and proposals on immigration. Several said they could not sell Trump's candidacy to the Latino community in a general election.
After Bush dropped from the race and as Trump's nomination looked more likely, many of his supporters shifted to Rubio.
Aguilar is skeptical Trump or Cruz can get the 1,237 delegates he needs to win the nomination. He expects the nomination will be contested at the GOP convention in Ohio in July.
"This is weird. It is weird," Aguilar said. "It's not the end. This is going to be a long process."