When a pawn is advanced two spaces during a chess opening, it's considered bold and aggressive. Actor and comedian John Leguizamo has never been afraid to delve into new mediums, diving into his directorial debut with the confidence of a young prodigy and the discipline of an experienced chess master.
His movie "Critical Thinking" is based on the true story of how five Miami public high school students shocked the country by becoming the first inner city team to win the U.S. National Chess Championship in 1998.
The film was set to premiere at this year's South by Southwest Festival in Austin, Texas, which was suspended because of the coronavirus pandemic. A premiere date has not been rescheduled.
Leguizamo first got involved with the story five years ago, collaborating with screenwriter Dito Montiel to merge two separate scripts that had been pitched to filmmakers for 20 years.
Nevertheless, Leguizamo, a first-time Latino director selling a Latino-themed film, faced challenges.
"I pitched the movie around three years ago to a lot of studio executives. You wonder why there aren't any Latino movies? Why aren't our stories being made? The studios are rejecting them," said Leguizamo, adding he was puzzled by some of the rejection messages.
One, Leguizamo said, was "'Latin people don't want to see feel-good movies' —it was unbelievable."
"They do not understand, or believe, that there's an audience for it. The same thing happened with 'Wonder Woman'; studio executives used to say, 'Boys don't want to see a woman superhero, and girls don't care about superheroes.' Well, biggest hit in the world!" he said.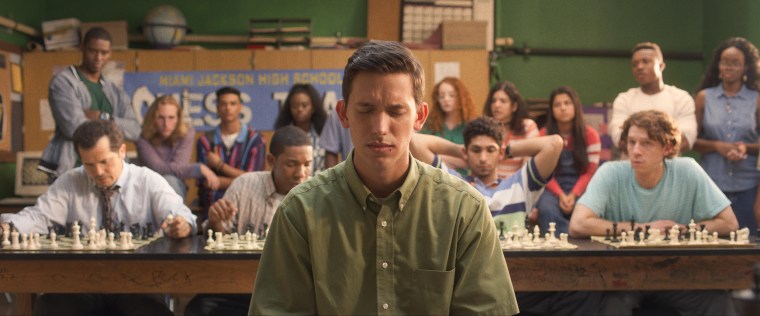 As in chess, Leguizamo hasn't never shied away from risk, and has channeled his creativity through various mediums beyond his start in stand-up comedy, delving into theater, TV, movies, voiceovers and writing.
As in his acclaimed stand-up specials, "Critical Thinking" feels natural and effortless, and nothing feels out of place. He attributes this to his fellow actors.
"I cast some beautiful talent," he says. "They were so naturally gifted, and I cast them to be as close to the real character as I wanted them to be. So, nobody was pushing or trying to reach. Directing them felt like being part of a brotherhood, it felt so easy."
The difficult part, however, was the chess. "How do I make chess as interesting as boxing, football or any other sport? How do I make the audience root for somebody, and how do I turn these actors into realistic players?"
Leguizamo highlights the importance of rehearsing for "very long days,"
"We hung out every day, we had the real players as consultants every day; we were meticulous about every game and we played every game over and over again, until it was second nature," he says.
This level of detail is consistent with his past works, especially his meticulously crafted one-man shows. As in his previous work, he gave space for spontaneous comedy and natural timing.
"There is a mélange," Leguizamo says, of rehearsing and allowing the "guys be the guys, and then [rehearsing] these other places where they had to hit the dialogue, because you can't make up chess dialogue."
Leguizamo also stars as Mario Martinez, the chess coach who's devoted to his students and determined to show them a path beyond their difficult upbringings.
"I was doing so much research on chess, with the real students, and Mr. Martinez," he says. "I wanted to show what it takes to be a mentor and how that happens — that it is not just about the mentor. These kids also were passionate and hardworking."
The film boasts a strong performance by Michael Kenneth Williams, who Leguizamo has admired since his role in "The Wire." They had worked together on the Netflix original series "When They See Us," so Leguizamo gave him the script to read.
Leguizamo is not afraid of talking politics, and his movie, set in the 1990s, highlights problems that he sees as unresolved, like immigration, gun violence and unequal access to education.
He initially supported Andrew Yang's run for the Democratic presidential nomination. In recent interviews he has shouted, "Vote Blue, no matter who!"
In 2016, he actively campaigned for Hillary Clinton, even doling out pastries in Miami as part of a "Pastelitos for Hillary" campaign.
The actor/director said that this year, he "will be going places, rallying, knocking on doors, making calls."
"Obviously, whatever I can do to help; my whole family is participating. Democracy is not a spectator sport. We all have to participate, and you can't sit back, and then complain if you didn't do anything."
Leguizamo has been working on different projects. He crowdfunded his upcoming comic book "PhenomX" and "The Uncontrollables," set to be published by Image Comics. He's determined to turn it into a movie.
"That's my dream," Leguizamo said, "to have our Latin superhero movie like Black Panther was for African Americans."
In the meantime, those looking for a bit of laughter amid tense times can enjoy Leguizamo's one-man shows, "Latin History for Morons" available on Netflix, or "Tales from a Ghetto Klown" (2013) available on Amazon Prime. "Freak," his award-winning HBO stand-up special directed by Spike Lee, is available on HBO streaming services, as is "Spic-O-Rama," also based on his comedic one-man play.
Follow NBC Latino on Facebook, Twitter and Instagram.