At the start of the school year, Detroit's public schools took steps to ensure that families are not afraid to send their children to school, regardless of their immigration status.
The Detroit Public Schools Community District's sanctuary policy bars federal immigration authorities, including Immigration and Customs Enforcement, from entering schools without a search warrant and district personnel from collecting information on students' immigration status.
"Our parents are ecstatic that they were heard," Cindy Gamboa, director of community organizing for the Detroit Hispanic Development Corporation, said. "A lot of times, we raise our voices, and we encourage people to continue pushing and continue fighting. Many times that goes nowhere, but this time it did!"
Gamboa, who is also co-chair of a bilingual parent advising group, said there is "a deeply ingrained fear that our community is facing with not knowing what is going to happen at the end of the day." She added that the policy had helped alleviate those fears.
Maria Salinas, executive director of the Congress of Communities in Southwest Detroit, said the action meant the superintendent "understands the immigrant population in the school district."
Compared to other states, Michigan does not have a large immigrant population; about 7 percent of the state's population is foreign born (compared with about 14 percent of the nation's population). About 13 percent of Michigan's school-age children have at least one immigrant parent. Over 80 percent of the children of immigrant parents in Michigan are born in the U.S.
"The trauma our kids are dealing with is very real," said Gamboa. "Every day, they don't know if mami and papi are going to come home."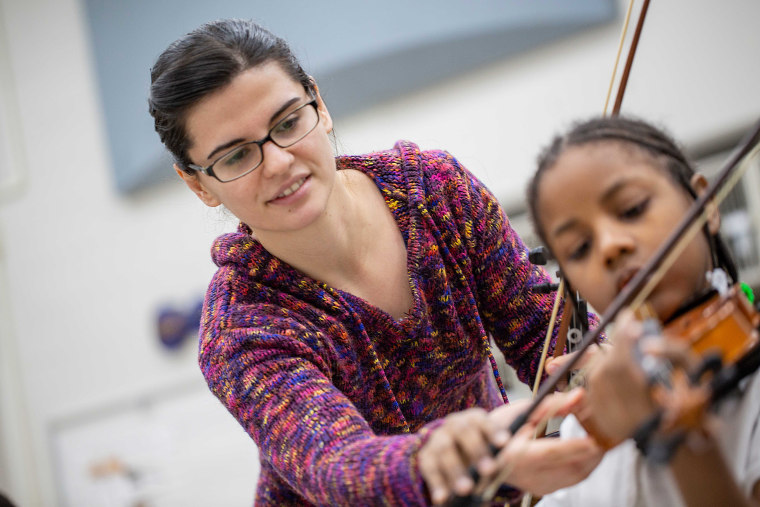 The school district superintendent, Nikolai Vitti, explained why he announced the guidelines at a community meeting after the highly publicized immigration raids of Mississippi poultry processing plants over the summer, where almost 700 workers were arrested in the biggest work site immigration enforcement operation in a single state.
"The immigration raids shocked our immigrant community and heightened the fear that already existed due to the positions of the president and his administration on immigration and immigrants in general," Vitti said.
Knowing that hundreds of children did not go to school for days after the raids, Vitti considered it crucial to delineate the school district's position. "The community meeting allowed our position to be better understood and empowered students and parents to know we supported and protected them," Vitti said.
The meeting had Spanish, Arabic, Bengali and Hmong translators; these are the most common languages spoken in the district. The event followed a letter the school district sent parents with a clear message.
"School personnel has been directed not to allow any officials from Immigration and Customs Enforcement (ICE), U.S. Customs and Border Patrol (CBP) or other federal immigration enforcement agencies access to our school buildings or grounds," the letter stated.
The letter also said that personnel at the campuses had been directed not to provide any federal law enforcement agents with information about students.
An ICE spokesperson told The Detroit News there were no plans to carry out ICE raids in Michigan schools.
In addition, ICE and Customs and Border Patrol classify schools as "sensitive locations" and not subject to surveillance, arrests, interviews or searches for immigrants who don't have legal documentation. According to their policies, enforcement actions at schools "should generally be avoided, and require either prior approval from an appropriate supervisory official or exigent circumstances necessitating immediate action."
Despite policies against immigration enforcement at schools, Angela Reyes, executive director of the Detroit Hispanic Development Corporation, said the Detroit public school district mandate presents new and necessary guidelines for the district's 106 schools.
"It standardized things across the schools. It was really up to the schools to enforce it, and they really did not understand what sanctuary meant. Now, it is official," Reyes said. "It is coming from the top, and they have a written policy about how the schools should and should not respond."
The mandate was also important since Michigan has one of the highest rates of arrests for suspected immigration violations, as federal authorities consider the state a "border zone" to Canada.
Vitti said the district was "picking a side" with their actions. "We stand with our students, parents and their communities," he said.
More than 20 school districts across the U.S. have adopted similar measures, including in Chicago, Los Angeles, Houston, Denver and Eugene, Oregon.
This story appears as part of coverage for "NBC News Learn Presents: Education Now Houston," a two-hour live community event supported by the Chan Zuckerberg Initiative. For more information, go to https://www.nbcnews.com/learndetroit