The leaders of #DignidadLiteraria, a movement led by critics of Jeanine Cummins' novel "American Dirt," met the book's publisher on Monday in New York and said afterward that it had resulted in a "clear victory for nuestra gente," or "our people."
"We came to the table with some specific ideas on how to build in greater representation in Macmillan, both in terms of titles and in terms of the actual editorial staff," author David Bowles said at a news conference that followed the group's two-hour meeting with Flatiron Books. "And we are super happy to announce that they have agreed with us and we have a way to move forward now."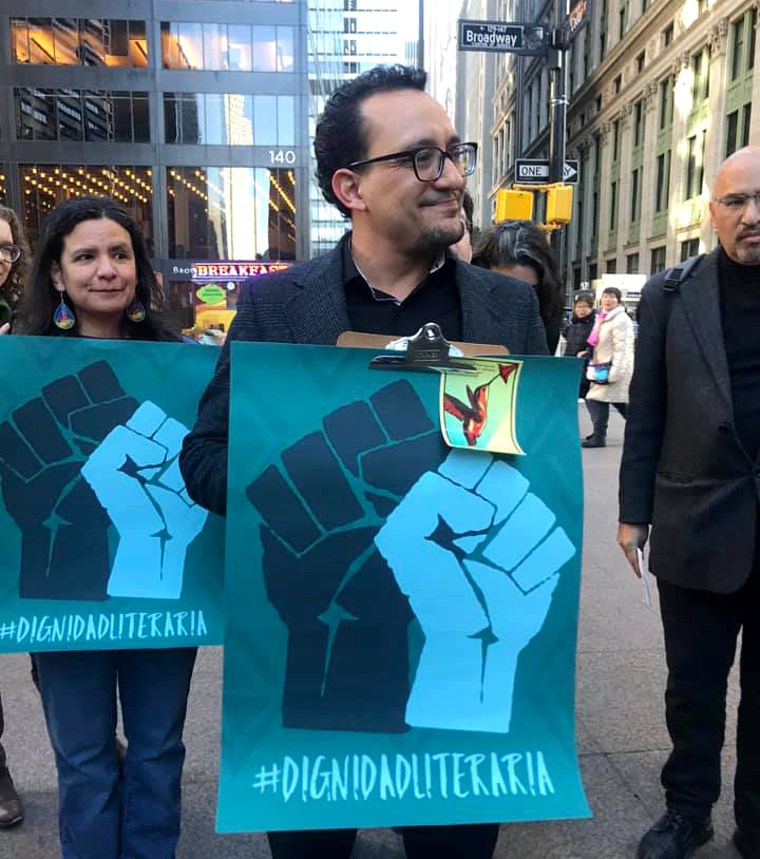 According to Bowles, Macmillan (Flatiron Books, which published "American Dirt," is a division of Macmillan) has agreed to commit to expanding Latinx representation in its staff and with the book titles it will publish. He added that Macmillan will devise an action plan to meet these goals within 90 days and that the publisher will meet with #DignidadLiteraria and other Latino leaders in 30 days to check in regarding the action plan.
"Your voices were heard," Bowles said, praising those who "organized so quickly and so organically around our outrage and disappointment at the publishing industry."
Flatiron Books did not immediately respond to NBC News' request for comment regarding Monday's meeting.
The group's response after the Monday meeting marks a notable difference from their frustration with the publisher after it announced it would cancel the remainder of Cummins' book tour, citing security concerns. Though the publisher said it would also hold town halls, the leaders of #DignidadLiteraria stated the cancellations were an "unnecessary infringement of speech."
Bowles and other #DignidadLiteraria leaders stressed that while the critical dialogue surrounding Cummins' much-anticipated novel was the impetus for their meeting with Macmillan, inequity in publishing extends beyond any individual author.
"The Latinx community is on its way to entering the national conversation of the United States. Not just in publishing, but in media, in Sunday talk shows, in all the venues in Hollywood that we're excluded from systematically by racism," writer and journalist Roberto Lovato said. "This is not about Jeanine Cummins; this is about us."
#DignidadLiteraria has plans to hold town halls in 11 cities to discuss the state of the publishing industry as it pertains to Latino literature and is extending an invitation to others to hold events where they live. The group will also host a read-in at the Association of Writers and Writers Programs annual conference in March.
"If someone this small and this 'insignificant' can cause these many waves, so can you," said Myriam Gurba, whose review of "American Dirt" set off a maelstrom of social media responses to the book.
The group also called on New York Gov. Andrew Cuomo to open an industry-wide investigation into whether there is discrimination in the publishing industry's hiring and contracting practices. At issue, say the organizers, is whether Latinos, especially Mexican and Central American authors on the West Coast, are at a greater disadvantage since the industry's largest publishers are clustered in New York City.
"Representation does matter. Our stories matter,"" said Alicia Anabel Santos, founder of the New York City Latina Writer's Group.
Follow NBC Latino on Facebook, Twitter and Instagram.