GUÁNICA, Puerto Rico — Ana Sofia Rivera would have started first grade this week. But classes have been postponed by a string of earthquakes that have struck Puerto Rico over the past two weeks, killing at least one person and damaging at least 800 homes islandwide.
Instead, Ana Sofia, 7, is with her family at the main government-run shelter set up by the Puerto Rican National Guard at the Heriberto Cruz athletic track in the southwestern town of Guánica.
Her mother, Jacqueline Rivera, 41, said they have been living in outdoor shelters since Jan. 7, when a 6.4-magnitude earthquake, the largest the island has seen in more than a century, shook their home. Their town, closest to the earthquake's epicenter, suffered the most damage.
More than 1,000 quakes jolted the island during the first two weeks of the year, according to the Puerto Rico Seismic Network, among them a 5.9-magnitude aftershock on Saturday. At least 186 tremors have been felt in the U.S. territory, the most since 2010.
On Thursday afternoon, President Donald Trump designated six hard-hit towns in the southern part of the island as major disaster area, including Guánica.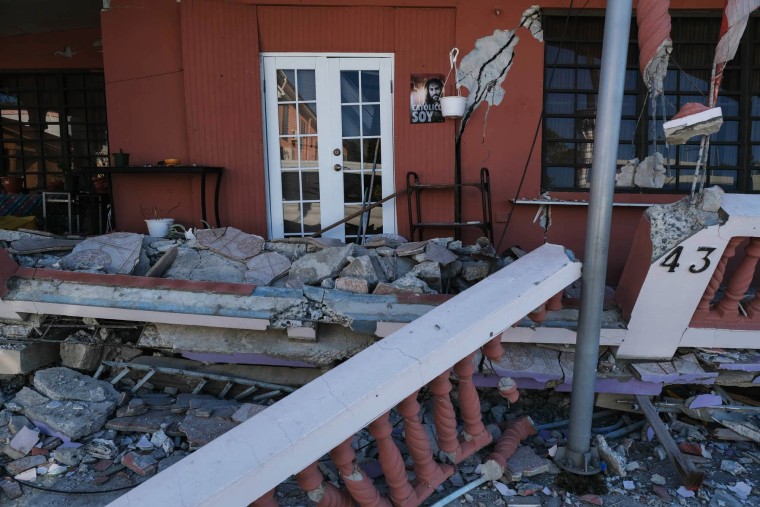 "Our home is not habitable, because it might collapse if there is a bigger one," Rivera said in Spanish, adding that authorities labeled the building where she lived as unsafe after quakes weakened its infrastructure.
Ana Sofia, her mother and about 200 other refugees in Guánica's official shelter felt one of the many aftershocks Wednesday morning. The 5.2-magnitude tremor ended with a forceful jolt after the earth skidded from side to side for a couple of seconds. Dozens of people were visibly distressed.
'These aftershocks are triggers for people'
"I felt a little scared," Ana Sofia said in Spanish as she played with some colorful clay that a volunteer, a college psychology student, gave her to help calm her down.
An official from ASSMCA, Puerto Rico's Office of Mental Health Services and Addiction Prevention, quickly held the hands of a woman who started to panic after the powerful aftershock. She started doing breathing exercises with the woman and later sat down with her in one of the tents, consoling her.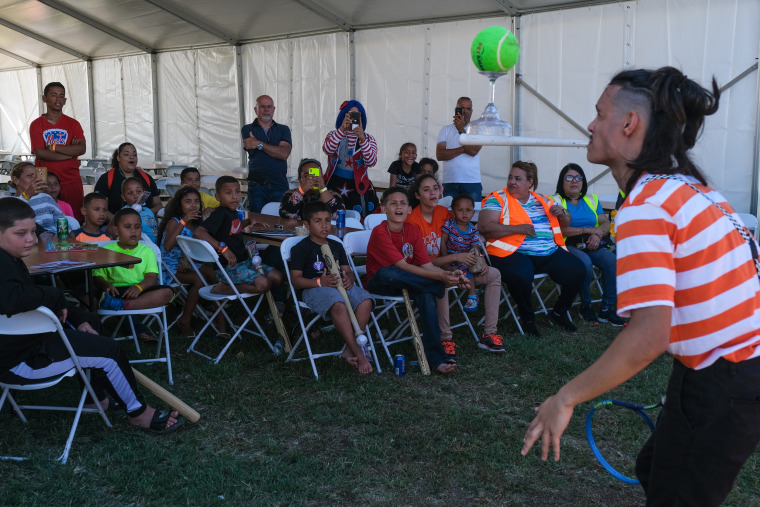 This was one of the procedures in place to monitor people's mental health, Abdiel Dumeng of ASSMCA said in an interview.
"These aftershocks are triggers for people," he said in Spanish, visibly fatigued from his constant rounds. "But I have to admit that we've seen a decrease in these kinds of crises, because we've been working together for a while, teaching people how to stay calm."
Brandon Andino, 15, was walking around the shelter with his kitten, Taimary. The island's Education Department plans to start classes next week, but Brandon hadn't heard whether his school was among those cleared to open after it was inspected. Rivera, Ana Sofia's mother, wasn't sure whether her daughter's school would be opening, either.
Brandon said his family was considering moving to Brooklyn, New York, to seek a more stable life.
"Things have been tough in Puerto Rico for a while," he said.
Worried mainland families, displaced islanders
The most likely scenario for Puerto Rico, according to the U.S. Geological Survey, or USGS, is that aftershocks will continue to decrease in frequency over the next month and will be "significantly lower in magnitude" than last week's 6.4-magnitude earthquake.
But the USGS also anticipates that aftershocks in the 5.0-magnitude range "may cause localized damage, particularly in weak structures."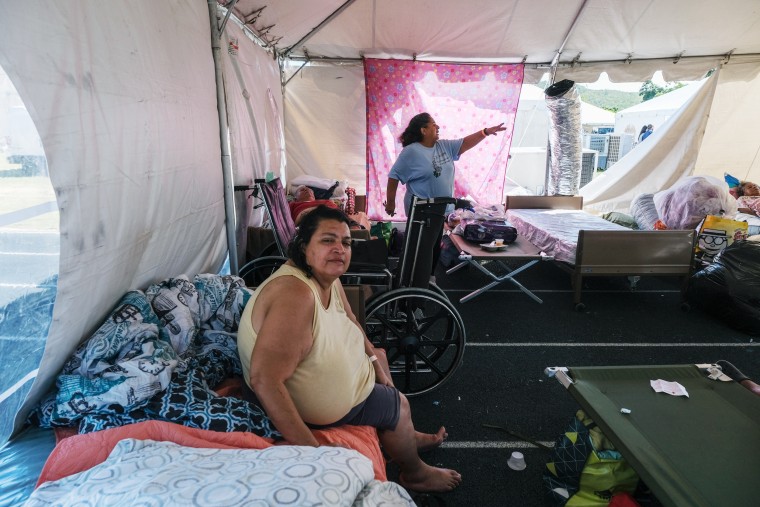 In one of the tents for the elderly and the disabled, Wanda Santana was sitting with Juana Vega, 59, who has diabetes, and Manuel Almodóvar Caraballo, 84, who suffers from hypertension and diabetes. He was bedridden and was using a urinary catheter. The tent was one of the few with portable air conditioning, but it wasn't working.
Santana said Almodóvar Caraballo lived in one of Guánica's housing projects. Inspectors had determined that his building was safe — for now.
"They basically said the cracks present no threat, but if they get bigger, then it might be unsafe," Santana said in Spanish.
Almodóvar Caraballo's family in Florida were worried that he wouldn't be safe and were working to move him to a more secure dwelling. In the meantime, Santana was staying with him at the shelter.
Puerto Rico's Office of Emergency Management estimates that more than 8,000 people have sought refuge in outdoor shelters. Fewer than half are in government-run shelters; the rest are in informal shelters or in shelters run by non-governmental organizations.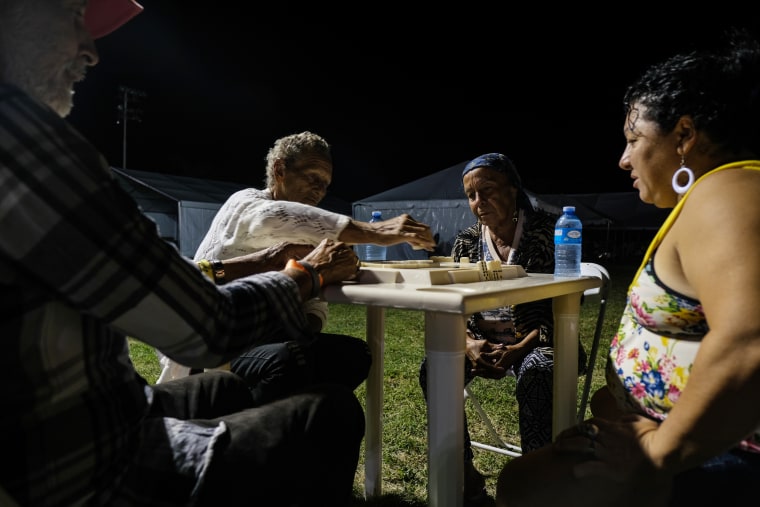 Some have lost their homes, and others are there out of caution, uncertain about what the constant shaking was doing to their houses.
At a makeshift camp, Army Reserve Capt. Carlos Benitez was setting up a tent as a sorting center. It was the second time he had rushed supplies to the area. The first time was after Hurricane Maria.
"It's been very awful to see people sleeping outside because they're scared to sleep inside their own house," he said.
Neolia DeJesús and her husband, who is in a wheelchair, lost their home two years to Hurricane Maria. They rebuilt it.
Now, they were at the temporary shelter, fearing their house will buckle — again. She's afraid a tsunami will wash Guánica away.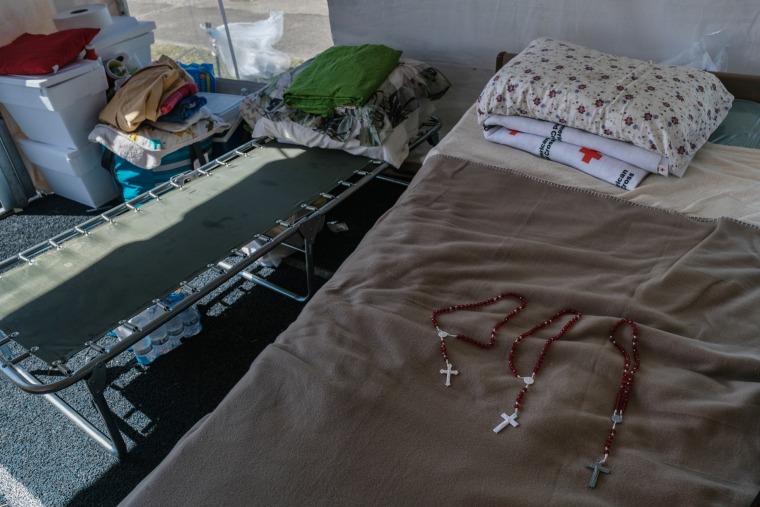 "I don't know what I'm going to do right now," she said. "It's hard."
Elizabeth Mercado Martinez, 65, had rebuilt her hardware store, Ferreteria Eli Mermar, after Maria destroyed its roof in 2017.
But last week, the building collapsed from the earthquake. Fearing that her home would be next, she set up a tent outside.
Despite the devastation, Mercado Martinez plans to rebuild her business.
"I have to," she said. "It's been the livelihood of so many people who work with me."
Follow NBC Latino on Facebook, Twitter and Instagram