WASHINGTON — About two thousand young immigrants and their supporters converged on the nation's capital to rally Congress for legislation that would protect their ability to work and study in the U.S. without fear of deportation.
"History will judge where you stood at this moment in time," said Sen. Kamala Harris, D-Calif., who spoke at the rally. "Do the right thing."
At the event, more than two hundred demonstrators, including immigration community leaders and several members of Congress, including Rep. Luis Gutierrez, D-Ill. and Rep. Judy Chu, D-Calif., staged a sit-in on the U.S. Capitol steps and in a civil disobedience act were arrested for refusing to move.
Organizers said time is running out for these young immigrants. In September, Pres. Donald Trump announced the end of the DACA program, created under Pres. Barack Obama. DACA allowed teens and young adults without legal status who were brought to the U.S. as babies or children to apply and work without fear of legal repercussions; they had to renew the application every two years.
"We've done everything that they've asked, handed all our information, I don't have a criminal record ... I'm so angry that with the snap of a finger the president could take that away, there's been many sleepless nights," said Gladis Ibarra, 27, a DACA recipient who is worried about her and her siblings' future. She traveled from Denver, Colorado to attend the rally.
DACA was a game changer for the approximately 800,000 young adults and teens who applied to colleges, got better jobs, obtained driver's licenses and even bought homes. Polls show that a vast majority of Americans support measures to allow these young immigrants to remain in the U.S.
DACA, which was not a permanent solution, was opposed by many Republicans because it was an Obama executive action and not a congressional measure. On Wednesday, those rallies put the onus on Congress.
As part of a National Day of Action, Immigrant and civil rights groups joined business and religious leaders and urged legislators to pass "clean" Dream Act legislation — not tied to any other bill — that would give young teens and adults who have basically grown up in the U.S. the means to remain in the U.S. without fear of removal.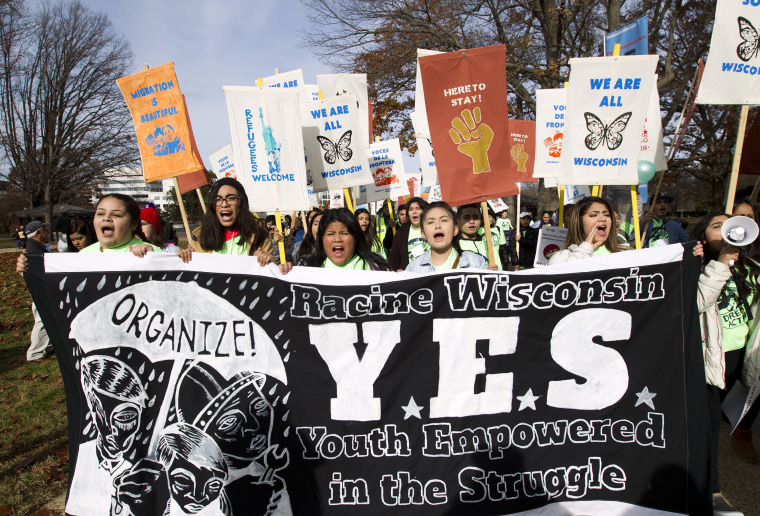 "It's important because we're all affected by it. If they pass a DREAM Act I'll be able to do things I'm not able to do now, such as enlisting in the Marine Corps because I want to be in the armed forces and I can't right now," said Arturo Salomón, who is originally from Mexico but currently lives in Tennessee and traveled from there to attend the rally. "I'm eager for Congress to pass something."
Busloads of demonstrators flocked to the nation's capital from nearby cities like Philadelphia and New York, and as far as Florida, Wisconsin, Colorado, Texas and California.
Lisbeth Enciso traveled from Racine, Wisconsin; she said she came in solidarity with the immigrant community. "I'm not a DREAMer but I know a lot of people who are."
Rallies were also taking place around the country, and organizations like the centrist New American Economy organized an iMarch campaign, with support from conservative groups as well as bipartisan political and business leaders.
"There are few issues that have more widespread support than protecting Dreamers," said New American Economy's Jeremy Robbins. "We're facing a real deadline on March 5th (2018) — these are real lives at stake."
Supporters say that the need to secure legal protections for these young immigrants has taken on increased urgency as the administration has greatly ramped up the arrests and deportations of immigrants without legal status, including individuals with no criminal convictions.
The groups are urging passage of legislation before the upcoming December recess. Democrats as well as some Republican legislators support a resolution to DACA, but it's still mired in different congressional proposals.
A group of Republican senators introduced the Security, Enforcement, and Compassion United in Reform Efforts (SECURE) Act, which incorporates several of the president's immigration proposals, including a merit-based immigration system and a sharp reduction in family-sponsored "chain migration" in exchange for temporary legal status for the DREAMers and other DACA recipients. The legislators call it a compromise as a way to help secure a solution for DREAMers, but immigrant advocates harshly criticized the measure.
"We want them to pass (a DREAM Act) free from any other enforcement provision," said Kica Matos, spokeswoman for the Fair Immigration Rights Movement and Director of Immigrants and Racial Justice at the Center for Community Change. "We already have enforcement."
Adrian Reyna, membership director for the immigrant group United We Dream, said the The SECURE Act was a "white supremacist Trojan horse filled with anti-immigrant policies; the bill would result in mass deportation and mass terror. It is time for the Dream Act, not these cynical congressional games."
The Republican Senate bill contrasts with a letter 34 House Republicans – including Floridians Carlos Curbelo and Ileana Ros-Lehtinen and David Valadao of California – sent to House Speaker Paul Ryan, urging a permanent legislative solution for DACA recipients before the end of the year.
"Studies have shown that passing legislation to permanently protect these individuals would add hundreds of billions to our country's gross domestic product (GDP)," the legislators wrote, adding that there is wide support among broad sectors of society, including the business community and universities and civic leaders.
A new report by New American Economy in partnership with UnidosUS bears that out. Researchers found that Latino immigrant households earned $418.9 billion in 2015 — of that, $61.08 billion went to federal taxes and $35.9 billion went to state and local taxes.
Latino immigrants contributed $11.4 billion to Medicare and $46.1 billion to Social Security, and Hispanic households overall earned $902.8 billion in 2015. In some states, Latinos account for a large percentage of spending power and tax revenues, playing an important role in sustaining the Medicare and Social Security programs.
"There are few groups more important to the health of the U.S. economy overall than Hispanics," states the report.
Advocates stressed that the rallies and demonstrations are also in support of TPS recipients. Under Temporary Protected Status, immigrants are exempt from deportation since the U.S. has recognized they are fleeing natural disasters, war and other conditions that prevent their safe return.
The Trump administration last month ended the Temporary Protected Status program for Haitians and Nicaraguans, and the Department of Homeland Security has until January to issue a ruling about an additional 200,000 TPS holders from El Salvador — the largest group of TPS recipients.
"Nationals of El Salvador are hanging in the balance until they hear from the administration. We want to also advocate for TPS recipients to make sure they have the ability to remain in this country," United We Dream's Matos told NBC News.
The actions continue tomorrow, when a group of children and teens from Colorado, Florida, Virginia, New York, New Jersey, and Massachusetts deliver "Dreams for the Holidays" letters to their members of Congress and to House and Senate leaders, urging lawmakers to pass a DREAM Act before Congress breaks for the holidays.
NBC Latino's Suzanne Gamboa and Sandra Lilley contributed to this report.