A group of physicians, alarmed that the Trump administration is denying flu vaccines to immigrants in custody, is urging the Department of Homeland Security to accept its offer to provide free flu shots to California detainees.
In a Nov. 5 letter, the doctors pleaded with the administration to reconsider its decision to not vaccinate detained migrants for flu despite the deaths of at least three children in CBP custody during the 2018 flu season.
The doctors, members of a recently formed group Doctors for Camp Closure, D4CC, have offered to stage a mobile flu vaccine at no cost to the government at the San Ysidro, California, Customs and Border Protection processing and detention facility.
"We implore you to allow our volunteer physicians to hold our requested influenza vaccine clinic," the physicians stated in the letter.
Customs and Border Protection, part of Homeland Security, did not accept the offer. A spokesperson who did not wish to be named because of agency policy said in a statement emailed to NBC News that the agency never has administered vaccines and people aren't usually held in custody very long.
"As a law enforcement agency and due to the short term nature of CBP holding and other logistical challenges, operating a vaccine program is not feasible," the spokesperson said.
Although CBP's guidelines recommend holding people no longer than 72 hours, the agency has been holding people far longer as arrivals of migrants seeking asylum spiked last year and this year, although they have since fallen.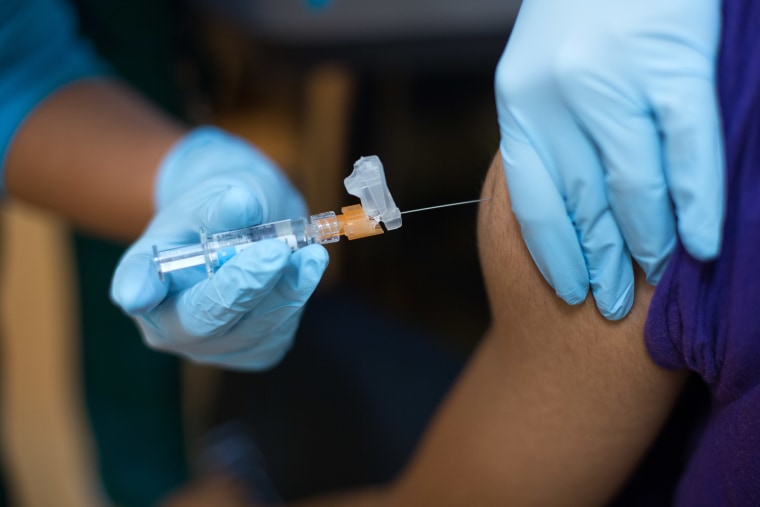 In a Nov. 5 letter to Kevin McAleenan, who was the acting director of the Department of Homeland Security and Alex Azar, the Health and Human Services secretary, the doctors said they would provide 100 doses of the influenza vaccines and four volunteer physicians to administer them. McAleenan resigned and Chad Wolf has been named new DHS acting secretary.
"This is how epidemics begin," Dr. Luz Contreras Arroyo, a member of the group and signatory to the letter, told NBC News. "It's not just migrants. Workers will come out to communities, potentially spreading that virus and it could get out of control."
"These are people as well," Arroyo added, speaking of the detained families. "They are under the care of the government, most not having committed crimes. Seeking asylum is not a crime."
The group had set a deadline of Tuesday for the administration to respond before making the request public.
The doctors warned that migrants are not the only people at risk of illness.
"Flu season has already begun in many parts of the country, so we write with urgency," the doctors stated. "Many people, including those working at and living near CBP facilities, will be at an even higher risk than what is typical."
The doctors contributed money and raised more from friends and others to pay the cost of the vaccines. Physicians are volunteering their time to provide the shots, said Arroyo, a Sacramento family medicine physician and psychiatrist.
The doctors said they also have an established volunteer network of physicians licensed to operate in all states to get the necessary vaccines and work with CBP to "create a system to ensure that the majority of migrant families" held in CBP custody are vaccinated.
They hope for government funding to help pay the cost for vaccines systemwide. If not, they will try to find other funding.
"Alarming mortality rate"
The doctors said that based on an estimated 200,000 children in federal custody in the past two years, the three deaths of detained children attributed to complications from the flu are nine times higher than the expected death rate for children from flu.
"In our professional medical opinion, this alarming mortality rate constitutes an emergency which threatens the safety of human lives, particularly children," says the letter signed by seven physicians.
In August, CBP announced that it would not be vaccinating migrant families in its holding centers ahead of the flu season. At the time, the agency said in a statement that it chose not to provide the vaccinations because of the "short-term" stays of immigrants in custody and the complexities of operating a vaccination program.
But Arroyo said the government has done wide scale vaccinations before and given out large amounts of vaccine to prevent illness from spreading and prevent epidemics. She said it is cost effective and less than the cost of hospitals and ICUs for detainees, staff and residents once they become sick.
CBP's cells and pens of chain-link fence with concrete floors and holding rooms are known to be very cold and are often called hieleras, which translates to freezer or icebox, by those held in them, which include infant children.
Health care providers have protested longer detention periods for migrants, warning that children in particular would face more serious health risks with the extended incarcerations.
Overcrowded conditions worsen risk
The doctors offering to operate the flu vaccination clinic noted findings of overcrowded and unsanitary conditions at detention facilities by the DHS Office of Inspector General.
That report found children in some CBP facilities didn't have access to showers, didn't always have opportunities to change clothes and that they had limited space for medical isolation. In an El Paso facility, a cell meant for 35 held 155 adult males with only one toilet and sink, NBC News reported.
A flu outbreak at the CBP McAllen facility affected nearly three dozen immigrants and required a temporary suspension of operations.
The Centers for Disease Control recommends all individuals above age 6 months get a flu vaccine by the end of October for the current flu season. Even the policy manual of the Citizenship and Immigration Services, part of the Homeland Security Department, notes the CDC requirement that immigrants be vaccinated for flu.
"As physicians, we have seen the effects of flu infections in the strongest as well as the most vulnerable, and the outcomes can be devastating," the physicians stated.
Follow NBC Latino on Facebook, Twitter and Instagram.