LOS ANGELES — Fans of the late Hunter S. Thompson's cult classic, "Fear and Loathing in Las Vegas," might not know that the book's memorable "Dr. Gonzo" was not a 300-pound Samoan attorney, but a wildly iconoclastic Mexican-American lawyer and activist.
Oscar Zeta Acosta left an indelible mark at the height of the Chicano movement of the late 1960s and early '70s, and his perspectives on race and identity still resonate today.
His life is featured in a documentary premiering March 23 on PBS. Directed by Phillip Rodriguez, "The Rise and Fall of the Brown Buffalo" looks at Acosta's fascinating counterculture experiences with figures like Thompson, as well as his personal and existential battles against white supremacy and racial inequality in California.
Thompson's decision to change Acosta's ethnicity in "Fear and Loathing" is emblematic of Acosta's life struggle with his identity. An overweight brown kid born in El Paso, Texas, and raised in the California central valley town of Riverdale, Acosta said he felt like a "brown buffalo" not only because of his physical features, but because as a Mexican-American he saw himself as a beast out of place in the world around him — "the animal everybody slaughtered, both the cowboys and the Indians are out to get them."
Rodríguez tells NBC News that Acosta, whose role in popular media has been cast as an afterthought to Thompson, deserves greater appreciation as the main character in a story that has been ignored by the mainstream press.
"Oscar has been totally forgotten, largely because he was so incredibly unreasonable, but he is a useful metaphor for today's urban kids, 'Latinx,' or whatever the hell we are calling ourselves these days," Rodriguez said.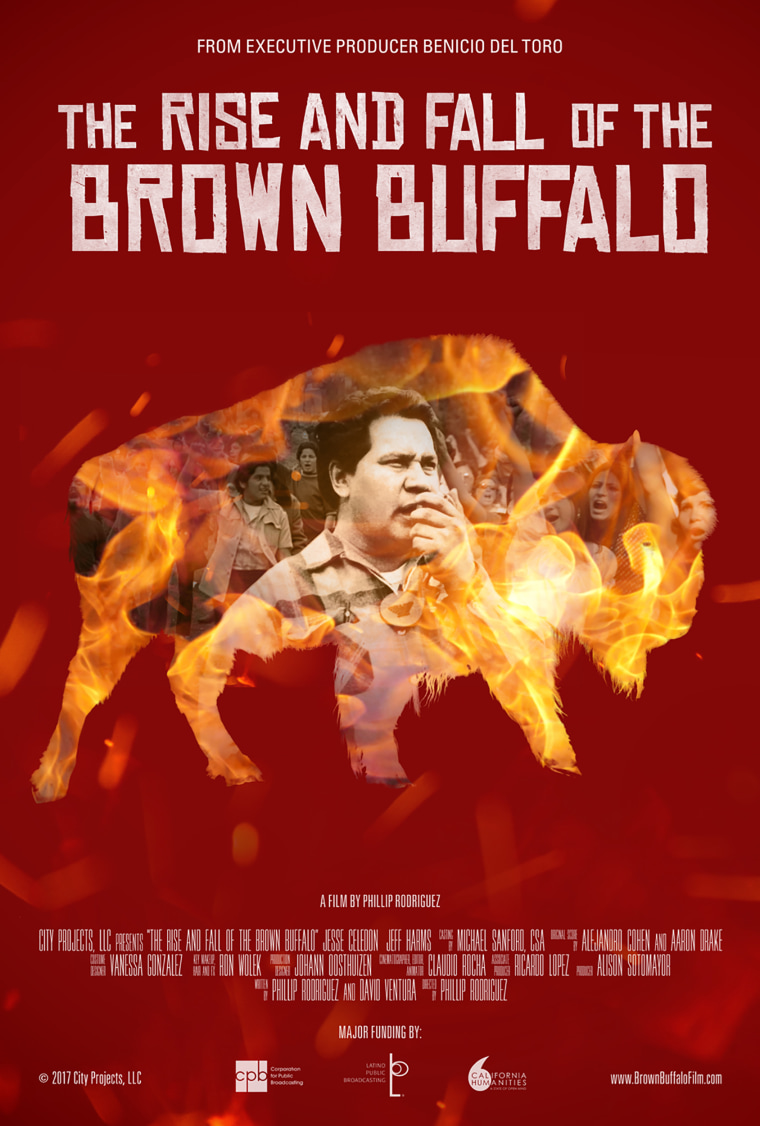 Whereas civil rights leaders are portrayed as more patient, understanding and "drained of agency," said Rodriguez: "Oscar vibrates still. You don't have to be perfect. You don't have to be a saint; Oscar was no saint."
Acosta is remembered as one of the lawyers who successfully defended the Eastside 13, a group of men secretly indicted and facing more than 60 years in prison for organizing the 1968 L.A. school walkouts, which shed light on abject school conditions in predominantly Latino communities.
Yet he's also known for his excesses, including extensive drug use, and eccentric behavior, such as going to a trial barefoot and throwing gasoline on a judge's lawn and setting it on fire during a trial. According to his business card, he only represented Chicanos.
Acosta was a "wild boy," wrote Thompson in his introduction to Zeta's book, "The Revolt of the Cockroach People." Acosta got the book deal after a dispute with Rolling Stone magazine over not giving him credit in Thompson's book. Yet Thompson's admiration for Acosta came through in his writing.
"Any combination of a 250-pound Mexican and LSD-25 is a potentially terminal menace for anything it can reach," Thompson once said, "but when the alleged Mexican is in fact a profoundly angry Chicano lawyer with no fear at all of anything that walks on less than three legs and a de facto suicidal conviction that he will die at the age of 33 — just like Jesus Christ — you have a serious piece of work on your hands."
Acosta's legacy includes two books — "Autobiography of a Brown Buffalo" and "The Revolt of the Cockroach People" — and a history of legal, civic and political activism that are considered an important part of the seminal Chicano movement.
"He was far from a perfect human being, but a lot of his flaws were the flaws of so many activists of the time," said Tomás F. Summers Sandoval, a professor of history at Pomona College and the author of "Latinos at the Golden Gate."
"Despite all that, he found his own ways to be part of something bigger than himself," Sandoval said.
Rodríguez said that you couldn't find academics in the 1970s who would stand with Acosta because of his personal failings and what that association might bring. But Rodríguez wants to give life not to Acosta as a flawed wayward character, but also as a lesson for current activists.
Many Latino leaders struggle between staying authentic to their roots while towing to predominantly white institutions they need to navigate to reach positions of power, Rodríguez said, adding that few are able to walk that thin line.
Yet Chris Zepeda-Millán, an assistant professor of Chicano studies at U.C. Berkeley's Department of Ethnic Studies and author of "Latino Mass Mobilization," said Acosta made an impact without losing who he was.
"Zeta's activism teaches us that even when it comes to institutions that were made to exclude and discriminate against people of color, when you combine being proud of who you are and where you come from, you can make history and inspire generations that come after you to do the same," Zepeda-Millán said.
Acosta felt misappropriated by society. From leaving the Roman Catholic church to becoming a pastor in a Baptist ministry early in his life to his later embrace of Chicano activism in East L.A., he journeyed through life seeking an appropriate structural identity that captured his history and his life experiences. His home in Riverdale, California, only offered social segregation and economic despair.
But Acosta, who went missing while on a trip in Mexico in 1974 and was never found, was also famously known for celebration. He had a magnetic personality and, aside from his audacity, or perhaps because of it, and a sense of entitlement, he went through life "joyful, optimistic and useful," Rodriguez said.
The documentary celebrates this through its style — it colorfully re-enacts chunks of Acosta's life and even includes cameos from modern-day Latino public figures, such as Antonio Villaraigosa, former L.A. mayor and current candidate for governor, and California's attorney general, Xavier Becerra.
"This one line I love about Oscar," Rodríguez said. "The revolution doesn't have to be a drag. You can be serious and still have fun at the same time."