WILLIAMSPORT, Pa.—His career was nothing out of the ordinary, just another cruel spin through the minor leagues. But in the rarified history of Latino baseball, Witer Jimenez may go down as one of the most important ballplayers of all time.
"You might be bathed in glory after all," said one of the young man's lawyers, slapping Jimenez on the back in a hotel conference room here.
A few miles away Jimenez hit a disastrous .152 in the Philadelphia Phillies farm system. But the 25-year-old Dominican is back, this time taking a swing at his former employers. He's the first and only foreign-born Latino to sign on to a historic lawsuit, one that accuses Major League Baseball of violating federal law requiring minimum wage and overtime.
"I was robbed," said Jimenez, speaking about his case for the first time since it was filed in March. "When you get here," he continued in Spanish, referring to the minor league system, "you look around at all sides and you think, wow, things are good here! But no, it's not like people think."
The lawsuit—a pending class action brought by Jimenez and former players from all 30 Major League teams—portrays minor league players as an exploited underclass. They toil year-round with no overtime, no pay for special assignments like spring training, and no right to switch teams or renegotiate, the lawsuit alleges. In exchange, they get a maximum starting salary of $5,500.
As the Giants and Royals face-off in the World Series, Jimenez and Major League Baseball will continue to clash in the legal system, potentially redrawing the way future championship teams are made. That's because Baseball is now beisbol. More than a quarter of major leaguers are Latino-born, including a third of the All-Star team, and more than 40 percent of the minor leagues.
The poor, long shot Royals in particular have leaned on cheap Latino-born talent. For Game One on Tuesday, the team will dress five Latino players, including the whole middle infield and an All-Star catcher from Venezuela. On Wednesday, the scheduled starting pitcher is Dominican-born and there's another hard-throwing Dominican in the bullpen. All signed as teenagers.
Almost every major leaguer does time in the minors, stockpiled somewhere across five levels of play, but Latinos like these face special hardships when they arrive. They don't have a network of parents with orange slices and friends with couches, and yet the future of baseball is shaped by their success or failure.
"It's not just the superstar players who matter," said Ben Badler, who covers the world of international talent for the trade bible Baseball America. "There is so much depth in Latin America, so many good, solid everyday guys. It's made a huge difference in the game."
"This is a career for these young men. They don't just play it for fun."
To understand the inequality of the minors, start with the numbers. There are about 7,000 players on the payroll of Major League baseball teams, most of them in the minor leagues, pushing for their debut. They are pursuing a dream, of course, but also a pay check. The minimum in season monthly salary of a major leaguer is $84,000. The minimum in season salary of a minor leaguer is $1,100.
"It's just not enough money for you to be okay," said Jimenez, who signed in the Dominican Republic for $15,000 in 2010. Some Latino players sign seven-figure deals, but the vast majority end up with a few thousand dollars after taxes and agent fees, according to the lawsuit. For that they train year-round, following programs given to them by their teams.
The day Jimenez was cut, after 107 games in the minor leagues, he was at home in the Dominican Republic, spending time with his family. He said he had zero dollars in his bank account, and when he adds up the costs of his baseball career against the benefits, he can't help shaking his head.
"I sacrificed my studies," he said. "I lost a lot—a lot time with my father, my mother, going to the beach with my friends."
Jimenez's story resurfaces some of the game's most controversial sins against Latino youth. In recent years, the league has poured tens of millions of dollars into development in Latin America, building leagues and academies throughout the region. But the essential power imbalance remains, Jimenez argued in Williamsport.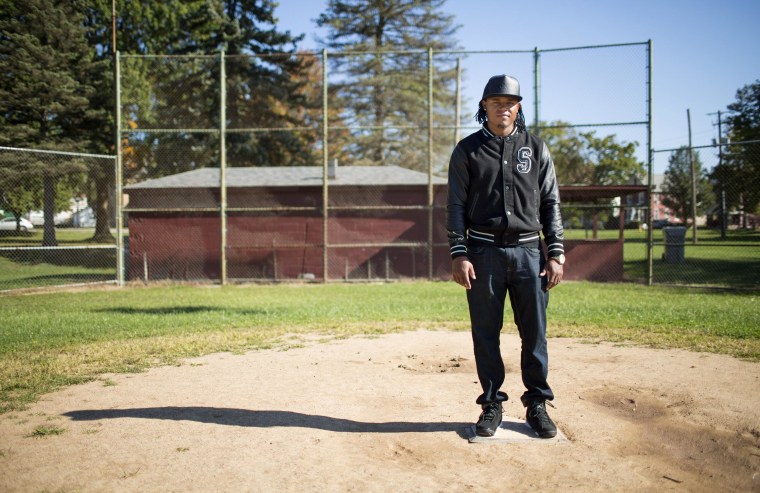 He felt it when he was 12 or 13, the year when he first caught the attention of scouts. He was born in Galvan, a town closer to Port-au-Prince than Santo Domingo, the son of a truck driver who wanted his prized middle child to become a doctor or a lawyer. Instead Jimenez quit school when he was 16.
He thought he had a better chance of making the Major Leagues than he did of studying his way off the island, one of the poorest, most class-locked on earth. And his parents agreed. How could they not? Baseball is king in the DR and Jiminez was a prince. He could hit a corn kernel with a broomstick and outrun the best arms.
"This is a career for these young men," said Adrian Burgos, a professor of history at the University of Illinois and the author of a history of the Latino game. "They don't just play it for fun."
"We had to suffer in silence. What they did to me was just not just."
Jimenez moved in with an aunt in Santo Domingo and began working out at Los Trinatarios, a ragged field clotted with prospects. It took three years, but Jimenez got his contract, and he felt like he'd made it. Like many Latino prospects, he had no idea of just how far he was from the major leagues.
"I thought, 'It's going to be much better," he recalled. "I'm going to earn some money.'"
Instead he mostly spent money. He paid his trainer. He built a bigger cinderblock house for his family, threw himself a little party. After a standout season in the Dominican league, the Phillies sent Jimenez and a dozen other players to the U.S. consulate, and in March of 2011 they flew to America, taking selfies the whole way.
The next few days were a shock. There was the majesty of Clearwater, Florida, the Phillies' sprawling training facility, the best fields Jimenez had ever seen plus free rooms in a team hotel. And there was the outrage of his salary, which turned out to be nothing. Minor leaguers aren't paid for spring training.
"This is crazy," he remembers telling his Latino teammates, gathered one night in the hotel. "Un lio," they agreed. "A mess."
Finally, late one night a team official knocked on the door, and took out a roll of money. He peeled off a $20 bill and handed it to Jimenez. "With that we washed our clothes," he recalled. "If there was any left, we had to eat with that."
He said lost nearly 20 pounds off an already slim frame. Resentments festered and boiled. His mind returned to the scene at the airport when he left the island. His mother cried and his father embraced him.
"Don't forget," the older man warned. "You gave up your education for this."
"I trusted them," Jimenez said. "They didn't prepare me for anything. They didn't say anything about [the wages]." He felt it was impossible to complain without ruining his career. "We had to suffer in silence," he said. "What they did to me was just not just."
It's been this way for decades, according to Burgos, the history professor. He recently sifted a century of records on Major League Baseball in Latin America. What he found was a system that is "inherently unequal," essentially "imperial," and intentionally designed to harvest the best equatorial talent on the cheap.
"It's part of the business plan," he said, "and it has been from the very beginning."
Major League Baseball's official rules exclude Latino-born players from the annual amateur player draft; they also cap the bonus money available to all international talent. As a result the average shortstop from San Marcos or Caracas will sign for less than half the sum commanded by his athletic equal in Tuscaloosa or Lexington. And if baseball fails the Latino youngster, he'll have on average much less education to fall back on.
Here again, Major League Baseball's official rules contribute to an unequal outcome. While Americans can't turn pro until they have a high school degree or its equivalent, Latino kids can be signed at 16 years old, regardless of their education. They get swept up by the thousands, sold on a Major League Dream, then spit out again. Most have no diploma, no educational fund, and nothing but calluses to show for their youth.
"Some of these kids have very little idea of what is going on," Badler continued in a phone interview. "Some of their parents don't even know how to sign their names. I mean, it's not just financial illiteracy. It's basic illiteracy, and it's very sad."
"If McDonald's and Wal-Mart can pay a minimum wage, then Major League Baseball can too."
The Jimenez case won't change this system, but it could help narrow the gap between the top and bottom halves of baseball society. "No one is saying that minor leaguers should be getting rich," said Garrett Broshuis, a former minor leaguer turned attorney who helped build the case. "But if McDonald's and Wal-Mart can pay a minimum wage, then Major League Baseball can too."
That's all Witer Jimenez is hoping to win. Major League Baseball has declined to comment on the case, but in court documents filed in late May, the league denied all charges and seemed prepared to argue that baseball isn't really a job: it's a pastime, a seasonal amusement.
If a judge agrees, it could mean that the team owners—like the owners of water slides in summer and Christmas displays in winter—are exempt from the need to pay a federal minimum wage. Baseball player, in other words, would be deemed no more a career than mall Santa.
That's utter nonsense, according to Jimenez, but the case law is split on whether baseball is a "seasonal" enterprise. In 1995, for example, a Florida court upheld the seasonal exemption, ruling that a minor league team owed nothing to a groundskeeper who sued for overtime pay. Three years later, an appeals court in Ohio came to the opposite conclusion on a different case brought by the maintenance staff of the Cincinnati Reds.
After he was cut, Jimenez returned to the United States anyway, not to play baseball but to marry his American sweetheart, a fan turned fiancée turned wife. She got him a job as a dishwasher at TGI Fridays. In his first month he made $2,400—more than double what he was making as a professional baseball player.
Now he makes even more as a hired hand in the oil fields of Wyoming. In his free time, he hits home runs in a local men's league and remembers-when. But he's also a father now and a long distance mentor to ballplayers back in the Dominican Republic. For them, he said, he'd like to win this lawsuit or at least sound the alarm.
"The important thing is for those who are coming up to know," he said, "this baseball career is not safe...it is not right."