Activists will tell you that music has the power to change things. Dolores Huerta, one of the most influential labor activists in the 20th century, attests that music was a crucial spark in America's largest farmworker movement.
"So much of the music from that time was meaningful. And it told the story of migrants who had come to America to work," Huerta said in an interview with NBC News. "Their songs memorialized what was going on."
Huerta, 93, is featured with guitarist Carlos Santana, singer-songwriter Joan Baez, actor Edward James Olmos, and other celebrities in "Song for César," a new documentary about the late, legendary Mexican American labor leader César Chávez and the music that made thousands of previously invisible farmworkers popular in mainstream America.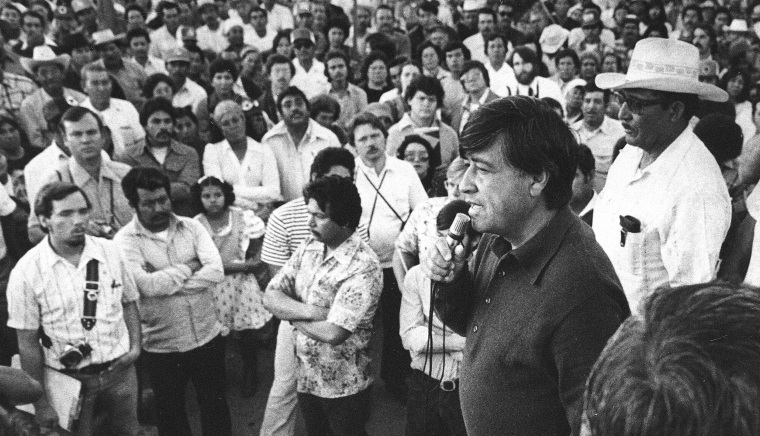 "You're either part of the problem or part of the solution," Santana said in the documentary. "There's no in-between."
The documentary by musician Abel Sanchez and Andres Alegria, which was made in the course of 15 years, weaves interviews with acclaimed performers and footage of the time to show the power of songs like Joan Baez's "No nos moverán," ("They won't move us") or Little Joe's "Viva la Huelga" ("Long Live the Strike").
One song that Huerta remembers fondly is "Huelga en General" ("The General Strike"), which was written by Luis Valdez and became popular during the Delano grape strike in 1965. 
The protest song tells the story of Filipino and Mexican farmworkers teaming up to win a collective bargaining agreement with major table grape growers in California. 
Huerta describes the five-year protest as a milestone for the labor movement because it established a blueprint for other protests to combine community organizing with boycotts, marches and other forms of nonviolent resistance. 
"Our volunteers and farmworkers went up to the cities and talked to the labor groups and community groups. They asked people not to eat grapes, and they did!," Huerta recalled proudly.
The family of the late poet and memoirist Maya Angelou was one of millions of Americans who supported farmers by boycotting grapes. 
For more from NBC Latino, sign up for our weekly newsletter.
"Señor Chávez had asked that we don't eat grapes. So we didn't eat grapes at home. My son was about 9. He went to school, and they were serving grapes. He walked out of school," Angelou said, laughing, in an interview filmed before her death in 2014. "I said, 'No, you have to go back.' He said, 'These are evil people.' I said, 'They're just ignorant.'" 
Huerta worked side-by-side with Chávez and other activists to cofound the National Farmworkers Association in 1962. And she says that all of them, including César and his wife, Helen, were volunteers. They didn't get wages, but — Huerta emphasizes — they had everything they needed to keep working.  
"We had food, we had shelter, we had a day care center for the kids. And if anyone got sick, all the hospital bills were paid for," she said. "People didn't have money in hand sort of speak. It was all communal."
Despite the organization's accomplishments, Huerta also recognizes that many of the benefits that they won for workers in California have not yet been won in other states where they "still don't have the right to organize, the right to form unions or the right to collect unemployment insurance."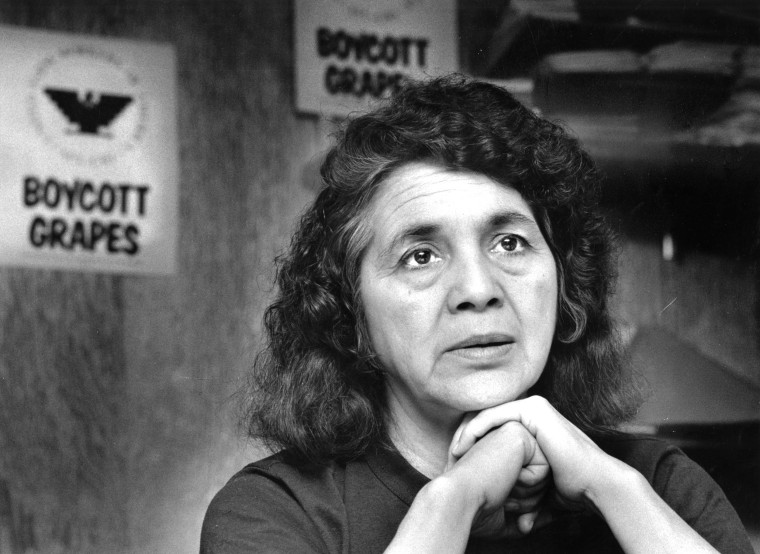 Huerta's and Chávez' lasting lesson
Huerta has advocated for civil rights, labor and women for more than 60 years. And in 2012, President Barack Obama honored her with the country's highest civilian award, the Presidential Medal of Freedom. 
Now, reflecting on her accomplishments, Huerta would like to be remembered by one of the principles that defined her activism.
"When you look at César's legacy, and I would like to add my name to that also, people should remember how you can win through nonviolence. That you don't have to have violence to get the victories that workers need," she said.
Asked to give younger generations advice for the future, Huerta shared an anecdote from Chávez to call them to action. 
"César was recruiting a student to work for the union. And he said that when you're at school, you read about history, you write about history, you talk about history. But when you become an activist, you make history," she said. "So this is what it is: When you're in an organization and you collectively take actions together, you make history."
"A Song for César" is streaming for free on PBS until Oct. 27 and will be available after that on PBS Passport.