The competition for the Latino vote in the Democratic presidential primary has so intensified that it has pit a civil rights icon against the actress and activist who played her in a movie.
Rosario Dawson, a Bernie Sanders supporter, has taken on Dolores Huerta, the farmworker and labor organizer and lifelong activist who Dawson portrayed in the movie "Cesar Chavez." Huerta supports Clinton.
The two, whose feud has generated headlines and been well chronicled on social media, have become the faces of the fissures in the diverse Latino electorate that in this case is splitting along generational lines as Clinton and Sanders battle for the Democratic nomination - potentially more so than when Clinton faced then-Sen. Barack Obama in the 2008 primary.
In the feud, accusations have been lodged by Dawson, 36, about Huerta, 85, eroding her legacy of work in civil rights and being an "instrument of the establishment," and from fans of Huerta who have accused Dawson of failing to show respect to a woman with years on her in activism and fighting for Latinos.
"This is old hat," Huerta told NBC News Latino. "Back in the '70s, we were always being attacked from the left because we were a non-violent movement and they thought we weren't militant enough. This is the same old thing of being attacked by people who feel we should be on their side."
"I'm on their side when it comes to issues, but we need somebody who can get things done and that is Hillary Clinton," Huerta said.
A publicist for Dawson did not respond to requests from NBC News Latino for an interview with Dawson or for comment on the issue. She has been a key speaker at a couple of Bernie Sanders' rallies, most recently one held Thursday night in the South Bronx, an area with a heavy Puerto Rican population, making her a spokesperson to the Latinos for Sanders.
Different Times, Different Loyalties
Although Clinton has been winning states with heavy Latino voting populations, Sanders has been making incursions into the solid support of the community that Clinton enjoyed in 2008.
Certainly both campaigns have attracted support from across generations. But in the primaries and caucuses held in 19 states, Latino voters under 30 overwhelmingly supported Sanders, according to an NBC analysis of the vote preference of Latino Democrats based on exit and entrance polls.
The data are from Alabama, Arkansas, Florida, Georgia, Illinois, Massachusetts, Michigan, Mississippi, Missouri, Nevada, New Hampshire, North Carolina, Ohio, Oklahoma, South Carolina, Tennessee, Texas and Vermont. Iowa is not included. In caucus states, the data reflect who voters planned to support before caucusing. They could have changed their minds in the caucus.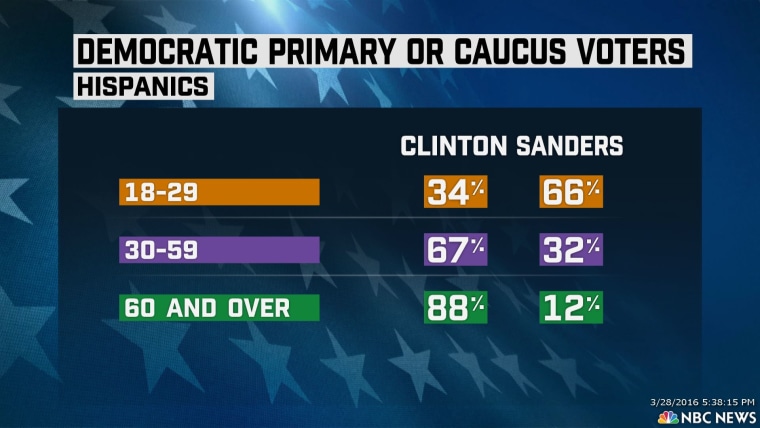 A 2008 Pew Research Center analysis of the Latino vote after 16 primaries and caucuses held on Super Tuesday that year found that Latinos ages 17 to 29 were as likely as Latinos overall to vote for Clinton. Then, 62 percent of voters in that age group supported Clinton versus 37 percent for Obama, according to Pew.
The under-30 crowd's support for Sanders this year is dwarfed by the over 30 share who back Clinton, but Dawson suggested at a rally in San Diego for Sanders last week, that the older generations are mistaken in their choice.
"The youth has been on the right side of history on every issue," Dawson said at the rally.
She cited as examples of hippies who protested the Vietnam War and students who staged sit-ins during the Civil Rights Movement. She didn't use examples of a young Huerta who organized farm workers.
A Young Electorate
Where younger Latinos stand is important in capturing the Latino vote, because millennials make up about 44 percent of the electorate, a larger share than the youth of any other racial or ethnic group. In addition, growth of the Latino electorate has long been fueled by its youth. Since Clinton last sought the nomination, some 6 million Hispanics were projected by Pew Research Center to have turned 18.
But younger Hispanics' turnout rate is far lower than that of black youths, who lead in turnout and white youth. It will be important to see whether the competition builds a larger young voter turnout in the general or leaves the losing side so disaffected they stay home, as many Latinos did in 2014.
Many of those young voters were born into or weathered with their families the Great Recession and the recovery from that economic calamity. Many know Clinton mostly as Secretary of State or New York senator, and did not experience her work as first lady.
"They like Bernie Sanders because they think he is more pure ... To them there is a right and there is a wrong," said Rudolfo Acuña, founder of the Chicano/Chicana Studies at Cal State University Northridge. Acuña said he did not see Dawson's letter as an attack on Huerta.
Pew found that Hispanic eligible voters age 18 and over would be more likely in 2016 to have some college education than in any other recent election year. Some 30 percent would have some college, 18 percent would have a bachelor's degree or more and 20 percent would not have completed high school.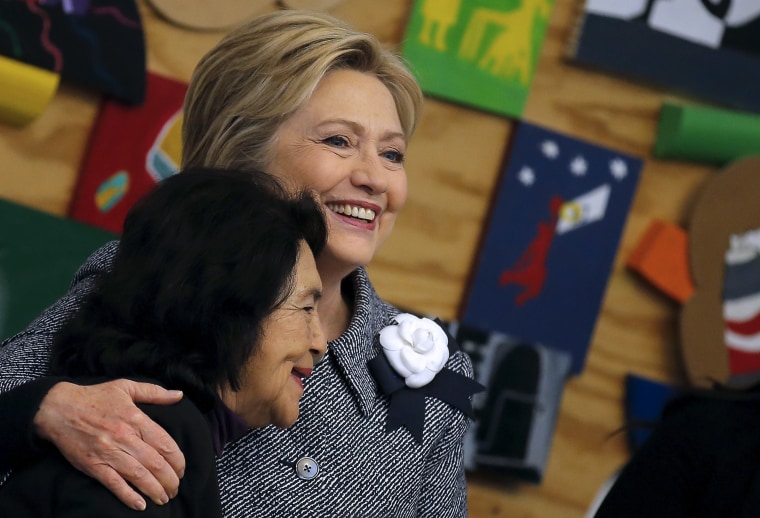 The War of Words
The Dawson-Huerta sparring began with an opinion piece Huerta wrote on Medium.com, titled "On Immigration, Bernie Sanders is Not Who He Says He Is."
"I like Bernie. He's a nice guy. I have no doubt he means well. Latinos matter in this election, and he knows it. But my question for Bernie is, where the heck was he for the last 25 years? … He was nowhere. That's where," Huerta wrote.
Dawson, co-founder of Voto Latino, responded to Huerta in an open letter published in Huffington Post, opening it with a quote from Huerta, a Clinton supporter.
Dawson acknowledged Huerta's place in history and her work, but also said she had created a narrative that distorted facts and misguided voters.
"Dolores, I am surprised, dismayed, and concerned that you would do your legacy such a disservice by becoming an instrument of the establishment, rather than joining this movement to create a better America like you once inspired us to do," Dawson wrote.
The blowback from the younger Dawson, against the older Huerta reflects the tenure of this election, in which being part of the "establishment" is a liability.
Dawson drew support on social media for her slam of Huerta, but also criticism, including an opinion piece that ran in The Guardian titled, "Rosario Dawson, how dare you lecture Dolores Huerta?"
Fierce criticism of Huerta by younger Latinos has happened before. In 2014 and 2015, younger immigrants in the country without legal permission staged protests and marches against President Barack Obama over his deportation policies and failure to get immigration reform through Congress.
Some Latinos took to calling him "deporter-in-chief" and Huerta became a target for defending Obama. In video shared on social media, actress Susan Sarandon and Huerta can be seen facing off over the campaigns and Sarandon asking "how could you not know" about origins of Clinton's campaign money.
"I have been attacked by the growers. I've been attacked by police (when protesting then Vice President George H.W. Bush) ... This is nothing new to me. I've been around a long time. This has happened. I can understand people getting passionate and I do not feel resentment," Huerta said.
Christina Bejarano, a Kansas University associate professor with expertise in Latino politics and women in politics, called it unfortunate to see "the infighting" among Latinas, "especially since there are so few prominent Latina activists."
"Hopefully, Latinos can find a way to respectfully discuss key policy differences for Clinton and Sanders, without calling each other's reputation or integrity into question," Bejarano said.
Related: Smithsonian Portrays Civil Rights Struggle Through Dolores Huerta
Huerta has a long history of agitating. She was 32 when she launched with César Chávez the National Farm Workers Association through which she broke barriers as a woman in negotiating and securing federal welfare assistance and disability insurance for California farm workers. Much of the work is being celebrated this month and this week as different communities mark the the late Chavez's birthday on Thursday.
"Go ahead and Google me and see what I've done," Huerta said in an interview with Latino Rebels after listing many of her accomplishments. "Compare our records and see whether we deserve your respect, whether people deserve your vote."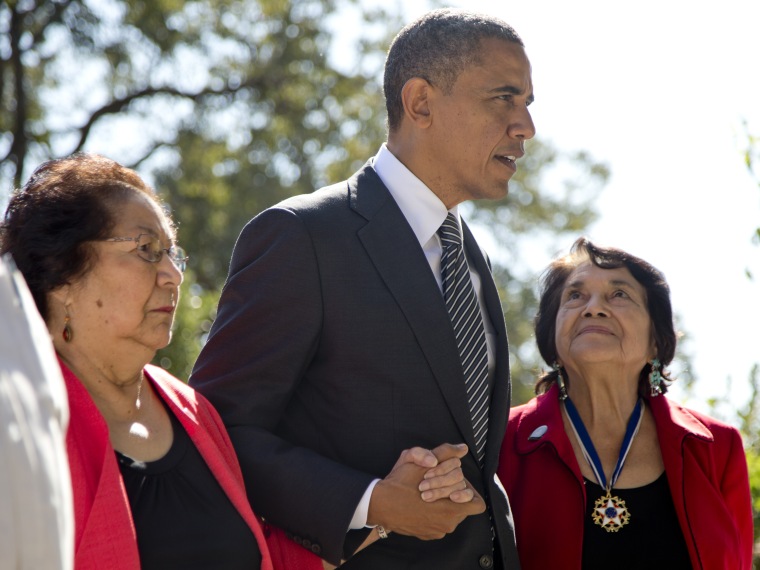 The Fight Then and Now
Huerta continues her civil rights and equality work now through the Dolores Huerta Foundation and speeches she gives around the country. Obama awarded her the Presidential Medal of Freedom in 2012.
Huerta said she collects fees for speeches, but she gives all of the money to her foundation, which is involved in a number of activities, including getting more Latinos civically involved and voting, education, stopping the school-to-prison pipeline. Her foundation started canvassing Thursday to sign up immigrant families here illegally for health care, now permissible in California.
She said she lives off about $600 a month in Social Security and the $2,000 a month she gets in compensation for the police beating when she protested Bush.
Dawson herself has been awed by Huerta's work telling Fox News Latino in 2014 she hoped the Cesar Chavez movie would lead to a film about Huerta, because "she's still out there on the front lines doing the stuff."
Related: Voto Latino Turns 10!
Dawson has starred in movies such as "Men in Black II," "He Got Game" and the movie version of "Rent," along with the César Chávez biopic. She has been involved in civic and political causes for many years.
Dawson formed the group Voto Latino over a decade ago to harness the political potential of the expanding young Latinos eligible to vote and improve their turnout and civic engagement through use of online technology. Huerta has done some work with the group, along with actress America Ferrera, also a Clinton supporter.
Dawson has also been outspoken and involved against domestic violence and on improving the lives of young girls, support for families of gays and lesbians and international conservation.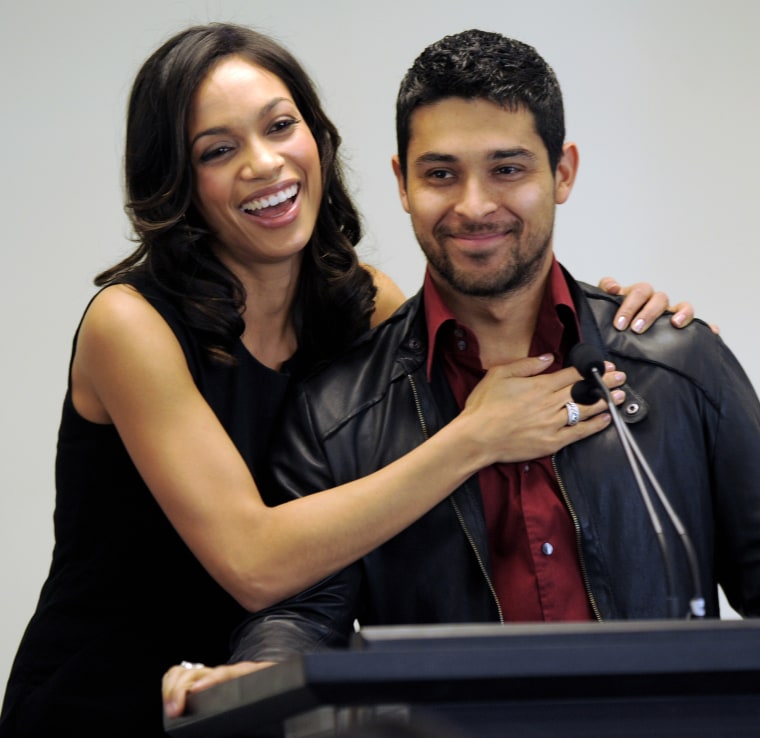 Huerta said Dawson sent her a tweet expressing love and respect for Huerta but that she felt compelled to get her to change her position. Huerta said she doesn't tweet but her daughter messaged back to her that "I'm just a phone call away."
Huerta said she has several friends who are supporting Bernie Sanders, "but we understand this is going to go on through the primary. People were calling me and wanted to know if I wanted them to call (Dawson) but I said, 'No,' to give her a pass, because in the end we are all going to be working together to defeat (Donald) Trump or (Ted) Cruz."